​Austin Police Department veteran Joseph Chacon was confirmed as the city's next police chief in a 9-2 City Council vote Sept. 30, following a marathon hearing before city officials. Council's affirmation of Chacon's appointment by City Manager Spencer Cronk came one week after the then-interim chief was tapped to permanently take over as Austin's top cop.

The final vote came after an extended council deliberation in closed session followed by more than two hours of public questioning running late into the evening, during which officials grilled Chacon on his management of the department, policing reforms, staffing and training, violence in the city, and community trust.

Heading into the Thursday council meeting several members stated their minds had yet to be made up on which way to vote. In the end, District 6 Council Member Mackenzie Kelly—who had announced her stance against Chacon's appointment last week—and District 10 Council Member Alison Alter were the dissenting votes on the dais.

Policing in Austin

Chacon takes charge of a department under scrutiny by many in the community through a year-plus process of "reimagining" public safety, including the pause and reboot of the city's cadet training process. The approval of a record police budget, concern over officers' handling of last year's protests, and APD's response to non-emergency calls are among other issues recently highlighted during Chacon's interim tenure and referenced by council members Thursday night.
Over the course of several council questions, Chacon committed to increased community engagement and communication, including with members of the city's Reimagining Public Safety Task Force. He voiced support for exploring ways to shift some 911 calls related to mental health crises away from officers, said he is "open to the idea" of involving civilians in aspects of internal police investigations, and several times reiterated his intolerance for racism, misogyny and related retaliation among APD rank and file.
APD is also facing internal struggles including a
sworn officer count
well below the city's budgeted level, which Chacon has pointed to as a "crisis," and average response times to critical calls lagging behind department goals. The former issue is one Austinites are set to consider via a ballot measure in the city's November election;
Proposition A
asks whether the city must maintain a police staffing ratio of two officers per 1,000 residents at a city-estimated cost of $54.3 million to $119.8 million annually—a price tag that some council members have stated would affect the stability of other departments' budget.
Chacon had recently declined to publicly take a stance on the proposition, but following questioning from Mayor Steve Adler, he said he opposes setting "static" staffing levels and called such a concept outdated.
The department continues to be confronted with policing during Austin's deadliest year ever, with 65 homicides recorded as of Sept. 27. Chacon has repeatedly pointed to gun crime as one of the top causes behind the local increase, a point he echoed during his confirmation session and said he will work to further investigate as chief. Despite the surge, Adler also commended Chacon and APD given what he said was Austin's relative status as one of the safest U.S. cities and declines in other crime categories.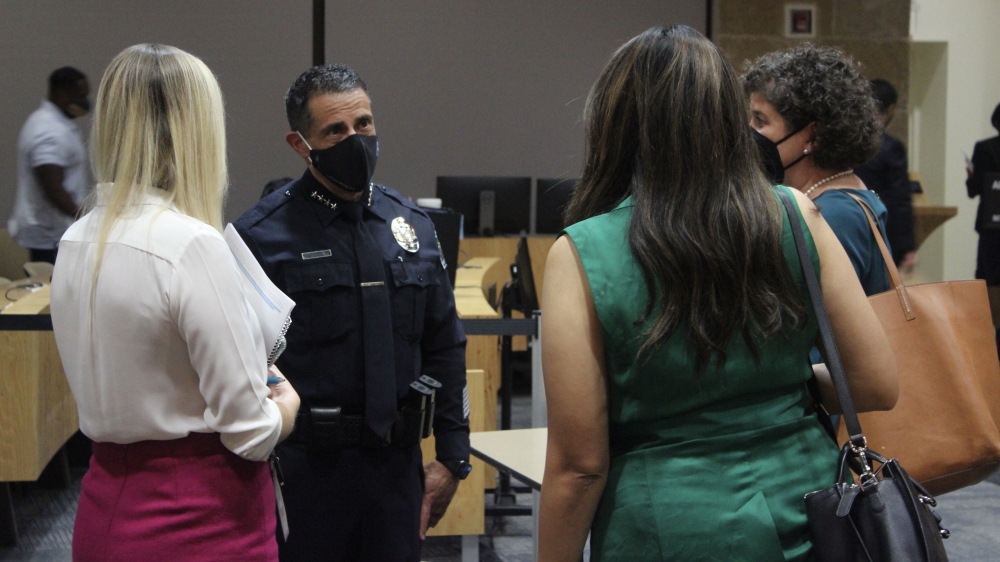 Continued community concerns
The confirmation process was also the subject of several comments from the public, many that were later echoed by council members.
The seriousness of the decision to confirm Chacon was raised by city residents and officials, following questions last year over whether former Chief Brian Manley
could be fired
given the way he was promoted—the path Chacon also took. State law provides that a department head can only be demoted in such a situation.
"We're entering a relationship with no exit strategy, so the council should not approve Chacon without a clear plan from the manager on how to handle the issue of not being able to fire an internal hire. Or else we need a real commitment in that regard, we need some kind of answer to how we are going to hold the chief accountable," said João Paolo Connolly, an organizer and housing director with the Austin Justice Coalition.
That line of questioning was later followed by District 4 Council Member Greg Casar, who asked Chacon if he would step down in the future if council or Cronk requested it. Chacon said if his term came to that crossroads, he would elect to resign and retire rather than fall back into the APD ranks—although he said he hopes for a better outcome.
"I really want to succeed," Chacon said.
One of the central issues with Chacon and APD shared by community and council members was the department's
record
of
mishandling
sexual assault cases under the watches of both Chacon and Manley.
Representatives of CASA of Travis County and The SAFE Alliance, local abuse organizations, spoke and were questioned by officials earlier in the day after they asked for further vetting of Chacon's approach to APD sexual assault responses. Among other complaints, speakers shared concerns related to the treatment of survivors and a view that the APD Victim Services Division does not have a meaningful seat at the department's leadership table.
The issue of sexual assault proved to be the breaking point for Alter, who asked several questions of Chacon on the topic but said she was eventually left unsatisfied. Through his examination, Chacon acknowledged that APD had historically "fallen short" in investigating sexual assault cases and let survivors down. He also committed to elevating the role of Victim Services and its manager, promising direct access and input on the department's policy review process and leadership.
Other areas council members expressed reservations over were the staffing and training of detectives in APD's Sex Crimes Unit and how the department interacts with victims. In her remarks, Alter said lingering and "serious concerns" over the treatment of sexual assault investigations while Chacon has been a leader at APD partially prompted her "no" vote.
Chacon has spent the past six months in the interim role at the Austin Police Department following Manley's retirement from the post earlier this year. Chacon made it to Cronk's shortlist for the chief position through an international search that brought dozens of candidates under consideration, eventually narrowing to three finalists last month and the announcement of Chacon's appointment Sept. 22. Texas code requires council members to approve their city executive's selections of department heads by majority vote, which council surpassed with its 9-2 decision.​