This story has been updated to include comments from council members Alison Alter and Leslie Pool.
Updated Sept. 23 8:29 a.m.
Ahead of his potential confirmation as Austin's next police chief, interim Chief Joseph Chacon said he is looking to take on the top cop job with a focus on improving the Austin Police Department's community relationships, internal stability, and recruitment and violence prevention efforts.
"It has been a road, and one that I felt a passion to travel. I'm excited for this opportunity and I'm looking forward to the next chapter in this journey," Chacon said.
Chacon spent the past six months as APD's interim chief
since
former Chief Brian Manley stepped down this spring. City Manager Spencer Cronk announced Chacon as his pick for the chief job Sept. 22 after a monthslong international search garnering dozens of applications that eventually
narrowed
this summer to a pool of three finalists that Chacon was chosen from.
Cronk said he entered the search process not necessarily intending to see the job taken by a department insider. However, a process of candidate interviews, public forums and virtual feedback opportunities demonstrated that "this was the right person for the job," he said.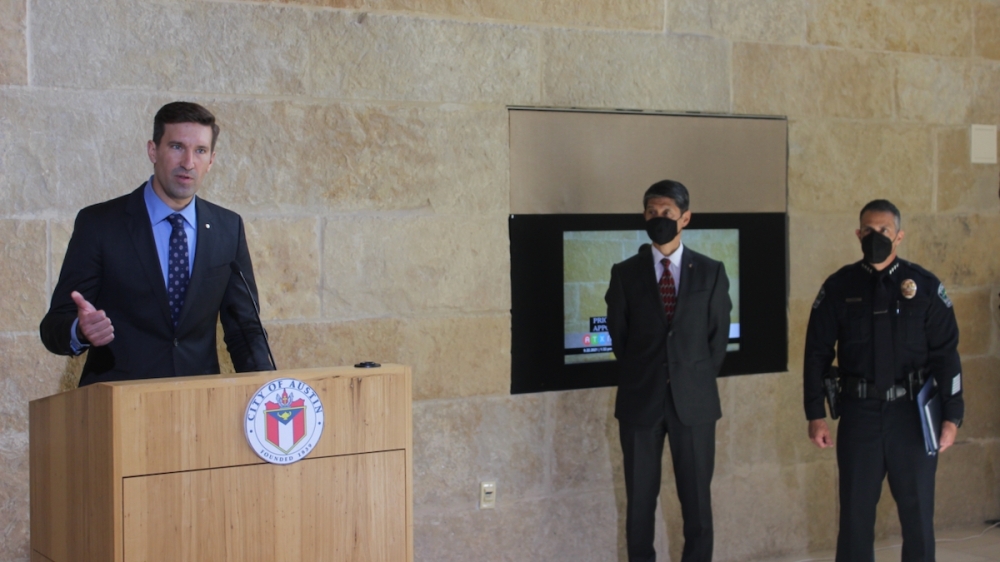 "Each of the candidates rose to that level that they could be our next chief. But it was clear as we moved toward the end of this process that Chief Chacon was going to be the next chief of Austin," Cronk said. "He brings the relationships that are needed for this role; he brings the stability that our community needs at this point in time; and he really brings the reform-mindedness that he spoke of even in this interim capacity that he was able to achieve in those six months."
Chacon has been with APD for 23 years, and most recently spent a nearly five-year stint as assistant chief before being named interim chief six months ago. During a press conference on his selection for the chief job, Chacon said he is looking to take over a department "at a crossroads" and in need of a "reset" in its relationship with Austinites.
"I can certainly understand the feelings that some in our community have toward the police department. I have heard complaints of a lack of communication, a lack of trust, a lack of collaboration that's necessary to engender the relationship that all in our community want to have with their police. Although I don't think that this is the way that all in our community feel, I strongly feel that it is my responsibility to make sure that none in our community feel that way," Chacon said. "I have to be responsive to each and every person in this community and truly listen so that we make decisions as a police department that meet the ends of delivering police services in the way that our community desires."
Chacon also referenced several initiatives and updates from his time as the interim head of the police department, some of which he said he hopes to build on as chief. Among those was a new video review policy that sets a 10-day window for the release of recorded officer shootings and uses of force, reduced from a previous 60-day timeframe he said demonstrates a "strong commitment to transparency."
If confirmed as chief, Chacon will take over the police department at a time when APD's
continuing staffing shortfall
has become a point of concern internally and citywide. Chacon pointed to the
launch
of a rebooted APD cadet training academy earlier this year as a first step to improve both officer training and the staffing deficit, although he said he does not expect the issue to be resolved anytime soon; he estimated getting APD's force to its budgeted 1,809 full-time officers could take up to two years or more.
"We have more officers that are coming, and things are going to get better. We need to continue to just do the things that are necessary right now to keep the city safe," Chacon said.
Austin has also passed its all-time annual homicide total in 2021 with months to spare. While noting the surge in murders as a trend experienced in many large cities nationwide this year, Chacon said it is one he has worked to address in his time as interim chief through the gun-focused
violence intervention program
and collaboration with the city's new office of violence prevention. Those are efforts he will look to continue to make the department both proactive and reactive in its responses to violent crimes going forward, he said.
Following Cronk's Sept. 22 announcement, City Council will consider and vote on Chacon's nomination Sept. 30 to potentially make the hiring official.
City officials respond
Following Cronk's Sept. 22 announcement, several City Council members shared a mix of opinions ahead of their vote next week.
In a statement, Mayor Steve Adler applauded the decision and Chacon's work over the past months as interim chief.
"The nomination of Chief Chacon to be the next police chief by the city manager is a smart move. Chief Chacon has demonstrated a focus on keeping our city safe and an understanding of our community. He has already begun shepherding in many positive changes to begin the effort to ensure every community member feels safe, protected and heard," Adler said.
District 5 Council Member Ann Kitchen said she supports the move and anticipates further improvements at the police department under Chacon's watch.
"Chief Chacon will lead APD forward—to continue public safety innovations like AustinCARES mental health diversion, with clinicians to respond to 911 mental health emergencies," Kitchen said.
Also joining in approval was District 7 Council Member Leslie Pool, who said she now hopes to see the APD force rally behind Chacon following his appointment.
"I support the City Manager's choice of Joe Chacon as the permanent chief of police. Chacon is well-positioned as a longtime leader at APD, and has demonstrated his commitment to our Reimagining Public Safety initiative," Pool said. "I am confident he is the best choice to lead our police force and keep Austin a safe city. I look to our sworn officers, and in particular the Austin Police Association, to provide the leadership and support for this choice in a way that will unify our community and move us forward."
Several officials also followed up on Cronk's selection by stating their desire to further question Chacon next week. District 10 Council Member Alison Alter said she has not determined how she will cast her vote and highlighted several areas of focus that will inform her decision.
"The choice of our police chief is perhaps the most important vote we will take as a Council. While I am grateful for Interim Chief Chacon's service and leadership, I have many outstanding questions and need more information from him before I make a decision," Alter said in a statement. "I want to delve more deeply into his vision for the future of APD and how he plans to realize it, as well as how he plans to improve our sexual assault response, cadet and officer training, police oversight, and response times. I look forward to these conversations, community input, and council deliberations."
District 4 Council Member Greg Casar also called attention to next week's council meeting as an opportunity for he and other city officials, as well as members of the public, to learn more about Chacon's vision for APD before a confirmation vote.
"As we make our way through the confirmation process in the next week, I and my colleagues will be asking important follow-up questions to Interim Chief Chacon—including about improvements to police oversight, enhancements to victim services and plans for further reduction in violent crime. The public should know his thoughts on key issues, after which we will deliberate and vote at our Sept. 30 council meeting," he said in a statement.
District 8 Council Member Paige Ellis did not express a preference for Cronk's choice, and said she will spend the coming days soliciting further feedback on the selection prior to council's vote.
"Our community has had robust discussions on the future of public safety and policing in Austin for the last 18 months, which have yielded more public engagement on this topic than probably ever before. With the city manager's announcement today that he's chosen interim Chief Chacon, I'll be spending the next week communicating with public safety stakeholders, social justice advocates and my constituents to gather input in advance of the confirmation vote next week," Ellis said.
District 6 Council Member Mackenzie Kelly said she was let down by Cronk's selection, referencing an Austin Police Association survey of current APD officers showing a "clear mandate" for an external candidate to take on the chief job. Kelly said that result and continued community pushback related to APD's culture will make it "impossible" for her to vote in favor of Chacon's appointment next week.
"While I certainly appreciate interim Chief Chacon's years of service at APD and respect the selection process, I am disappointed in the city manager's ultimate decision to appoint him," Kelly said. "We had a unique opportunity to bring in a fresh perspective to help address critical issues related to departmental morale, staffing and community engagement efforts. ... That said, there is tremendous work to be done given the increasing crime in our city juxtaposed with the ever-decreasing number of officers citizens have to call on for help. I look forward to working with Chief Chacon to tackle these dangerous challenges for the best possible outcome for our entire community."
Originally posted Sept. 22 9:51 a.m.
Austin interim Police Chief Joseph Chacon will become the chief of police, pending council approval, the city announced Sept. 22.
City Manager Spencer Cronk selected Chacon for the role, but the placement requires City Council approval. Council is set to vote on the nomination Sept. 30.
Chacon was one of three finalists for the job. The other candidates came from outside the department: Avery L. Moore, assistant chief at the Dallas Police Department, and Emada E. Tingirides, deputy chief at the Los Angeles Police Department.
"I am extremely excited and humbled by this amazing opportunity," Chacon said in a press release. "Austin PD is at a critical juncture, and I am honored that the city manager is showing the trust in me to lead this amazing organization. I will be engaging our department employees and our community to make sure we are moving forward in the best way possible."
In March, Chacon took on the interim role following former Chief Brian Manley's retirement. He has been with APD for over 20 years.
"I want to give a heartfelt thank you to everyone who helped us reach this important decision for our community," Cronk said. "After hearing from so many of you, and following an extensive and rigorous recruitment process, I'm confident Interim Chief Joseph Chacon is the right person to lead our city's police department to achieve results, build trust and transparency, and accomplish equitable public safety outcomes for all Austin residents and visitors."
This is a developing story, and
Community Impact Newspaper
will update the story with new information.