Revised plans for the controversial redevelopment of a stretch of West Fourth Street are moving forward after the Austin Historic Landmark Commission declined to designate the buildings as historic—one month after a vote to initiate historic zoning on the properties.
The turnaround came after developer Hanover Co., which is planning for a 40-story residential tower between 310-318 Colorado St. and 201-213 W. Fourth St., adjusted its project outline to retain more of the block's buildings that were originally slated for demolition and reconstruction. The commission's
May vote for historic zoning
would have kicked the project through the city planning process, and commissioners acknowledged at the time that the historic tag would have likely been rejected along the way.
The vote to reject the zoning label also came with its indefinite postponement while Hanover finalizes its plans, and the developer will be required to return to the commission's Architectural Review Committee before moving forward with construction.
Despite their unanimous vote June 1, several commissioners expressed dismay or reluctance toward the process but said it was the most likely option to preserve some aspect of the block that is key to Austin's LGBTQ nightlife and cultural scene.
"I still don't think I'll sleep well because there's no good answer. But I think this is, in the balance, the best for these properties and the best for the district and the community," Commissioner Kevin Koch said.
The project, centered on several properties on West Fourth and Colorado streets, would see the removal of venues there including Coconut Club, Neon Grotto, and Oilcan Harry's—which Hanover committed to bring back at a reduced rent. Hanover's initial plans called for total demolition of the properties while retaining some of the structures' historic brick facades. New plans put before the commission this month include only partial demolition of several West Fourth buildings and the total demolition of 310-318 Colorado as well as a redesigned floor plan including a new gay-owned club.
"I think that we are the best bet to try to preserve the community along the south side of Fourth Street here. By being part of a larger development above, we're able to transfer that down to the ground floor, some of those profits, in order to create a subsidized rent structure for these businesses," Hanover development partner David Ott said. "With Oilcan Harry's, we're giving them money to be able to put up a temporary location right near here, also to come back into this space, a subsidized rent structure will ensure their survivability in this location.'"
Hanover's plans
drew a mixed reception and generated pushback
from hundreds of residents when announced earlier this spring. Many members of the LGBTQ community opposed the project due to the perceived effects demolitions would have on Austin's LGBTQ nightlife district and the removal of the popular clubs there. Preservation Austin, a nonprofit working to maintain historic buildings throughout the city, also said the project would represent "alarming losses" for the local LGBTQ community.
"Demolishing these buildings endangers the very bonds of Austin's present-day LGBTQIA community. With this proposal and the recent release of the demolition permit for the Iron Bear on 6th Street, it is clear that queer spaces in Austin are greatly imperiled," Preservation Austin President Linda Jackson wrote in a
letter
to the commission.
Supporters, including the Austin LGBT Chamber of Commerce and Downtown Austin Neighborhood Association, have
said
the project represents respectful redevelopment in the entertainment center that goes beyond what many other developers might have proposed.
"As a city, we can all point to countless developments that have disregarded the significance of small businesses in their path to redevelop a lot. It is harder to find examples like the Hanover Group that have not only made it a point to preserve bricks-and-mortar, but to preserve the nexus of a community and make every effort to improve the long-term viability of community centered small businesses in the area," chamber President and CEO Tina Cannon wrote in a
letter
.
Since May, Hanover has tweaked its plans to accommodate more LGBTQ businesses in the new development. In addition to bringing back Oilcan Harry's in a 4,200-square-foot space, Hanover also said it will split up its ground-floor commercial space to include both a 4,500-square-foot, gay-owned eatery and a 1,500-square-foot gay bar—a new addition since last month.
Ott said the change was prompted by discussions with community members and that the new alignment would match up with the historic facades. The developer will also continue meeting with representatives of the LGBTQ community to workshop the project and the issue of preservation downtown.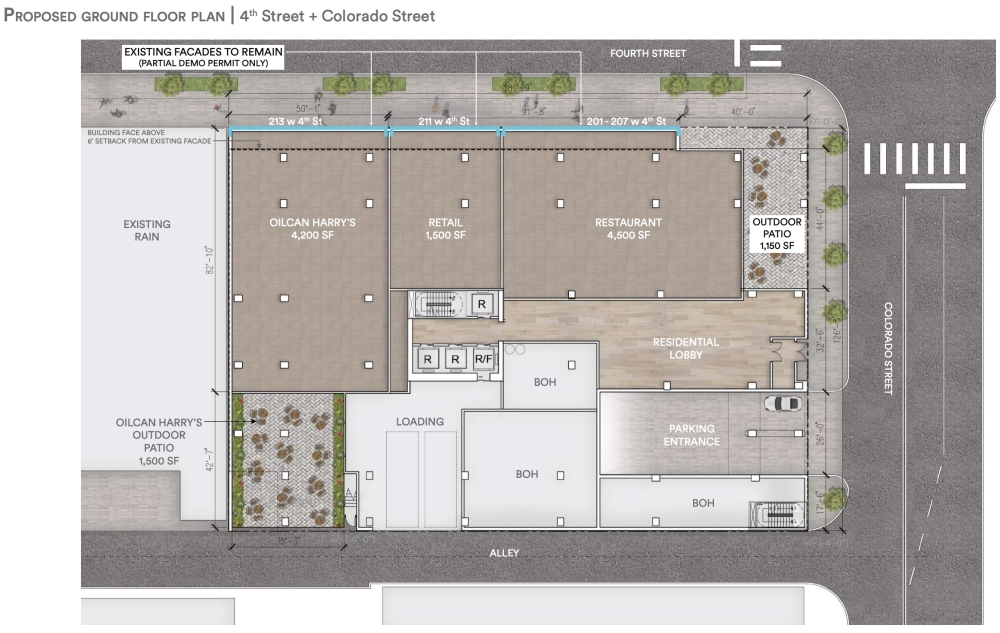 Some members of the landmark commission said their early May vote to initiate historic zoning on the properties was unlikely to stall the project, but that a historic tag would bring more consideration and attention to the project as planning moved along. At their June meeting, commissioners heard comments from many community members imploring them to keep the buildings in place as part of Austin's unofficial gay district, and given the fact that Austin has no designated historic landmarks or markers tied to the gay community.
"We have only one block left of historic architecture that thousands of Austinites have said is historic and they want it preserved. One block," said Titus Parks. "At the end of the day, we're just asking you guys to do your job to protect historic architecture. Your job is not to provide fodder for Hanover Company; they can make their money anywhere in the world."
Historic preservation concerns persist
Multiple residents and commissioners also said the landmark case highlighted Austin's failure to follow through on the goals of its 2011 Downtown Austin
Plan
and on historic preservation in general. Several called on the landmark commission and other city officials to consider changes to city code and policy that could further cement historic districts and recognition across town.
"I could say, 'Let's recommend,' send it up, it'll get voted down, and then these properties are at risk of complete demolition and complete replacement with who knows what, versus the offer on the table now," Koch said. "I don't like being put in the position of having to compromise my opinions and my principles, but we are working within a system, and we have to make certain decisions to mitigate—it's damage control. It's mitigation, and we have to do what is in the best interest of these properties and the community."
Chair Terri Myers echoed that sentiment and said the case is a "sad occurrence" and part of a trend that has seen more buildings across downtown
face demolition amid Austin's changing landscape
in recent years.
"We don't have the will; we don't have the leadership to preserve these buildings and designate them historic landmarks," Myers said.
Koch also said he plans to bring a resolution to the commission aimed at the lack of protection for more historic spaces downtown in the near future.