Editor's note: This story has been updated to include a statement from Hanover Company following the landmark commission's vote.
Plans to
demolish of a portion of Austin's LGBTQ entertainment district
were put on hold May 4 following weeks of community outcry, although the redevelopment project could still move forward in the coming weeks following further city review.
In a unanimous vote, the Historic Landmark Commission initiated historic zoning on a section of West Fourth Street covering the buildings located between 310-312 Colorado St. and 201-213 W. Fourth St. The historic tag came in response to a request from Hanover Company to tear down those structures before partially reconstructing their facades at the base of a new high-rise tower.
The commission is only charged with determining potential historic value. The project could still move forward after review from City Council.
The properties are now home to LGBTQ bars such as Coconut Club and Oilcan Harry's, and the district's status in the local gay community drew dozens of residents to the commission meeting to speak to the fate of those establishments. The redevelopment proposal had also generated widespread community discussion after project plans were first detailed during an April meeting of the commission's architectural review committee.
Ahead of the May vote, Hanover representatives acknowledged the significance of the bars and the block to Austin's gay community, and said they had crafted the redevelopment based around a recognition of their status.
Hanover's plans would also bring Oilcan Harry's back to the block in a new, expanded space following redevelopment at a reduced rent rate for 25 years. Coconut Club and Neon Grotto, located on the Colorado corner, would not return and could be replaced by a restaurant.
"We have the opportunity here tonight to become the example in compassionate, sustainable approaches to urban development that I truly believe will positively influence how developers are approaching development in the downtown core of Austin," Hanover development partner David Ott said. "We are seeking to achieve maximum community value in the context of the new development by both preserving warehouse architecture ... and also ensuring that the LGBTQ+ culture and safe space along Fourth Street will remain for decades to come."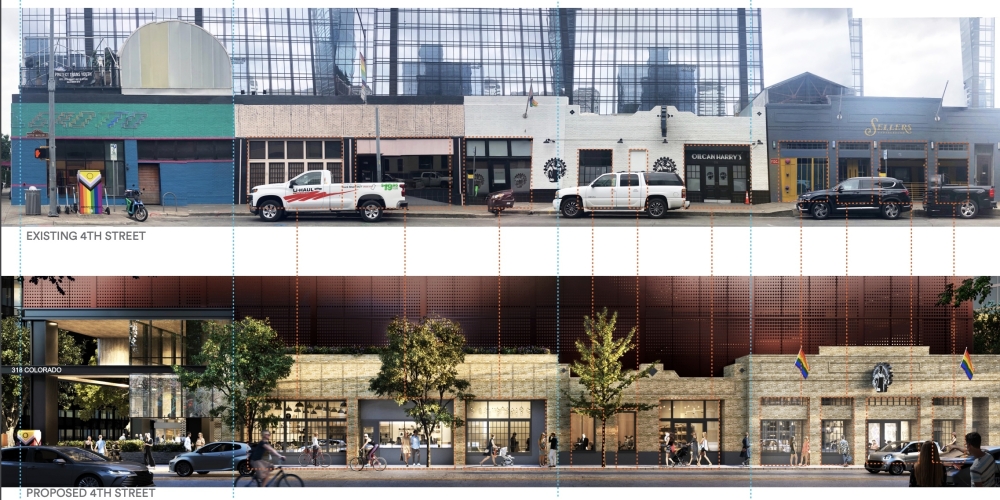 Comments from attendees at the May commission meeting included concerns about the reduction of LGBTQ safe spaces around town and a continued loss of historic sites specifically relevant to the gay community.
"Are the buildings themselves historical in some way? Someone who is smarter than me ... with more information can answer that. But I would submit to you this area is historical," said resident Garry Brown. "By allowing this building to take up so much of the gayness of Fourth and Colorado you are removing roughly 40 years of history in one fell swoop."
Both community members and commissioners also noted the district's LGBTQ roots may stretch back more than a century, and that the community's presence continued to grow through the late 1900s and 2000s.
"The cultural significance that LGBTQ businesses and patrons have played in Austin's history and economy must not be overlooked or downplayed," said resident Daniela Silva.
Several speakers also commented on the ongoing loss of other smaller, older buildings downtown and the effects of adding more luxury housing while dealing with a city-wide affordability crisis. And while the commission is charged only with determining potential historic value, residents also asked commissioners to consider the effect this redevelopment could have on their security and cultural ties.
"Will this divide our community? I would say, yeah. The smaller the places are that we have to go to, or the less places we have to be safe, it's disproportionately unfair," said Board of Adjustment Chair Jessica Cohen, who identified herself as the only openly transgender woman serving on a Texas land-use commission.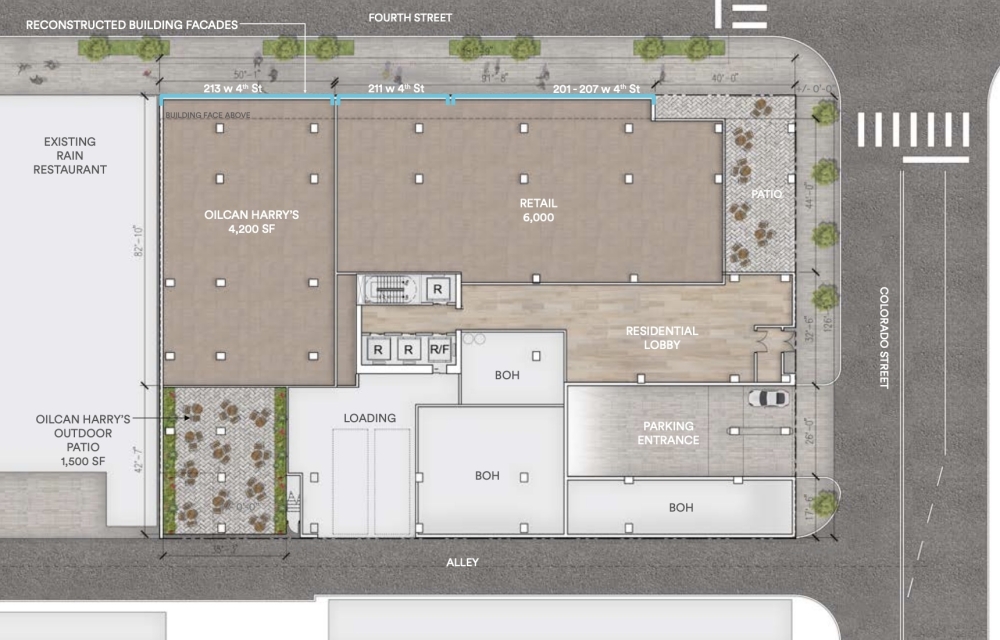 Review and next steps
During their review, commissioners also discussed the balance between the question of historic status and the block's lasting value to Austin residents and visitors. Several also noted their ongoing discontent with Austin's historic designation options, which they said continue to limit preservation across town.
"You tear too many pages from the book and you don't have a story anymore," Vice Chair Ben Heimsath said.
Despite their final vote, commissioners also expressed general satisfaction with Hanover's work on the project and said they hope to see it eventually move forward. Commissioner Kevin Koch said he proposed the sites' historic designation to kick the items up as high as City Council to draw more attention to the issue, rather than to block development.
"The approach was a very solid one. I would've been inclined to accept it. I just don't think it should happen here," Koch said. "I don't doubt that if the developer continues, that it will continue on this path. I hope and trust that a few more months of work won't have them take away the offer put on the table here."
Despite community objections, representatives with Coconut Club and Oilcan Harry's also said they want to see Hanover's tower plan come to fruition. They said keeping their establishments on West Fourth in the long term would not be viable even if the project is scrapped.
"The building would remain, but we will have been forced out and what fills the space would not be LGBTQ owned. The block's character would completely change. We are not ok with that," Scott Neal, Oilcan Harry's managing member, said in a statement.
Members of the Coconut Club ownership team said they plan to remain open for at least one more year, and view the redevelopment as a chance to move and continue operating elsewhere in the future.
"With Oilcan Harry's being provided a home in the new building, we are happy to see that a vital institution in Austin will be allowed to remain in its historical location. On our end, we are seeing the change of space as an opportunity to do something even better, taking what we've learned from this first manifestation and putting it to use in our next," they said in a statement.
In a statement following the commission vote, Ott said Hanover will explore options for compromise as city review continues.
"We respect the City process and will continue to work diligently and collaboratively with all parties involved, including the Historic Landmark Commission and staff," Ott said May 5. "Our goal from the beginning has been to play a part in meeting the need of Austin's growing housing crisis, while doing everything we can to protect the history and character of this part of 4th St. We are optimistic a compromise will be found that is in the best interest of everyone involved."