A portion of a downtown Austin block home to several LGBTQ bars is in line for total demolition as developer The Hanover Co. seeks to transform the site into a new mixed-use high-rise.
Members of the project development team appeared before the Austin Historic Landmark Commission's architectural review committee April 11 to discuss initial plans for the demolition and redevelopment of 201-213 W. Fourth St., Austin. If the demolition is approved, a new residential tower anchored by ground-floor commercial space could soon rise in the rapidly developing downtown space.
The landmark commission, tasked with determining whether structures throughout the city are historically significant, could consider and potentially sign off on a demolition permit as soon as next month.
During the mid-April architectural review session, developer representatives and commission members spent time discussing Hanover's plans for retaining some of the block's historic features—and one of its tenants. The company is looking to reconstruct some of the existing brick facades on Fourth if the development moves along. Additionally, Hanover development partner David Ott said the Oilcan Harry's club would be temporarily relocated during construction and welcomed back into a new space at the tower at a reduced rent.
"Our intent is to, I think, set an example here really about how responsible development can happen, and a developer can come in and at their own will and desire try to preserve facades—which we're doing at Third and Brazos [streets] as well," Ott said. "But also, to the extent there's a business there that does have some lease term left, how can the developer come in and work with that business to ensure that they come back in in a designed space that works for their needs and maintains the texture and quality at the ground floor that's there today."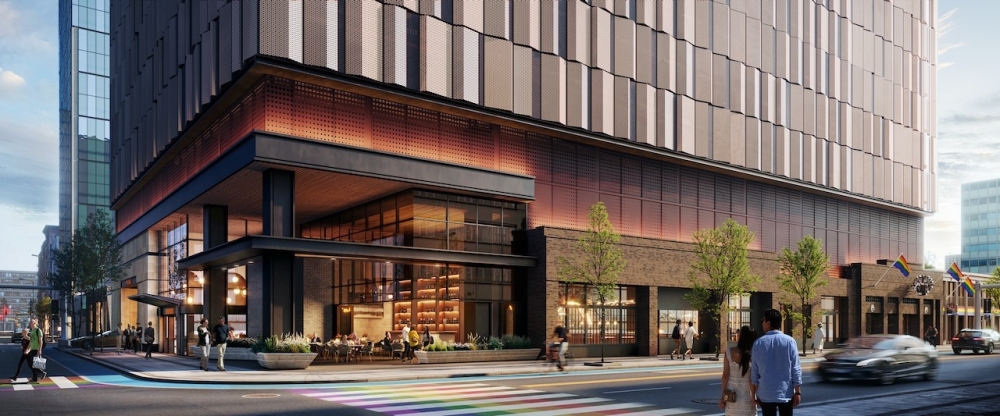 The development team and commission members each took time to highlight the block's significance in the LGBTQ community and its history in Austin, including the existing venues. While Oilcan Harry's street-facing facade and signage are part of the new tower plans, developer representatives said businesses on the remainder of the block—the 213 W. Fourth St. and 312 Colorado St. properties—would not be in line for a return. Rain nightclub just west of Oilcan Harry's would not be affected by the new tower project.
Other current tenants along West Fourth and Colorado include Neon Grotto and Coconut Club, spaces Ott said could be replaced by a "cool, chef-driven restaurant." Clara Wineberg, principal at Boston-based Solomon Cordwell Buenz, also told commissioners the tower would feature a more "activated" corner space at Colorado and Fourth.
Developers said they hope to have their demolition request considered by the full landmark commission at its May 4 meeting.