The first stage of the redevelopment of
more than 100 acres of land
off of East Riverside Drive could begin as soon as next year with the construction of hundreds of thousands of square feet of office, retail and residential space just south of the Colorado River, developers Partners Group and Presidium announced in late June.
Overall plans for the 109-acre, 10 million-square-foot River Park mixed-use development at Riverside and South Pleasant Valley Road were first released in late 2020 with the expectation that redevelopment could play out in phases over 10-20 years. The main components of the project's first phase, detailed late last month by Presidium and Partners, include a 370-unit residential complex with some affordable housing units, 12,000 square feet of retail space on Riverside, a pair of Class A office buildings totaling around 420,000 square feet, and around 1 acre of parkland and open space.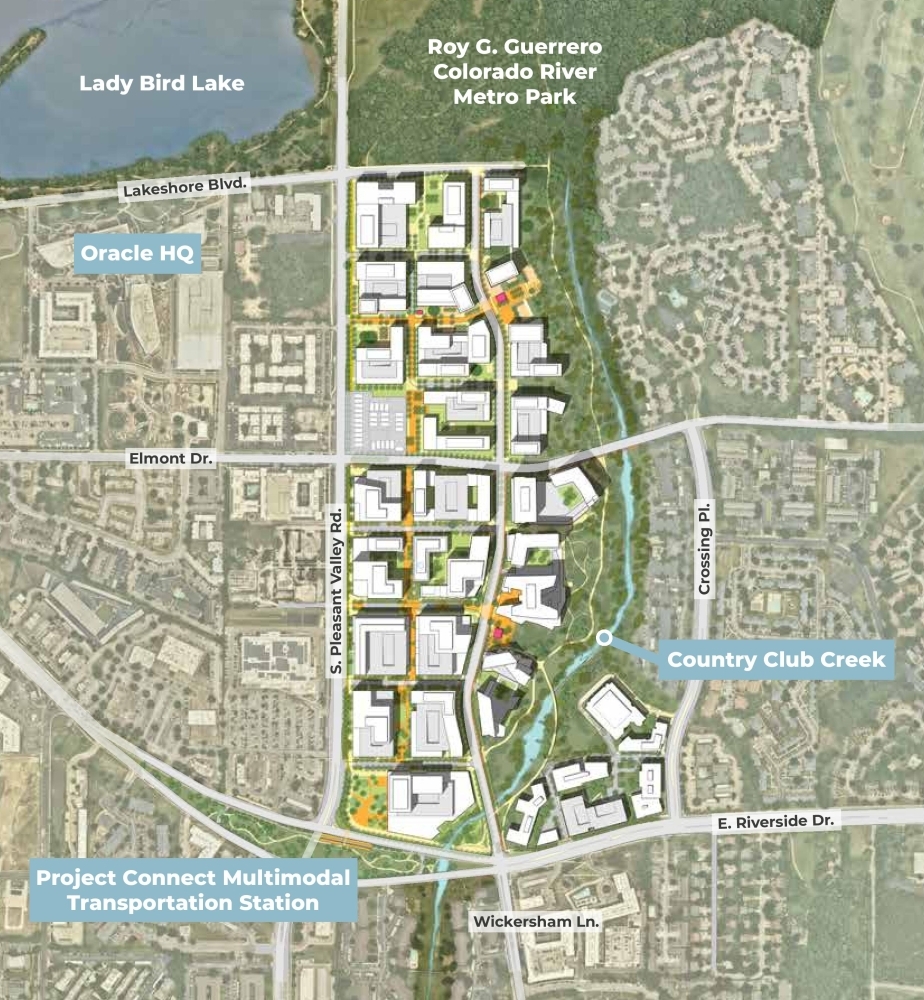 Alongside those facilities, new streets, sidewalks and a greenway along Country Club Creek connecting the Roy G. Guerrero Colorado River Park to a planned
future public transit station
on East Riverside are also included in River Park's site plan. Designs for the 15-acre Phase 1 are not yet complete, and the River Park development team said they hope to secure civic permitting and approvals required to move forward on the project by early 2022.
"Austin's long-term goals and initiatives are represented in the plans for the first phase, setting a standard for the quality of the development going forward," said Michael Piano, Presidium's director of development, in a statement. "With the [Project Connect] Blue Line coming to the doorstep of River Park, the community will gain access to transit-adjacent housing and employment, which will be supported by quality pedestrian environments."
Alongside the announcement of its Phase 1 plans for River Park, Presidium and Partners also said development firm Hines and commercial real estate firm CBRE had joined the River Park project as its development manager and office space broker, respectively. Architects for the first phase's residential, office and landscaping components include Humphreys & Partners Architects, Gensler, Hitchcock Design Group and Nudge Design.
www.riverpark-atx.com