Editor's note: A previous version of this story referred to the master-planned community as Audubon Magnolia. The correct name is Audubon. This story has also been updated to include a change in Magnolia ISD's attendance boundaries, which administration determined in late January. The first section of Audubon and the nearby Mill Creek development will be zoned to attend Magnolia Parkway Elementary instead of Williams Elementary.
Bordered by the city of Magnolia—a city of 722 households—the master-planned
Audubon
is poised to bring 4,000-5,000 homes in the next 12-15 years. In the works since 2016, Audubon's first model homes are scheduled to open in February, said Sam Yager III, executive vice present of Sam Yager Inc., developer of the master-planned community.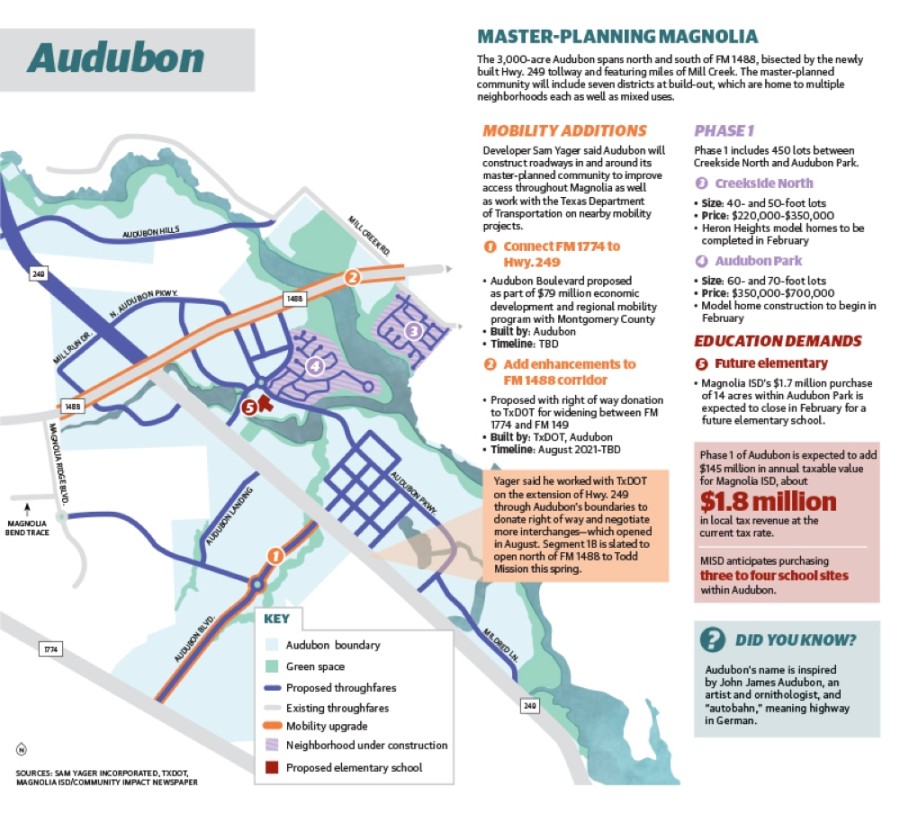 Spanning 3,000 acres at the crosshairs of the Hwy. 249 tollway extension and FM 1488 in Magnolia, Audubon will feature 550 acres of mixed uses—including commercial space and thousands of multifamily units—as well as parks, miles of trails and single-family homes, Yager said. Yager said he anticipates Audubon will be fully built out in 20 years.
With Audubon's coming, more schools and roadways are likely to be needed, which Yager, Magnolia ISD and the Texas Department of Transportation have partnered to prepare for, he said.
"It's an exciting but scary time for the city of Magnolia with all of the growth," said Brenda Hoppe, Magnolia City Council member and vice president of the 4B Community Development Corp. "We just want to be sure that this still feels like a country town and not overly commercialized. ... It's good and bad. You see all the trees coming down, but on the other hand you can't stay stagnant. We need the business and the people in order to keep Magnolia viable."
Yager said Audubon's development has largely been tied to the construction of the Hwy. 249 extension through Magnolia, the first segment of which opened in August. With Hwy. 249 bisecting the master-planned community, it positions Audubon as a central destination for those in the growing College Station, The Woodlands and northwest Houston areas, he said.
"When you think about all those things that are happening at once, we're in the center," he said. "[Hwy.] 249 is a huge change in travel time. ... In and of itself, location is what's going to drive the growth."
Audubon debuts
Broken into seven districts, Yager said the first two areas are under construction: Audubon Park and Creekside North. This Phase 1 includes 450 lots.
Homes in Heron Heights, underway in Creekside North, will range from $220,000 to $350,000, Yager said. Model homes are expected to be finished by early February with the first home sales in March. Audubon Park will see home prices ranging from about $350,000-$700,000, with model home construction beginning in February, he said.
The Audubon Park district will also include the community's main Audubon Park recreational area and commercial development along FM 1488, which could include a future hospital campus, Yager said.
"When rooftops come, then that helps to bring other things," said Anne Sundquist, former Magnolia City Council member and vice president of the 4A Economic Development Corp.
Audubon Magnolia sits within the extraterritorial jurisdiction of the city of Magnolia—receiving some services from the city but not contributing tax revenue. While Sundquist said the city plans to annex the development in stages, Yager said annexation is not part of the development agreement.
"We have a special development agreement with the city where they won't annex us over the life of the project," he said. "Our agreement with the city provides that they'll provide us with water and sewer services, but the municipal utility districts will actually construct and operate the systems in Audubon."
Yager said Audubon is designed with the millennial generation in mind, intertwining art, nature and walkability as well as the convenience of education, commercial and residential in one place for longtime residents.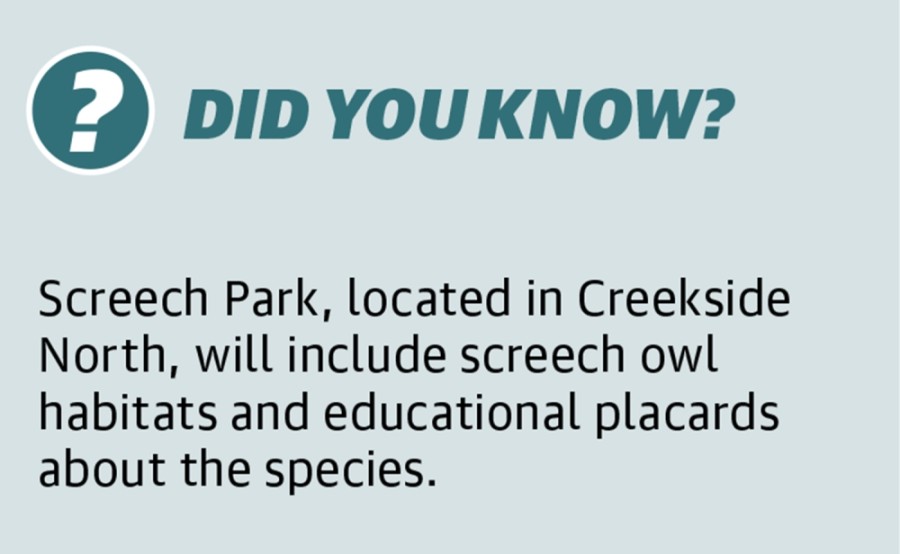 The community is laid out so every home will be within a 5-minute walk of a trail, path or park. Lighted crosswalks, acres of parks and miles of 8-foot-wide trails along Mill Creek are also in the plans. The recreational amenities will be available to residents outside of Audubon, Yager said, with potential connections to trails in the city of Magnolia.
"There are people that live in this area, and they live there because of how the access was. They're now going to have an alternative to have all the convenience in one location," Yager said. "You get off the freeway, and you are home."
School growth
Located within the Audubon Park district, Magnolia ISD anticipates closing on the sale of 14 acres for an elementary school in February, said Erich Morris, MISD assistant superintendent of operations, as Audubon and surrounding developments could bring double-digit annual enrollment growth.
"Back in the early 2000s to 2010, Magnolia ISD was growing in double-digit percentages in terms of enrollment, about 10% each year. That's just something that we are likely to get back into," Morris said.
The board approved purchasing the site for approximately $1.7 million on Nov. 9, funded by the district's 2015 $92 million bond referendum. Morris said the district will likely pursue another bond referendum within two years.
"We have substantial capacity as a whole at our elementary campuses given our 2015 bond referendum and new grade configuration as it relates to the middle school approach and removing fifth grade from all of our elementaries," he said. "However, we do know that with the aggressive growth that we're anticipating from Audubon that things can happen fairly quickly."
While Morris said in early January that Audubon is located within the existing Williams Elementary School attendance zone, which is the most populated elementary school, MISD administration updated its attendance boundaries in late January to adjust zoning so the first section of Audubon and the nearby Mill Creek development is located within the Magnolia Parkway Elementary attendance zone, Director of Communications Denise Meyers said in a Feb. 2 email. Currently, Magnolia Parkway enrolls about 560 students whereas Williams enrolls about 700 students, she said.
Morris said the district anticipates purchasing three to four sites within Audubon for multiple elementary schools and a middle and/or junior high school.
With more homes, Morris said Phase 1 alone is expected to add $145 million to the district's taxable value, generating about $1.8 million in additional local revenue for MISD.
"We don't have a timeline on when Phase 1 will be complete, but we're projecting hundreds of students of growth a year," Morris said.
Mobility upgrades
In addition to new schools, enhanced mobility is also key, Yager said.
"Mobility was probably one of the largest challenges that was in that area," Yager said.
Sundquist said she believes the demand for homes comes as new transportation routes come to fruition.
"I think with [Hwy.] 249 and people realizing they can now zip right out to [FM] 1488, it makes it feasible," she said.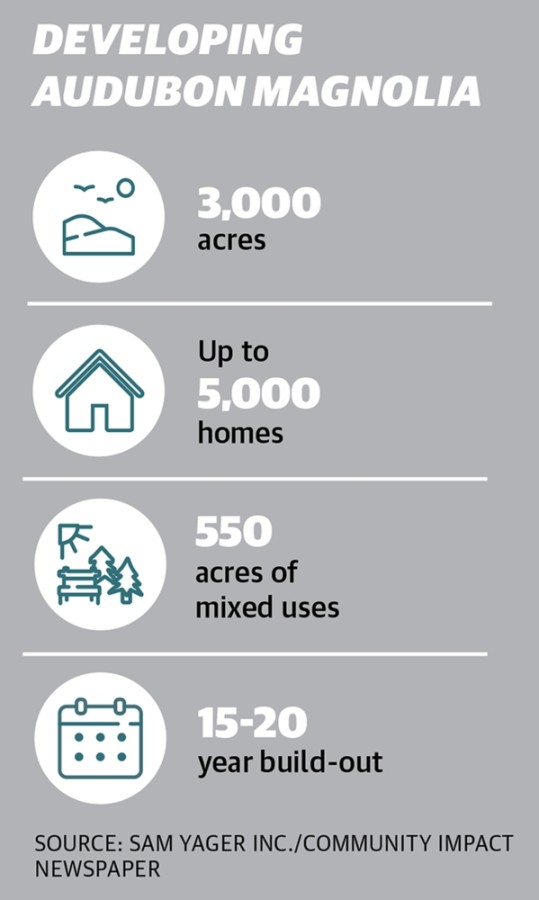 Yager said he has worked with Montgomery County on a mobility plan and coordinated with TxDOT on regional projects, such as the Hwy. 249 tollway extension and the upcoming widening of FM 1488.
"When you think about mobility, Audubon is sort of in the middle of all of it, and there's a lot of coordination. That's why it's taken four years to get to this point," he said.
Yager said right of way was requested within Audubon for TxDOT's Hwy. 249 extension and was donated in return for extended frontage roads, more interchanges and better drainage.
"We sort of looked at the long-term impacts to the community and said, 'How can we make this a better road? How do we improve the access to Audubon? How do we improve the regional mobility?'" Yager said.
Similarly, Yager is working with TxDOT on FM 1488 improvements by again donating right of way to create a landscaped parkway along FM 1488 within Audubon.
According to TxDOT Public Information Officer Emily Black, the widening of FM 1488 from FM 1774 to west of FM 149 is slated to begin in August.
"The Montgomery County area is one of the fastest growing in the nation, and we are continuously working to expand mobility in this community. With any growth and new developments, we expect to see an increase in traffic counts, which is why we are working to expand mobility in the area," Black wrote in an email.
In addition, Yager's plans include working with Montgomery County to connect existing roadways, such as FM 1774 to Hwy. 249, as part of a 20-year $79 million economic development and regional mobility program commissioners approved in 2018.
"[Audubon is] a regional asset," Yager said. "We take the responsibility of what we're doing really seriously. ... It's going to be a gateway into Magnolia. It's going to be what people think of when they come off the freeway in this area initially; we are going to be the ones that set that initial impression."