The city of Humble quietly initiated the act of acquiring properties around downtown Humble in 2020 with the purchase of an asbestos-filled home.
Although seemingly random, city officials said the small purchase—and its early February demolition—is just a piece of the puzzle in the city's long-term plan to revitalize downtown Humble.
So far, the city has spent about $150,000 to acquire property, and it will spend almost $250,000 this year to demolish three properties. The city is also seeking to purchase and demolish another smaller property, but the sale has not been finalized.
The property acquisition is coupled with a push to host more events, demolish underused and worn structures, and incentivize improvements to downtown properties, Humble City Manager Jason Stuebe said. However, the ongoing coronavirus pandemic has temporarily weakened the city's gusto for redevelopment, he said.
"We laid out a game plan that we just never got off the ground," he said. "It's there on the shelf, ... and we're just waiting for the right time that we can pull it back down."
Revitalization plan

The idea to redevelop downtown Humble began in 2014 before the city launched its
Downtown Improvement Program
in April 2015, Stuebe said. The program offers a matching grant incentive up to $10,000 for downtown-area businesses and residents who beautify their properties.
Stuebe said the city has granted $358,000 to participants since the program's launch. Most recently, the program had seven businesses and residents participate in the program in 2020 and 10 participate in 2019, he said.
Local resident Arliss Bentley, Humble Beautification Committee member, said via email the city reimbursed 50% of the project cost after she paid to have her front sidewalk replaced and added handrails to her porch steps.
"I loved everything that was done and [was] very happy that the city budgets this for outside improvements of property in Humble," she said. "We need to show visitors to our city that we care about the appearance of properties in our town."
Meanwhile, the city held its first workshop in
January 2020
to discuss revitalizing downtown. But when lockdowns began in March, many plans for the year ceased, said Mark Mitchell, the chief economic development officer of Partnership Lake Houston.
"The plan was to take City Council to some of these other communities that had done a significantly awesome job of transitioning from kind of sleepy towns to robust downtown hubs ... and say, 'How did you get to do this? How did you transition? How did you get the developers on board?'" he said.
While some plans fizzled, a monthly farmers market at Schott Park began in the fall; shows resumed at the Charles Bender Performing Arts Center; and Good Oil Days returns in April.
Business moves
Downtown Humble changed last year amid the pandemic; at least three businesses on East Main Street—Hairgoals Club, Bingham Town Antiques and CJ Tailor—closed indefinitely last year.
However, others arrived in their wake, and some existing businesses began property improvements. Benny Vancia, general manager at Humble City Cafe, said he finished painting the building's exterior electric blue and repainted the interior in the fall. He said he believes the cafe's owner applied to the Downtown Improvement Program to help fund the changes.
Vancia said business dropped 30% as vehicle traffic and Sundays' after-church crowd declined. To attract more customers, Vancia said he plans to rent a billboard on Hwy. 59.
"When I talk to a lot of customers, some of them say, 'I've lived in Humble for five years, three years and never knew about this place,'" he said.
Meanwhile, in February 2020, property owner Greg Armstrong began renovating the former office building at 320 E. Main St. into Uptown Humble Salon and Med Spa, a collection of suites for beauty professionals. He said four of nine suites are occupied.
So far, Armstrong said he has spent $200,000 on a new roof, electrical and plumbing as well as interior renovations; he said he did not apply for the city's improvement program. By summer, he will install signage and exterior lights, repair the awning, and power-wash and repaint the building.
"I wanted to fix this thing up nice because there's always a future in people wanting to getting their hair done," he said.
Demolishing structures
To aid in future redevelopment,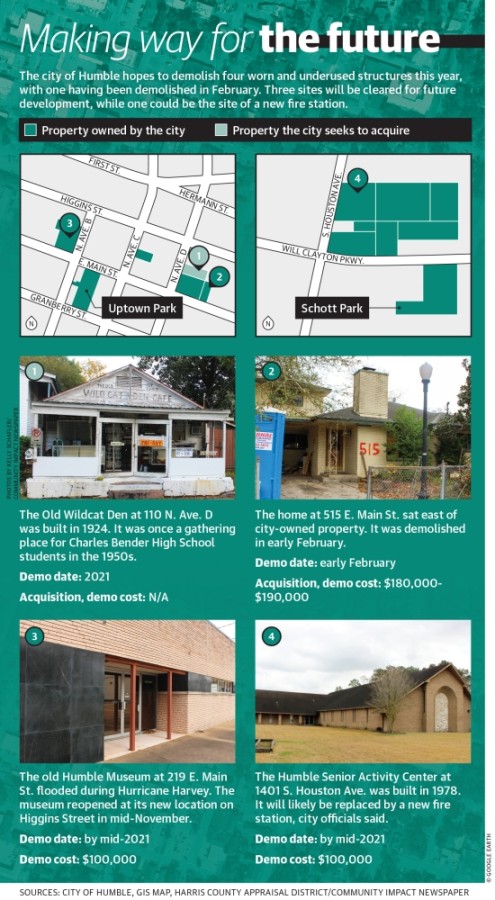 Stuebe said the city plans to demolish and potentially acquire select properties in the downtown area to create space for new development.
"We need to have enough square footage and acreage to where it would be meaningful and impactful for someone to be truly interested in [developing] it," he said.
By mid-2021, the city plans to spend roughly $200,000 to demolish the old
Humble Museum
and Humble Senior Activity Center—two structures the city already owned.
The
43-year-old senior activity center
on South Houston Avenue, which reportedly has asbestos, will be cleared by mid-2021. The land will likely be the new home of Humble Fire Station No. 2, which could break ground in early 2022.
Similarly, the
old Humble Museum
flooded during Hurricane Harvey and also has asbestos, officials said. The downtown spot will likely be temporarily used for parking until development can happen, Stuebe said.
The city aims to eventually enter into a public-private partnership with a developer who can transform some of the acquired land, Stuebe said.
In public-private partnerships, Mitchell said an entity offers property, infrastructure or right of way to a developer to assume some development costs. Mitchell said partnerships are often not needed along high-traffic areas, where the land demand is market driven.
"With public-private partnerships, we typically look at distressed areas that are not attractive quite yet to developers," he said. "The city or community has to know that this is not a prime piece of real estate, otherwise it would have been developed."
With this in mind, Humble City Council authorized the city to secure contracts for two properties adjoining the city's lot at 503 E. Main St. in April and December, respectively.
The city spent $150,000 to buy and about $40,000 to demolish the home east of the lot in early February; however, the city is in negotiations for the
Old Wildcat Den
, an almost 100-year-old structure north of the lot.
So far, Stuebe said the city has not actively pursued land, as the owners of the two properties reportedly offered to sell them to the city. However, Stuebe said the city could take a more proactive approach to securing downtown property at the City Council and mayor's directive.
"There is potential before us to be a little bit more aggressive in making some offers on some larger pieces of property in downtown that may not be in the best of condition," he said.
Ten years from now, Humble Mayor Merle Aaron said he hopes the area features more living options where residents can walk to downtown shops and restaurants.
"People could never have to get in their auto and just ... [walk] to restaurants, doughnut shops or to an event center," he said. "I think that's what the society today is looking for."