The development of senior care facilities has increased in the Lake Houston area in recent years, with at least three developments set to open in early 2021 and one having opened in June during the coronavirus pandemic.
However, new senior facilities opening coupled with industry strains from the pandemic have contributed to occupancy rates dropping at long-term care facilities in the Houston metro area, said Anne Standish, research statistician with the National Investment Center for Seniors Housing and Care, a research group.
Senior housing occupancy in the Houston area, which includes nine local counties, dipped to 75.9% in the third quarter of 2020, according to NIC MAP Data Service. Comparatively, the Houston area's occupancy rate was 81.4% in the third quarter of 2019.
Greg Shelley, the program manager of the Harris County Long-term Care Ombudsman Program at Cizik School of Nursing at UTHealth, said occupancy rates in Harris County could be dropping as families bring their elderly relatives home to avoid pandemic visitation restrictions.
"We have ... had the unusual situation of more families bringing their loved ones home or finding another place to provide care for them because of the restrictions related to coded visitation," he said. However, NIC Senior Principal Lana Peck said greater availability to timely and accurate testing as well as vaccine distribution should help improve occupancy rates.
"The vaccine will, obviously, be a game changer in bringing occupancy rates up as more and more folks' families are more comfortable with sending their loved ones to senior housing," she said.
Senior living amid COVID-19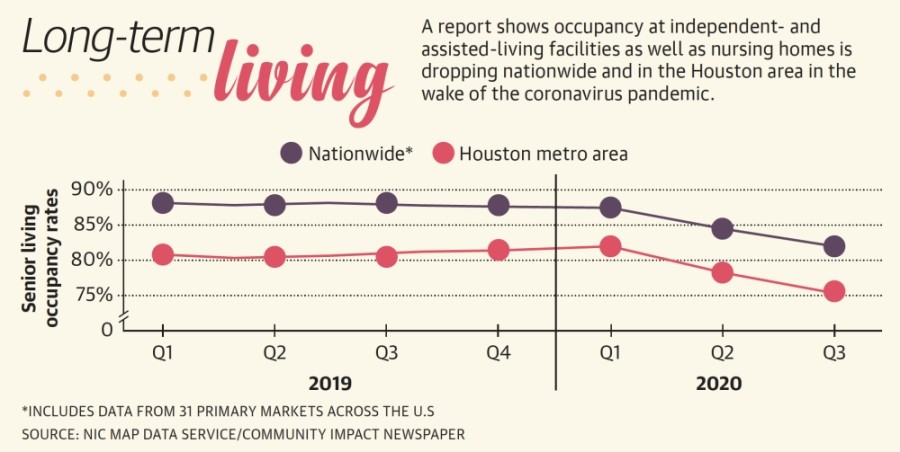 Claudia Mosqueda, the property manager of Fordham at Eagle Springs, said attracting new tenants during the pandemic has been challenging for the 55-plus independent-living community that opened in June. She said the community estimated the occupancy rate would be 25%-35% by the end of 2020, but instead it is at 18.9% occupancy.
Mosqueda said she believes many elderly individuals are concerned about the pandemic and are waiting it out rather than moving to a new community.
"There's two things that affects the senior community. One is that they're planners, so they're not going to move in immediately to begin with, ... and then with the pandemic, they're just kind of sitting still," she said.
Self-reported data sent to Texas Health and Human Services shows there have been 4,154 COVID-19 cases and 560 coronavirus-related deaths among residents at assisted-living facilities and nursing homes in Harris County. There were 187 active resident and 103 active employee cases as of Dec. 1.
However, the state of Texas began distributing two vaccines in December to fight the virus. Almost 60,000 doses of the Pfizer vaccine came to the Greater Houston area in mid-December, with the initial batch reserved for health care workers, residents and staff members in long-term care facilities, and other at-risk populations.
In a Dec. 17 press conference, Gov. Greg Abbott said distribution would ramp up in late December, after press time, when the Moderna vaccine becomes available.
Costs of senior living
Rising costs of long-term care may also be contributing to the occupancy changes amid the pandemic.
According to a December report from Genworth, a financial insurance company, Texas' median annual cost of a private room in a nursing facility has increased 2.35% in the last five years to $76,650, while a private one-bedroom unit in an assisted-living facility increased 2.43% in the same time period to $47,970 annually.
With new long-term care facilities opening every year, it creates a competitive market that results in some higher-priced facilities, Shelley said.
Additionally, Harris County has lost more than 10 assisted-living facilities since last year, Shelley said. Some providers reduced their assisted-living programs, while others took them away altogether, he said.
"We've even had some providers—a noticeable number of providers—either choose not to get licensed or turn in their license due to the depth of difficulties and providing safe care for folks during the pandemic," he said.
This is not unique to Harris County, as the American Health Care Association and National Center for Assisted Living released results in mid-December showing 66% of the 953 nursing home providers across the nation who participated in the survey do not believe they will stay open another year due to increased COVID-19 costs.
Turning to affordable housing
While occupancies are down for most senior housing, officials from low-income senior communities in the Humble and Atascocita areas said there is still a high demand for affordable senior housing.
Affordable senior housing communities are certified by the U.S. Department of Housing and Urban Development to provide reduced rent programs for families whose household income is below the area's median income. Five-year estimates from the U.S. Census Bureau 2019 American Community Survey data show the median household incomes in Humble and Atascocita are $41,845 and $100,292, respectively.
Mosqueda said Fordham at Eagle Springs' cost, although comparable to other nearby senior living communities, could contribute to slower occupancy growth amid the pandemic. Units range from $1,300 for a one-bedroom unit to almost $2,000 per month for cottages, per the website.
"I've actually had a couple of cancellations where they qualify [and] they could probably make it," she said. "However, if they can have assistance through an income-based program, they're probably going to go through that route."
Donna Wells, property manager at Wentworth Senior Apartments, said all 90 of its tax-credit units are occupied. The independent-living community in Atascocita offers units for those who make under 60% or under 30% of the area's median income.
The waitlist at Wentworth Senior Apartments is about three to six months for seniors who are within the 60% category, and the community is accepting applications. However, Wells said there is a five- to 10-year wait for the complex's 30% units.
"We stopped taking applications [for the 30% units] because the wait was so long," she said. "I have people who have been waiting since we opened [in 2011]."
Seniors age 55 and older who meet the 60% income requirement can lease a two-bedroom unit for $999, while seniors in the 30% category can lease it for $466, she said. Other tax-credit senior housing communities in Atascocita also stay at 100% occupancy, Wells said.
"[Housing is] in extremely high demand," she said. "Seniors are living longer than ever; they're wanting to be independent longer than ever, and there's just not enough [affordable] apartments for seniors."