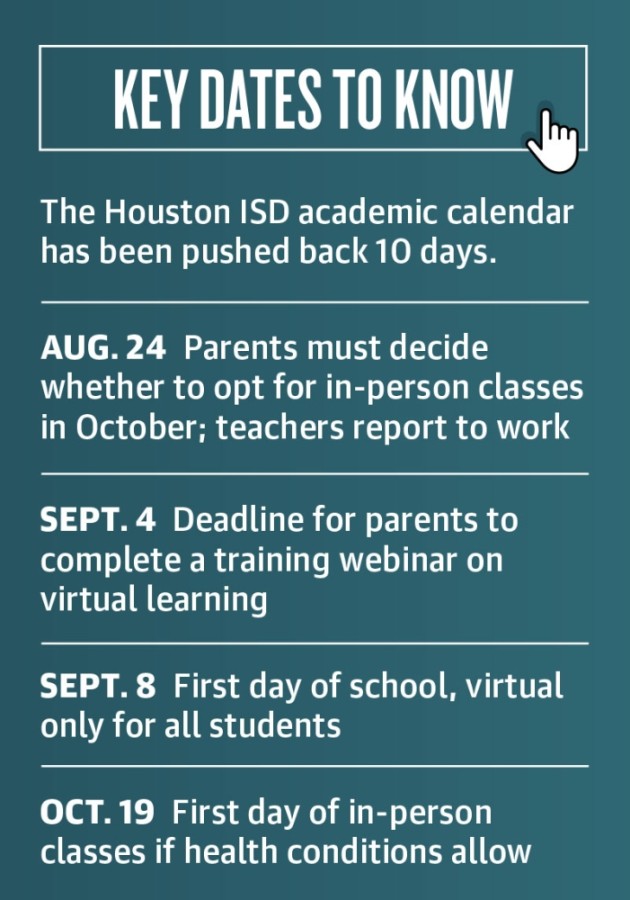 Shannon Sysling, a mother of four who works two jobs, said she understands the pandemic has made any semblance of going back to normal impossible.
But she is used to that.
"I am raising a son with special needs, with sickle cell, and his health and immune system can be easily compromised. We do a lot of ER trips," she said. "But for my own sake, I really need my kids in school."
Sysling, who moved to the Meyerland area in March just before the outbreak hit, is one of many working parents in Houston ISD who, despite being given flexibility in the district's reopening plan, do not see many good options in the coming days.
"When the announcement came out, I was really sad, to be honest," she said. "And I'm just looking at my situation. I can't physically keep up. And I know there are so many others worse off than me."
If conditions allow, the district will reopen for face-to-face instruction Oct. 19, but parents contacted by
Community Impact Newspaper
said they want to know more about the virtual option and will be watching to see whether COVID-19 slows down in the fall before making their choice.
Parents of special education students in particular are calling for more guidance and direction on how they will be accommodated.
"It looks like they forgot our kids again. They've had six months to think about this, but they're weak in this area," said Shana Halvorsen, who at one time served on a district task force on special education.
Starting safe
The
HISD reopening plan
, announced July 15, was backed by trustees and the teachers union.
"Frankly, the school district is not prepared to open up in an in-person situation," Andy Dewey, Houston Federation of Teachers executive vice president, told reporters at a press conference announcing the union's own set of school reopening recommendations. "And it is unrealistic for anybody ... to demand that school districts do what is not realistic to do."
The plan was developed by the administration, which combined two efforts—an instructional continuity plan as well as a communicable diseases plan—and put a premium on flexibility and safety.
"It's going to take a lot of flexibility ... but we're going to do right by our children and right by our staff," interim Superintendent Grenita Lathan said.
The district is still developing its plans, which could change based on new guidelines from the Texas Education Agency as well as health officials, Lathan told trustees. For example, current bus guidelines make it impossible to serve all 60,000 students who rely on the district for transportation, so the district will only serve special populations initially. If the guidelines change and more capacity is allowed, that could change.
The district is also working to build on the plan, including exploring partnerships with nonprofit organizations and local churches to provide safe spaces for children who need supervision while their parents go to work. A list of partners could be published in August, Lathan told trustees July 23.
Parents have also been reaching out to one another on social media to create ad hoc support groups or possibly offer supervision to children, including Sysling, who has connected with a Kolter Elementary School group that had over 80 parents sign up in 48 hours.
"The only way I could successfully do online, there has to be some kind of small-group support," she said. "There just has to be an abundance of communication to make that work."
Meanwhile, the first priority, district officials said, is equipping an estimated 23,000 students with the necessary devices to begin school virtually Sept. 8. Students who are not able to obtain devices must be provided with some level of campus-based instruction, according to TEA guidelines.
Even if in-person classes are able to resume in October as planned, the district could fall back to virtual, including possibly shutting down individual campuses to respond to outbreaks, Lathan said.
Learning virtually
In the scramble to adopt virtual learning in the spring, the district had a loose policy that allowed teachers to adapt in the best way they could, with some preferring to offer paper packets of homework and others trying some version of online class.
"It was almost a waste of time. They might as well have canceled school if they aren't going to be actually engaged," said Mike Hollway, a parent in the Heights area. "They weren't getting any kind of education based on what I saw in the spring."
The disruption to student learning could be profound, with one national study of 5 million students by the Northwest Evaluation Association projecting the combination of a typical "summer slide" and the COVID-19 disruption could cause as much as a full grade level of regression for some students.
"Once schools are back in session, we must be prepared to support students, many of whom will likely be behind academically," the researchers wrote.
The district's next attempt at virtual learning will look different, HISD officials said, and resources will be offered to help students catch up, including enrichment activities before school starts.
Teachers will be required to use Microsoft Teams rather than the array of apps that were adopted in the spring.
"It's going to be more structured for our teachers and for our students," interim Chief Academic Officer Yolanda Rodríguez told trustees.
Teachers are also asked to conduct live lessons by video, and daily engagement tasks will be required of students and teachers alike.
Attendance and grading are also nonnegotiable: "In order for us to receive funding as a district, we must administer grades, and we must take attendance," Lathan said.
While there are guidelines for students to engage by certain times of the day, as long as students submit some kind of accepted activity by 11:59 p.m. each day, it will count, Lathan said.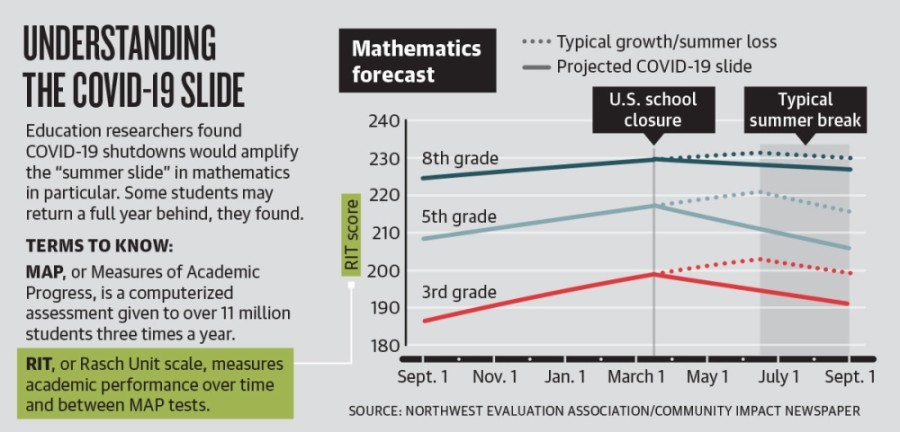 Reaching out
Before Sept. 8, the district will begin a massive outreach effort to connect with every family, officials said.
Based on an analysis of log-in data from the spring, HISD said it was unable to reach over 7,500 students, and an estimated 25,000 were not engaged in online learning. These gaps were concentrated in the district's southwest, east and southeast areas.
"The data is telling us these are the areas we need to be targeting," Lathan said.
The district is hiring an additional 210 wraparound specialists to assist in campus-level outreach and is including multilingual efforts in its communication as well.
However, special education students—an estimated 17,000 in HISD—are also at risk of being left behind, parents said.
"We need more communication. It's very basic. Like, what do you want my daughter to achieve this year?" said Jane Friou, who has children at Pin Oak Middle School and organized the Houston Special Education Parent Association. "Am I supposed to teach? Am I the one implementing school, or is someone else doing it?"
The district is advising parents to contact their principals, and accommodations will be made based on students' individual education plans. Another problem is special education students may be less likely to be identified as needing support during this tumultuous time, Halvorsen said, worsening a potential undercount of student needs. HISD's special education population is around 7% of overall enrollment, while the national average is twice that.
"I worry they're not going to be able to identify anyone while we're socially distant and virtual learning," she said.
Ultimately, it will fall on parents to advocate for their children to ensure they do not fall behind.
"Parents have to educate themselves in this district," Halvorsen said.