New electoral maps are set for the next decade in Cy-Fair, which gained a new congressional district, a more convoluted map for state representation and significant changes to its county commissioner territories.
The Texas Legislature wrapped up redistricting for the state in October. After every decennial census, states are required to redraw the boundaries of representation to accommodate for population changes over time. Texas,
which grew about 16% in the past 10 years, added two seats in the U.S. House of Representatives, including the 38th District, which covers much of the Cy-Fair area that had previously been covered by Rep. Michael McCaul, R-Houston.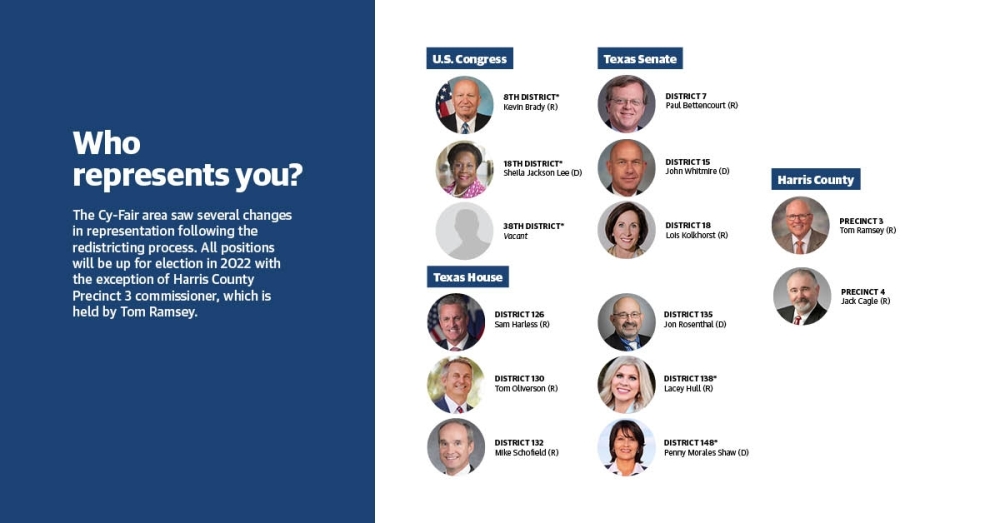 Redistricting at the county level could result in new representation for parts of Cy-Fair as well. In a 3-2 vote, Harris County commissioners selected a new boundary map following the census release for the county's four commissioner precincts Oct. 28. This plan has drawn criticism from the two Republicans on the court: Precinct 3 Commissioner Tom Ramsey and Precinct 4 Commissioner Jack Cagle both voted against the proposal. Cagle and Ramsey have also joined a lawsuit against the county due to the redistricting results.
In a Nov. 9 Commissioners Court meeting, Cagle noted the vote on new maps has historically been unanimous and both commissioners brought up the drastic "flip" of their precincts. Much of Precinct 3 is now considered Precinct 4 and vice versa.
"I don't think there's ever been a redistricting that's moved 2.3 million people. That's what we're talking about here," Ramsey said. "So the scope of it, even though it's been done before, ... it's just going to be one of those historical things."
County commissioner precincts
For the past decade, eastern portions of Cy-Fair including Jersey Village were contained within Harris County Precinct 4, and Precinct 3 included central and western portions of Cy-Fair. Now, nearly all of Cy-Fair east of the Grand Parkway and north of FM 529 is in Precinct 3. Precinct 4 mainly starts northwest of the Grand Parkway and extends south of FM 529. Precinct 1 now begins just east of Beltway 8 north of Hwy. 290.
The U.S. Constitution states commissioners court precincts should not deviate from 10% more or less than an ideal population size, which for Harris County was 1.18 million.
"The map we passed here today stands in stark contrast to the radical gerrymandering passed in Austin, which was designed solely to preserve the power of the governor and Republican legislators at the expense of fair representation for all Texans," said Precinct 1 Commissioner Rodney Ellis, who proposed this map, in a statement.
Cagle criticized the Ellis maps, calling them a "joke." He also alleged the county violated the one-person, one-vote principle used in redistricting.
"Right now, the rules are being made up as we go along," Cagle said. "Instead of slightly adjusting for population, we transmigrated precincts."
County officials said the deadline to transition responsibility is not officially until Jan. 1, 2023, but commissioners agreed Nov. 9 to complete the transition by March 31.
However, Cagle and Ramsey joined a lawsuit against the county Nov. 16, which alleges the map violates voters' right to vote by forcing constituents in the new Precinct 4 to vote for a new commissioner in 2022 when Cagle's term is up.
The lawsuit asks the Harris County District Court to draw an interim map for the 2022 commissioner elections while also applying for an injunction to block the Ellis map from taking effect. Emily Berman, a professor at the University of Houston Law Center, said the suit relied on a precedent in which state courts can listen to cases alleging excessive partisan gerrymandering.
The court was slated to sign a temporary restraining order preventing Harris County from implementing the Ellis map Nov. 29, but the judge ruled against signing it and instead scheduled an in-person hearing for Dec. 13.
U.S. congressional changes
The Legislature passed four bills—Senate bills 4, 6 and 7 and House Bill 1—on Oct. 19. The bills drew district maps for the state Senate, U.S. Congress, State Board of Education seats and the state House of Representatives, respectively. Gov. Greg Abbott signed these maps into law Oct. 25, and they go into effect Jan. 18 with primary elections following in March.
The new congressional maps created by the state's redistricting process will result in Cy-Fair getting new congressional representatives—the 8th District's Rep. Kevin Brady, R-The Woodlands, who in April announced plans to retire, and whoever represents the new 38th District that resulted from the state's growth.
According to the Federal Elections Commission, seven candidates have filed to run for the new congressional district seat as of press time with all running as Republicans.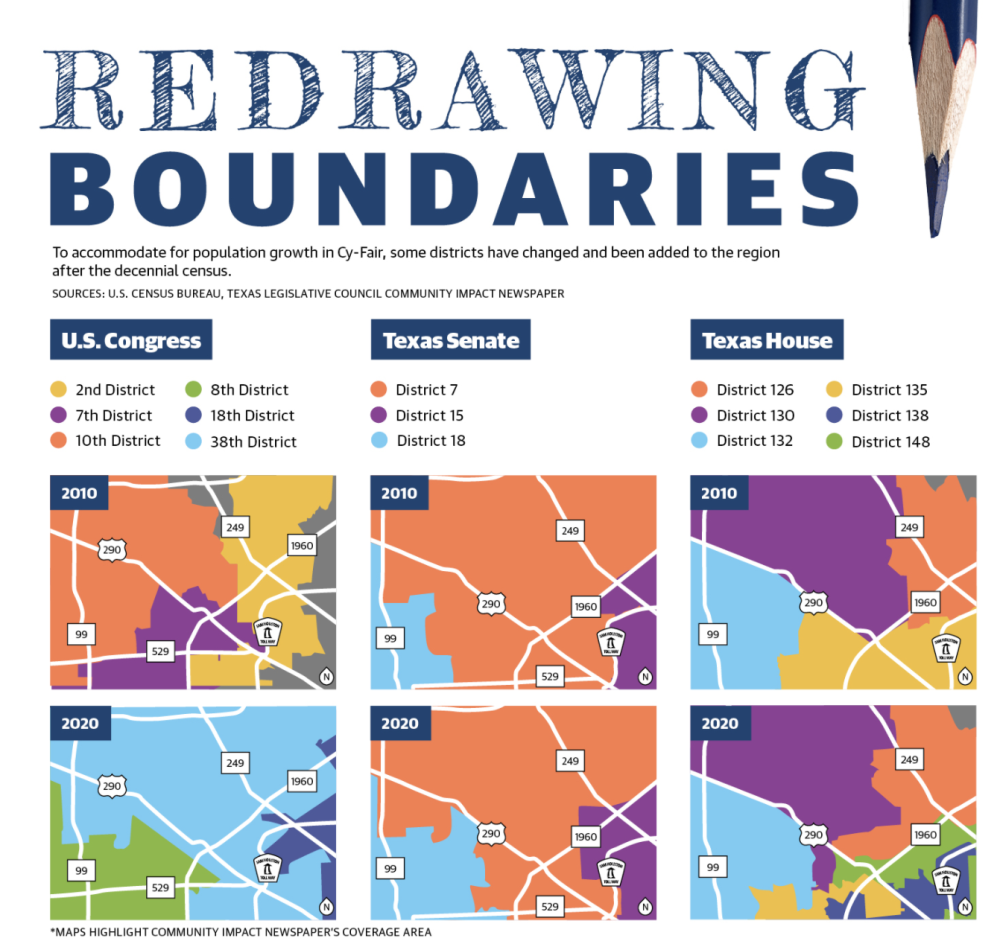 Brandon Rottinghaus, a political science professor at the University of Houston, said the 38th District drew in competitive parts of the surrounding 7th and 10th districts, represented by U.S. Rep. Lizzie Fletcher, D-Houston, and U.S. Rep. Michael McCaul, R-Houston, respectively. He described the district as "solidly conservative."
"In 2016 and 2018, you started to see suburbs gravitating towards Democrats," Rottinghaus said. "So for these maps, Republicans wanted to shore up support in their strongholds, places they knew they would win."
Fletcher called the redistricting process "a failure to reflect the population growth of Latino, Black, and Asian American Texans over the last decade in the additional seats gained as a result of that growth" in a statement.
Fair Maps Texas Action Committee filed a lawsuit against Abbott on Nov. 16, claiming the Legislature racially gerrymandered electoral districts. Anthony Gutierrez, executive director of Common Cause Texas, said he believes the state's redistricting process lacked transparency and the final maps ultimately diluted the power of these communities of color.
"Since the passage of the Voting Rights Act [in 1965], Texas hasn't gone a single decade without a federal court finding its state had violated federal protections for voters of color," Gutierrez said in a Nov. 17 media briefing held via Zoom. "And it seems this time around Texas is intent on repeating the exact same mistakes made in 2011 by using an opaque, procedurally inadequate process to push through redistricting plans containing blatant gerrymanders."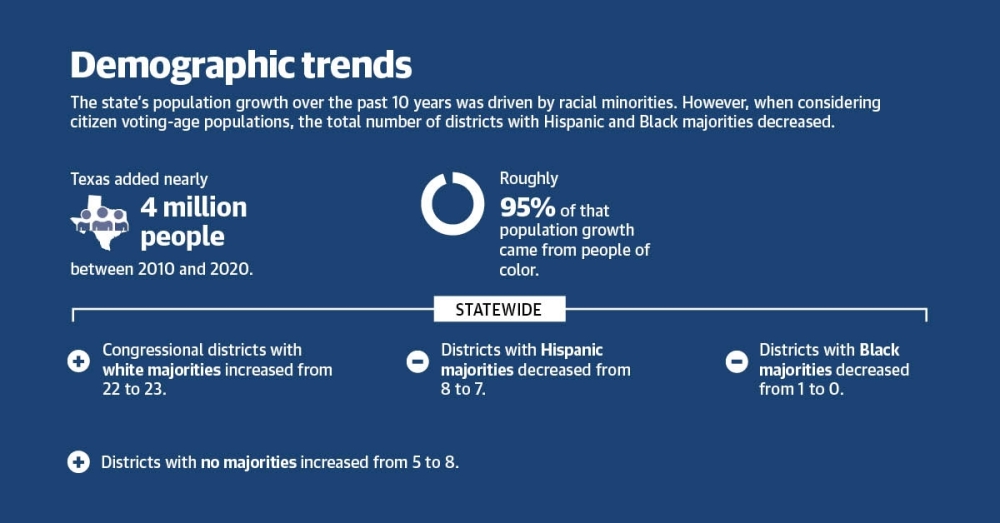 State district changes
Cy-Fair also saw new divisions in its state legislative districts to accommodate its 24% population growth since 2010. Republican state Reps. Tom Oliverson, Sam Harless and Mike Schofield will continue to serve parts of Cy-Fair in addition to Democrat Rep. Jon Rosenthal. State Reps. Penny Morales Shaw, D-Houston, and Lacey Hull, R-Houston, picked up a portion of the region.
The less than 5-mile stretch of West Road between Queenston Boulevard and Hwy. 290 touches five state House districts in the new map, whereas that entire stretch was contained within House District 135 in the previous map.
"We worked in a bipartisan fashion as the adults in the room, and we respected one another and made sure that different communities of different interests in our community had representation," Oliverson said at a Nov. 16 Cy-Fair Houston Chamber of Commerce luncheon. "It's a very strong contrast, I think, to some of the childish antics that have been going on in commissioner's court with regards to their redistricting."
His colleague, Rosenthal, said while the House deliberations were amicable in Harris County, he called the state's maps overall "egregious" at a virtual League of Women Voters of Cy-Fair meeting Nov. 17.
"The maps were drawn to preserve incumbency, which I think is anti-democratic, if you ask me," he said. "[Maps] should be drawn to benefit the most voters so they can choose representatives of their choice. It shouldn't be us choosing them; it should be them choosing us."
Bonnie Foster, president of the Cy-Fair Republican Women's Club, said there was "a whole lot of frustration" within the club at the redrawing of District 135, which cut out Justin Ray, Republican challenger and former Jersey Village mayor, leaving him ineligible to run against Rosenthal.
Cy-Fair's three state Senate districts—7, 15 and 18—saw slight tweaks. State Sen. Paul Bettencourt, R-Houston, maintained most of Cy-Fair, and state Sen. Lois Kolkhorst, R-Brenham, gained more territory in the southwest portion of Cypress. State Sen. John Whitmire, D-Houston, will continue to cover part of the area starting near Beltway 8.
Representatives could change within the next year as primary elections for the November 2022 general election are scheduled for March.