McKinney's John Faires House, the oldest standing home in McKinney, has sustained what officials are calling "significant damage" after a vehicle struck the house the afternoon of May 2.
The house is located in Heritage Village at Chestnut Square, a nonprofit organization that works to preserve Collin County history.
The driver of the vehicle was experiencing a medical emergency at the time of the crash, McKinney police said, and was taken into police custody unharmed.
The crash primarily damaged the house's chimney, said Jaymie Pedigo, the executive director of Chestnut Square. Unlike the rest of the house, which was built in 1855, the chimney was built in the 1980s, when the house was moved from its original spot in McKinney to Chestnut Square, she said.
"That's the good news because it's almost like a separate structure," she said of the chimney. "However, the impact of the crash pushed the entire fireplace ... into the kitchen, and so some of the siding is bowing, and the floor is separated from the wall. It's going to be some significant repairs. We just don't know what at this point yet."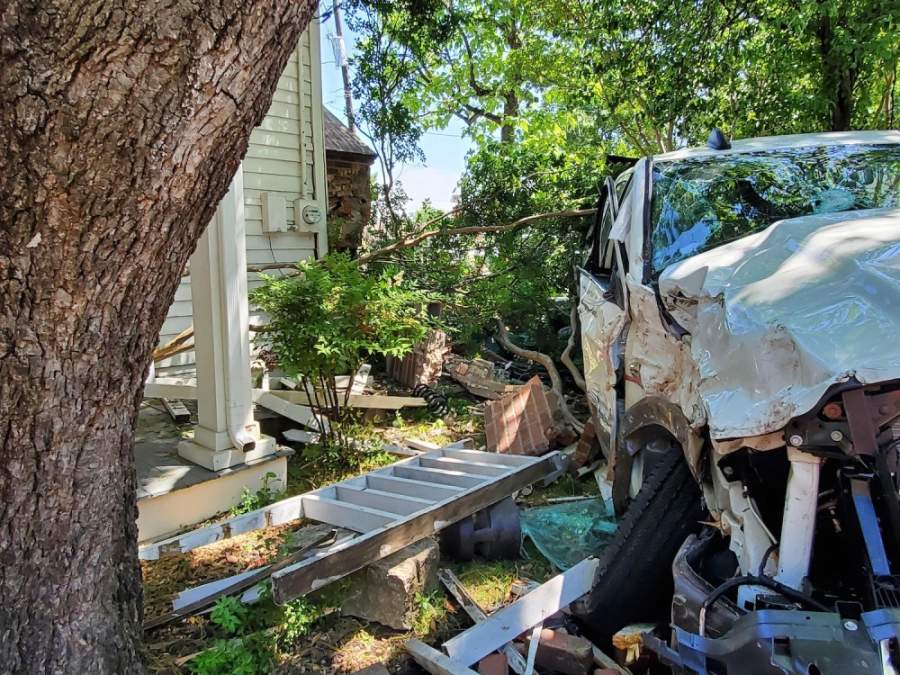 Chestnut Square is currently closed except for select private events due to the coronavirus pandemic, but the house had previously been used as a tour destination and as a place to demonstrate Dutch oven cooking, Pedigo said.
Chestnut Square is closed through the end of May, and the hope is that the repairs on the John Faires House will be completed by then, Pedigo said.
However, Pedigo said she has some lingering concerns. The nonprofit organization does have insurance, but the insurance comes with a deductible, she said. On top of that, canceled events from the pandemic have caused Chestnut Square to fall $50,000 behind on its budget, she said.
"No matter what the insurance position is, there are still going to be administrative costs to handle the whole project," Pedigo said.
Chestnut Square is asking for donations to help the nonprofit recover lost income from the coronavirus and pay for any associated costs with repairing the house. People can donate by visiting
www.chestnutsquare.org/donate
.