Following weeks of mandatory closures intended to slow the spread of the coronavirus, restaurants, coffee shops, bars, gyms and other businesses have been given
the green light to open
at limited capacities.
Some are establishments quickly opened their doors to patrons, while others have decided to wait.
Jose Leon, manager of Huahuasco Grill in Pflugerville, said he wants more assurances that the rate of coronavirus infections is falling before reopening his dine-in facilities.
"We feel it's not safe to reopen our dining room at this time," Leon said. "We will consider opening when the infections are at a lower level."
Huahuasco Grill
, which first opened a mere two weeks before restaurants were required to close their dine-in facilities, has temporarily adjusted its business model to offer to-go and delivery services at this time.
"It pretty much blindsided us," Leon said. "We we're prepared for this. I mean, no one was. But we weren't thinking we'd open right before a pandemic started. Profit expectations aside, we just want to do our part [...] to look out for our community."
As the Texas economy begins to reopen, area business owners and residents alike are adjusting to a new state of normalcy during the coronavirus pandemic.
Social distancing measures remain in place, with many businesses placing markers in 6-foot increments on the floor to encourage proper spacing between patrons. Wearing face coverings in public is required at some establishments and encouraged at most others.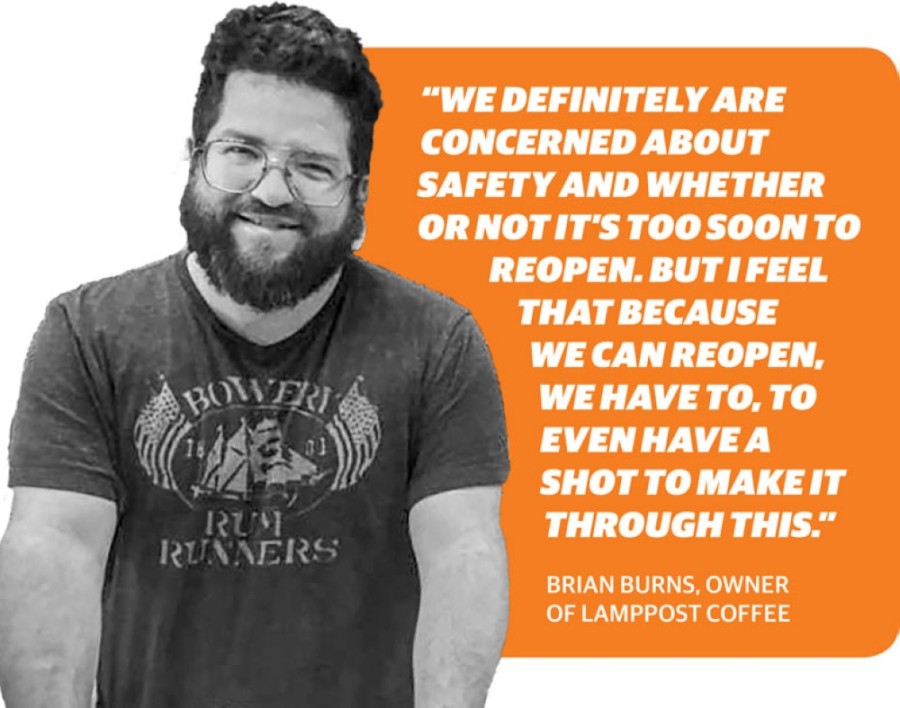 Meanwhile, county officials and public health leaders are working to find a balance between strengthening local economies and protecting residents' health and well-being, said Derrick Neal, executive director of the Williamson County and Cities Health District.
"We understand that if we're not able to operate businesses, we probably won't even have a society to sustain itself," Neal said.
A crucial component of knowing when and how to safely reopen, he said, is widespread testing availability.
Coronavirus case counts
Public health officials first began tracking Central Texas coronavirus case numbers in mid-March.
In
Round Rock
, a city of 133,372 people, according to the recently released 2019 U.S. Census Bureau population estimates, reached 308 cases June 3. This represented 2.31 cases per 1,000 people.
The number is cumulative, meaning it includes individuals who are currently sick, have recovered and those who have died of COVID-19.
In Pflugerville, the city had 203 confirmed cases June 3 out of a total population of 65,380 residents, per 2019 census data. That marked 3.10 cases per 1,000 people.
Hutto had 44 confirmed cases as of June 3 among its 27,947 residents. This represents 1.57 cases per 1,000 people.
Public testing for the coronavirus is conducted at hospitals, clinics and emergency rooms as well as at drive-thru testing sites throughout Central Texas. Per the Texas Department of State Health Services, all laboratory results for patients tested in Texas must be submitted to DSHS.
Methods of testing
One of the more common forms of coronavirus testing is the nasopharyngeal swab, a diagnostic test that indicates whether an individual is currently infected with the virus. Baylor Scott & White Health uses a nasopharyngeal swab at its testing facilities, representatives said in a May 15 email.
"As new testing options become available, we are watching with great interest as these go through validation and [Food and Drug Administration] review," representatives for Baylor Scott & White said in a statement. "We are continuously evaluating which FDA-approved options to make available for our patients and caregivers."
As the pandemic progresses, increased focus has been directed toward antibody testing, which checks for a previous COVID-19 infection. Neal said Jeff Jarvis, Williamson County's medical director, is currently working with local first responders on antibody testing.
He said only a small portion of antibody tests have been approved by the FDA and that there are numerous strains of the coronavirus outside COVID-19. But he added testing for previous infections could provide new information regarding immunity to the disease.
"From my perspective, that's really going to be the way back to sustainability," Neal said.
On April 30, the WCCHD began operating a free public testing site in Williamson County to help expand testing efforts and increase accessibility. The county also partnered with Family Emergency Room in Round Rock to help bolster testing availability.
But alongside testing capabilities, Neal said the responsibility is on residents to remain vigilant in adhering to social distancing provisions and mask wearing. With increased awareness of asymptomatic carriers, Neal said social distancing is all the more important.
"It's not just about you: It's about being sensitive and kind and caring to your neighbor," Neal said. "That's really the Texas type of way."
Weighing the risks
Tumy Diep, co-owner of
Broth & Basil
in Pflugerville, said she is weighing health risks alongside employment needs for her staff as she decides when to reopen the dine-in portion of her Vietnamese restaurant.
"We are trying not to make any rash decisions," Diep said. "We know the decisions we make affect our community. So give a lot of thought and research into when and if it;s safe for us to open."
Diep said with Broth & Basil's dine-in facilities closed for over two months, revenue is down approximately 55%. The restaurant is operating with reduced hours and is offering to-go and delivery services at this time.
Despite a hit to the restaurant's bottom line, Diep said she is willing to wait for additional data regarding the coronavirus, specifically how it spreads, as well as a stronger decline in new cases before reopening.
While many restaurants do not plan to reopen dine-in options at this time—due to a combination of logistics, financial projections on the cost to reopen and concerns about health and safety—Diep expressed hope for hte future.
"Community is everything," she said. "Right now, we miss our patrons, the conversations. Restaurants are more than just places that serve food. We offer a haven for people to get together, laugh, share memories."
Cautiously reopening
On the afternoon of May 5, William Thigpen's cellphone started buzzing. Texts and calls started pouring in following Abbott's announcement that barber shops and salons could reopen May 8.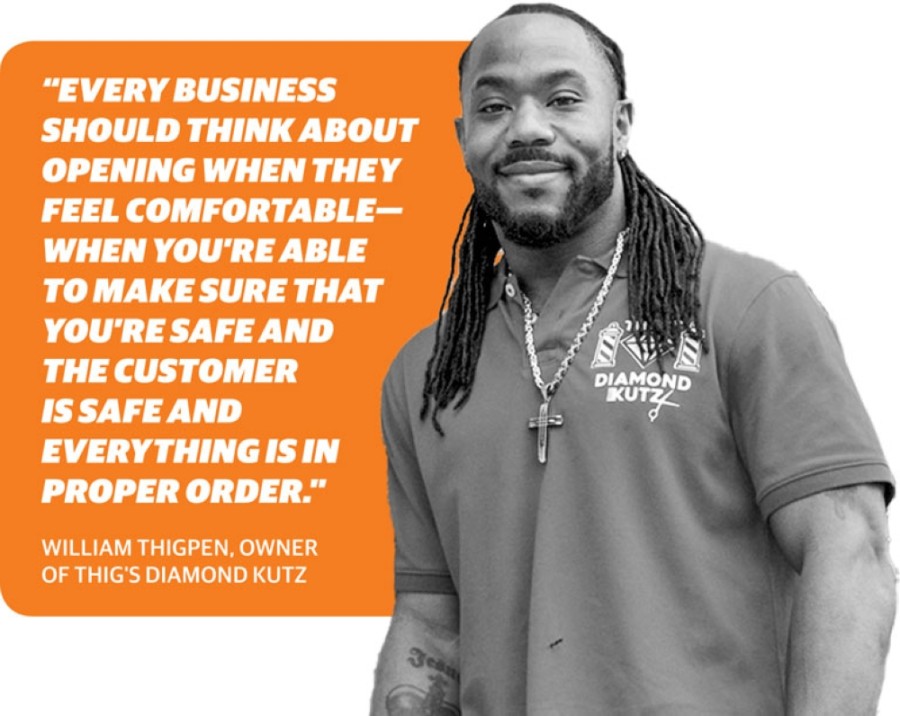 "My phone has been blowing up," said Thigpen, the owner of
Thig's Diamond Kutz
in downtown Hutto. "It's been crazy."
However, despite a high demand from clients, Thigpen decided not to reopen his barber shop on the earliest date possible. With only three days between the governor's announcement—which included new rules such as a limit of one customer per stylist, using an appointment-only system, maintaining 6 feet of separation between stations and ensuring both the stylist and customer wear face masks—Thigpen said he needed a few more days to prepare.
"Every business should think about opening when they feel comfortable—when you're able to make sure that you're safe and the customer is safe and everything is in proper order," Thigpen said.
In Round Rock,
Lamppost Coffee
owner Brian Burns said he made the decision to reopen the dine-in portion of his business May 1.
"Revenue is down between 60%-70%," Burns said. "We're desperate to climb out of this hole."
The public health concern weighed heavily on his mind, Burns said, alongside a fundamental need to make enough money to keep the lights on.
"We definitely are concerned about safety and whether or not it's too soon to reopen," Burns said. "But I feel that because we can reopen, we have to, to even have a shot to make it through this."
Monitoring new cases
Michael Craun, chief medical officer for St. David's Round Rock Medical Center, said the hospital network had not seen a spike in COVID-19 patients in the Greater Austin area as of May 15. This date marked two weeks since Abbott's phased business reopening strategies began.
"The data from the St. David's system—which is the five hospitals—our inpatient count is fairly consistent there, with one or two people every day changing," he said. "So not a lot of change as of yet."
Craun stressed the importance of remaining cognizant of social distancing measures and observant of any changes in health. Frequent hand washing, limited social interactions and mask wearing are everyday behaviors needed for personal safety, he said.
With businesses and community activities slowly resuming, both Neal and Craun said continued social distancing measures are essential.
"I would encourage people not to be hasty and make rash decisions to change their way of doing things," Craun said.
Data from The University of Texas at Austin's coronavirus projection model revealed there is a 71% probability that the Austin metro's peak had already passed as of May 19.
However, Neal said this does not mean that his, and Texas' work, is done at reducing the impact of the coronavirus. He said the coming months will be crucial at evaluating the virus's spread.