Founded in Northwest Austin in 1986, Floor King had been under the leadership of Kurt Wade and John Surko for much of its history. In January 2020 the home design, decor and floor covering company transferred to new leadership.
Now the business, which later this summer opens its newest location in San Marcos, is led by a second generation of Surkos, Jack and Kelly Surko-Guerra, and longtime Floor King team members James Brown and Kim Wanslow.
Wanslow, Floor King CEO, said the group working together through the decades has made Floor King seem like family, especially considering the years of service that also can be found among members of Floor King's installation team. One member, Alfredo Renteria, passed his trade to his son, Jorge, who is also part of the team.
"It's a family unit that we have developed," she said. "We've seen each other's kids grow up."
Floor King offers not only flooring and installation, but also works with both retail clients and homebuilders on design. The service is particularly important with retail customers, as in-house experts guide customers on what works best for their individual lifestyle, Kelly Surko-Guerra said.
"We get to know their lifestyle," she said. "So that's an opportunity to make sure they are getting a product that they are going to love and that they can live with."
The process continues from design to product choice, installation and then maintenance, said Brown, who is Floor King's chief financial officer.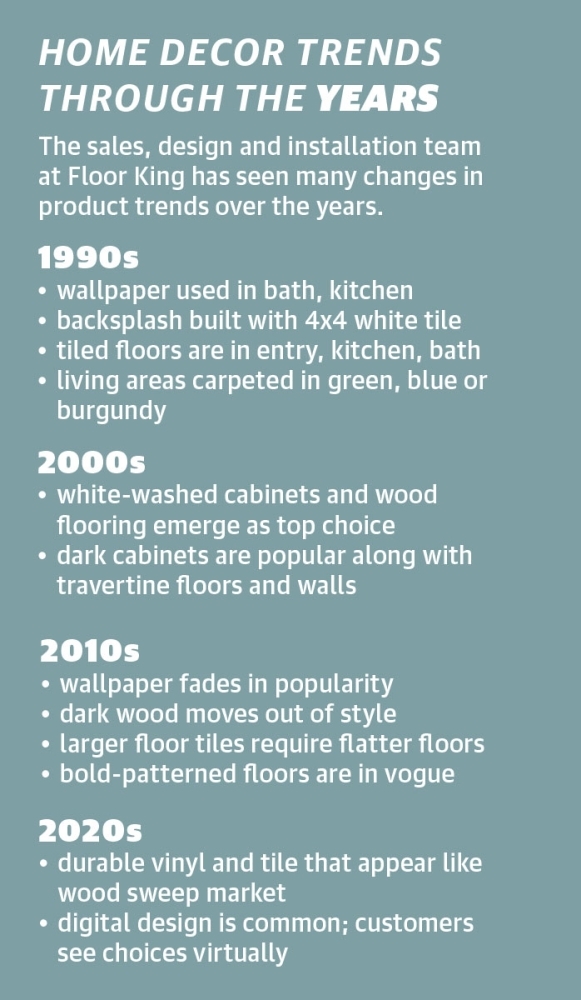 "It is almost like an education, and that's the best way to have a happy customer, is for them to know what they are getting into," he said.
Working with customers in a personalized fashion has positioned Floor King to face challenges brought by big business in the floor covering industry, which has seen big-box home improvement stores come into the market selling carpeting and flooring products.
But the array of retailers and flooring products often brings customers to Floor King with more questions than answers, Wanslow said.
"We see it as an opportunity to educate," she said. "If you are pulling it off the shelf, then there's no one explaining it. Our team is there to educate you on what is right for you."
And what is right, even for a single customer, can change over time. Carpeting is now reserved more for the bedrooms of a home, and more durable vinyl plank flooring has come into vogue in the main living areas as families with busy schedules and pets need durability, she said.
Ultimately, having product variety along with customer knowledge has enabled the Floor King team to manage the changes.
"In dealing with different customers, you deal with different styles and different wants and different priorities," Surko-Guerra said. "The ability to kind of conform to what that person wants in the few hours we have with them has remained constant."
Floor King
10961 Research Blvd., Austin
512-346-7034
www.floorking.net
Hours: Sun. by appointment, Mon.-Fri. 9:30 a.m.-6 p.m., Sat. 10 a.m.-4 p.m.