Industries reliant on social interactions—like salons and spas—are coming to terms with the fact the way they used to do business will be different for the foreseeable future.
Williamson County issued a "Stay Home Stay Safe" order through April 30
which reduces gathering to 10 people or less and closes non-essential businesses to the public—including salons.
While no exact details have been formalized for the salon industry's return to every day operations, and no date has been set as to when that may happen, Rachel Smith, owner of Razmataz on the Georgetown Square, said she is already preparing to have increased health and sanitation regulations—more stringent than the ones salons already follow—that could impact the work they do.
She, and other Georgetown beauty business owners, also noted that social-distancing and the wearing of masks doesn't work well in their industry.
"Our industry is very personable. It's like going to see your therapist and your best friend," Smith said. "There's a relationship, and it just doesn't feel so personable when you have to wear gloves and a mask."
Posh Salon owner Brandy Green agreed, adding she is concerned her team of eight stylists will have to rotate who can work in order to maintain social distancing regulations, which will cut back on income for her and her team.
And if mandates require disposable gloves and masks or more regular sanitation, it's another financial factor to run the business, she said.
"It's very hard for all of us because we have no revenue coming at all," Green said.
Successful and unsuccessful federal aid
Razmataz employs 20 people, and thanks to a loan from the federal
Paycheck Protection Program
as well as a $10,000
grant from the Georgetown Chamber of Commerce
, Smith does not intend to let anyone go.
She also dug into the store's savings to offer each of her employees $180 before the store formally closed March 22.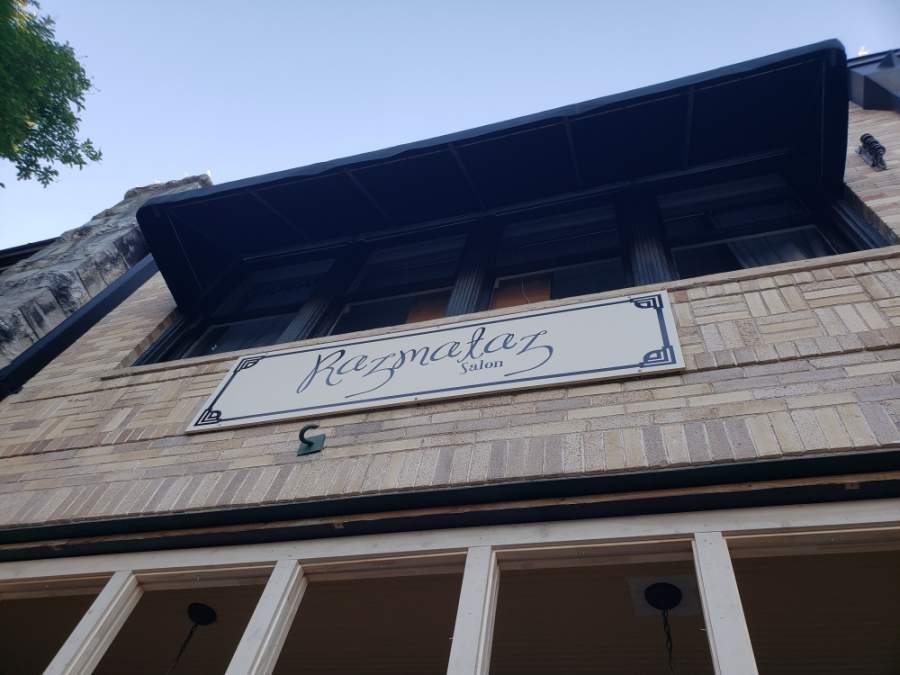 Added to this, Razmataz is also going through a massive renovation to restore the inside and the outside façade to the building's original glory. Smith, who owns the building, said they had hoped the renovation would be completed by June. While the construction work continues—as it is deemed an essential business—Smith said their new equipment is stalled in Connecticut since the manufacturers are not working. She said she is unsure of when the new equipment will come in, but she hopes the renovations will be completed sometime in the summer.
"It's been very stressful," Smith said. "But we're just trying to stay positive."
However a victory in receiving financial support wasn't the case for Posh Salon, Green said.
Green said she does business with a larger bank and was told that her Small Business Administration PPP was never submitted; she was told the money would need to be used in eight weeks and her business wouldn't be able to achieve that. Now Green is in the queue for the second round of funding. She said she also has yet to hear back from the Chamber regarding its grant program.
Green added that even as she struggles to secure funding, so do her employees.
Many of her stylists—eight total—are commission based and have been able to secure unemployment from the Texas Workforce Commission, but her stylists that are self-employed have been struggling to secure any kind of aid, Green said.
"Unemployment makes up only a fraction of what they make behind the chair but at least they are able to put groceries on their table," Green said. "But the [self-employed stylists] have been having a heck of a time. They can't get unemployment, [and] they haven't been able to get any of the grants or the loans that are out there."
Posh closed March 21, days before Williamson County mandated it, because of the number of cancellations and concern for clients, Green said. At the time, she believed they would be closed for a couple of weeks and planned to get back in the store and sanitize it for clients then. Green said didn't think her business would be closed for this long.
"It's just trying to stay positive, and trying to keep above water," Green said.
Mary Bauer, co-owner of Laser Lounge Med Spa, said she received a $2,500 grant from the Georgetown Chamber but is still waiting for PPP money.
Laser Lounge Med Spa offers Botox, laser hair removal, facials and more, all of which—like salons—is impossible to do without human contact.
"It's really hard to give someone a facial with a mask on," Bauer said. "We can't even do to-go anything."
Support local
On April 17, Gov. Greg Abbott announced a phase-reopening of Texas which would allow retail stores to offer "retail to go" options beginning April 24.
Smith said Razmataz will be taking advantage of the retail to-go option by selling its hair products brand Eufora for curbside pickup. Green said she will also try selling products for curbside and delivery on Friday—but unsuccessful attempts at this in the past leave her skeptical.
Laser Lounge Med Spa is also selling at-home peel kits, but Bauer said it's not near enough revenue to be sustainable.
As their businesses remain closed, Smith, Green and Bauer said they are eager to work again.
"We just can't wait to get back to work and make everybody feel beautiful," Smith said.