Coronavirus demand projections released by The University of Texas at Austin on April 6 show that cases in the Austin-Round Rock metropolitan statistical area, or MSA, could vary from 6,000 to 1.7 million based on the effectiveness of social distancing, and deaths could range from the dozens to the thousands.
According to the models, if the MSA—including Bastrop, Caldwell, Hays, Travis and Williamson counties—is able to reduce contact by 90%, the area will only see 13,470 confirmed cases with 52 deaths. That number drops to 6,206 with 95% contact reduction with 26 deaths, data shows.
If social distancing was only limited to school closures in the area through Aug. 17, the MSA could see 1.77 million confirmed cases of coronavirus with a projected 11,408 deaths, data shows.
The model was updated with the daily number of coronavirus-related hospitalizations in the Austin-Round Rock MSA between March 13 and April 5, it said.
The report also looked at case projections if contact is reduced by 50%, 75% and 80% and recommended schools remain closed until Aug. 17.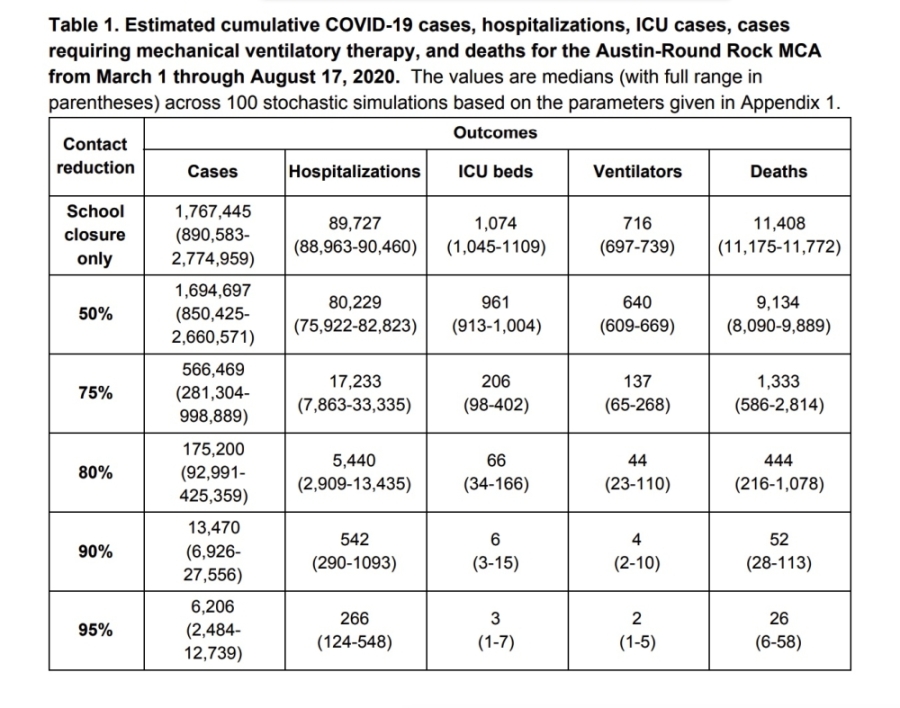 Currently, the epidemic doubling time is 2.8 days, the report said.
"The data further suggest that school closures and social distancing are depressing transmission," the report said. "Our projections indicate that the Stay Home-Work Safe order could effectively delay or avert a COVID-19 healthcare crisis in the region."
The report finds that the MSA needs to hit at least 75% in contact reduction or more in order to have enough hospital capacity as well as intensive care unit beds and ventilators, the report shows. But it does not state at what percentage the MSA is currently hitting.
As of April 7, Travis County had 554 confirmed cases and seven deaths. Williamson County had 87 confirmed cases and four deaths.
Hays County had 75 confirmed cases and no deaths.
On March 24, both Travis and Williamson counties issued a "Stay Home Stay Safe" order from March 25 through April 13. Hays County's order went into effect March 26. Gov. Greg Abbott issued an order April 1 requiring all Texans to stay home except for essential trips out through April 30—which supersedes any local orders.
On April 7, Williamson County announced it will extend its "Stay Home Stay Safe" order through April 30.
Entities are asking residents to reduce their interaction by 90%, only leaving homes for essential trips
—
such as grocery shopping and trips to the pharmacy
—
and to complete essential work.
"There is still much we do not understand about the transmission dynamics of this virus, including the extent of asymptomatic infection and transmission," the report said. "These results do not represent the full range of uncertainty. Rather, they are meant to serve as plausible scenarios for gauging the likely impacts of social distancing measures in the Austin-Round Rock Metropolitan Area."
View the full report here: