Williamson County Judge Bill Gravell said the county is working feverishly to acquire as many kits as possible, with top priority to test emergency first responders.
Gravell added that it is very difficult to get tests at the local level.
"We've got paramedics, we've got firefighters, and we've got individuals that are out responding on calls," he said. "If I could have it today, I would. I would like 1,000 test kits. And if I—if I have to order it a minimum quantity of 50,000, I'm willing to do that."
The county issued a stay-at-home order
March 24—with the exception of essential trips, like to grocery stores and pharmacies, and to do essential work—with the hopes of reducing socialization by 90%.
Gravell said Williamson County epidemiologist Justine Price has predicted that coronavirus will hit its peak in the county between April 24-May 15. As of March 30, the county had
reported 41 positive cases of coronavirus and one death,
but Gravell said he knows there are more ill who have yet to be identified.
When asked if the county is considering extending stay-at-home orders until April 30 as has been issued by the White House, Gravell said that will likely be the case, but no order has yet been issued. The county's key focus, Gravell said, is to address the issues of today and tomorrow.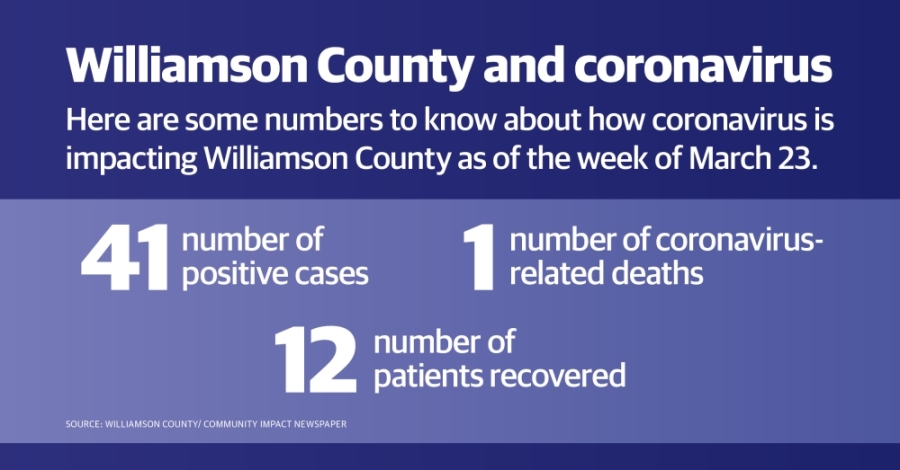 "The intent of this county judge [is] to take every step to protect life," Gravell said. "There are granular things that we're trying to do right now that are far more significant that deal today and tomorrow's issues and not that April [30] day."
As of March 30, Gravell said the county currently has 113 coronavirus test kits in its possession. During the week of March 23, the county had 315 available hospital beds in seven hospitals across the county. He added that there are 90 ICU beds, 65 pediatric ventilators and 221 adult ventilators. But count officials noted these numbers change often.
The county has also authorized the purchase of six ventilators for use in ambulances, he said.
Williamson County and health district officials have said they do not know how many test have been conducted because tests are taken independently and only positive cases are reported.
Gravell added that the county is working on overflow plans if the hospitals get overwhelmed with patients but is not ready to disclose a location. He said that location would likely be staffed by National Guard and Army doctors and nurses.
"We're working collaboratively on that and we think we have a great option," Gravell said. "I'm just grateful for how people are willing to work together."