As the Texas Department of Transportation forges ahead on its
$4.5 billion expansion of I-35
in Austin, city leaders and transportation planners are focused on ensuring the project also provides new connections across the historic divide through the city center.
New
TxDOT plans
released in December detail how the state highway agency aims to redesign I-35 between Ben White Boulevard and Hwy. 290. The "Capital Express Central" project is one of three TxDOT initiatives to update I-35 in Central Texas in addition to smaller southern and northern programs.
Capital Express Central designs are not yet finalized, and TxDOT is still
seeking community feedback
on its plans before construction begins. At the same time, Austin is considering how to maximize local enhancements from the project that has drawn opposition in the community and at City Hall.
"It's not just putting the infrastructure in place. ... It's all that it can also unlock and impact. And we know that there could be some negative impacts. We think there's going to be a lot of positive impacts, but we want to do all of that analysis to make sure if there are benefits and value being unlocked by these improvements and the redesign of the highway, that some of those benefits are being returned to the community," said Mike Trimble, director of Austin's Corridor Program Office, during a Jan. 19 City Council briefing.
Overall, I-35 expansion has varying levels of support and resistance on the council dais. But officials have generally agreed that Austin should pursue options to cap, or cover, as much of the highway as possible through the new project and stitch, or bridge, portions that remain open to better connect the residents of East and Central Austin.
District 4 Council Member Chito Vela opposes the expansion and said he
plans to formally request
more collaboration with TxDOT on the project this year. During the January briefing, he also asked the city to look at how caps might be extended into his council district as much as possible.
"Any kind of capping that would reduce the emissions, the noise pollution, the light pollution would just be greatly appreciated," Vela said. "It's a great idea in the downtown area; it's a great idea at The University of Texas. I just think it's a great idea throughout the entire stretch of the North Central portion of the freeway. And again, ... we only have one chance to do this, and I really want to get it right and create the maximum public benefit for the citizens of Austin."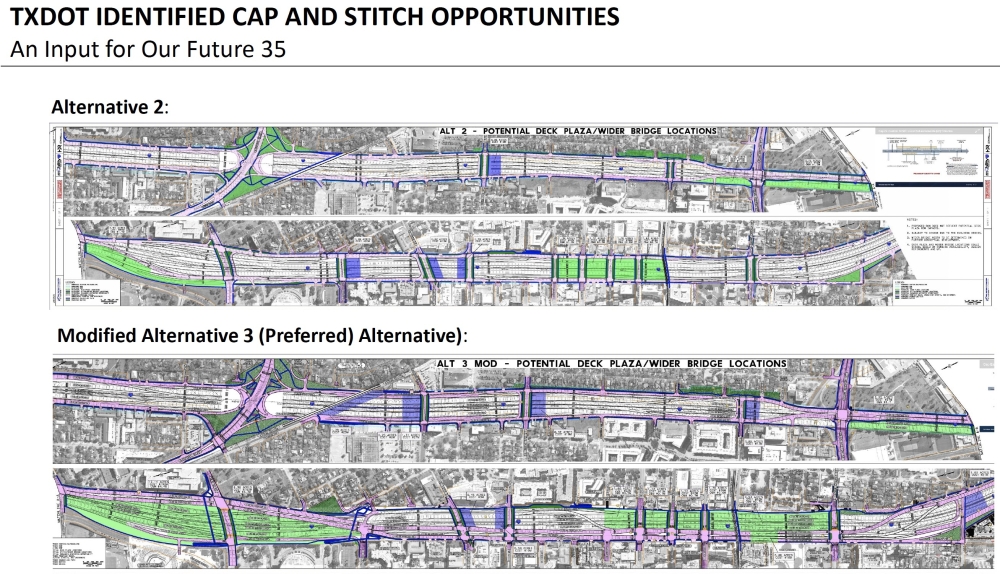 District 10 Council Member Alison Alter said she agreed with that approach, even if full capping through Central Austin does not take place immediately alongside the upcoming TxDOT project. And Vela, referencing the economic development around Boston's similar harborside capping of I-93, also asked city planners to review how caps could maximize opportunities for neighborhoods near the highway.
"We know that there's a possibility to unlock a lot of value with this, and we want to make sure that that's happening to the best benefit to the community," Trimble said.
Austin's cap-and-stitch program could cost hundreds of millions of dollars. The city is still considering how it might support that work, and Austin will likely need a mix of local and federal dollars, potential public-private partnerships and other options to move forward. Trimble said "everything is on the table" as the city aims to complete a funding analysis by this summer.
With local and state planning underway, council members also noted that a push for caps and stitches does not necessarily signal support within Austin for Capital Express Central as well as the dozens of
residential and business displacements
the highway expansion could bring.
"I want to be very mindful that trying to be creative about how to make things workable and enjoyable for the city overall doesn't come without the caveat that we know the relationship with TxDOT is that they build highways," Mayor Pro Tem Paige Ellis said. "I hope they continue to be mindful of the pedestrian and bicycle infrastructure, and the people that really we're building any of the projects for are able to coexist in a community and not feel like the east side is further divided."