The development team behind the East Austin office campus Springdale Green shared new details June 21 on their plans for redeveloping the 30-acre former tank farm site over the coming years.
Located at 1017 Springdale Road, Austin, the Springdale Green project will center around a pair of six-story office towers containing around 872,500 square feet of rentable space. Those buildings as proposed would include amenities such as a 23,000-square-foot fitness center, an 18,000-square-foot conference center and 36,000 square feet of "garden-like" terraces throughout, according to property owner Jay Paul Co. The site will also include a parking garage with dozens of electric vehicle charging stations and storage space for hundreds of bicycles.
"Springdale Green represents a new type of office campus integrated within the fabric of the neighborhood, offering unique outdoor spaces that promote productivity, health and wellbeing," Janette D'Elia, chief operating officer at Jay Paul, said in a statement. "The campus design reflects the eclectic spirit and creativity of East Austin while prioritizing sustainability with a number of environmental restoration efforts for the surrounding landscape."
The majority of the Springdale Green property, over 19 acres, is planned to house newly restored natural areas including woodlands and meadows as well as a creek tributary. Additional amenities throughout the preserve area include nature and jogging trails, a boardwalk, and designated sports and activity spaces. The environmental restoration component of the project is also planned to include elements such as invasive species removal and flooding mitigation.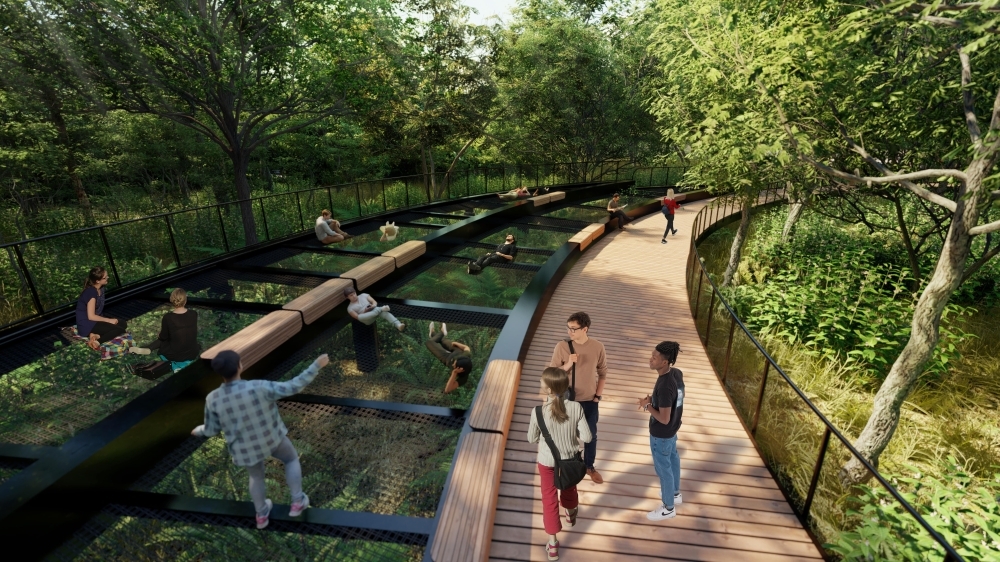 "Springdale Green represents a paradigm shift—healing and restoring a neglected site into a native ecological landscape that is innovative and natural," said Daniel Woodroffe, president and founder of Austin-based dwg, the project's landscape architect. "All of these efforts create a highly performative and functional environment that achieves the highest standards of sustainable design."
Following the rezoning of the property
approved by City Council
earlier this month, site work is now underway, and the project is expected to be completed by the fourth quarter of 2023, according to architecture firm Gensler. No information on potential tenants for the future development was available from commercial real estate firm Newmark as of June 21. 415-263-7400.
www.springdalegreen.com