Tens of thousands of housing units citywide are being lost due to local regulations governing the scope of new construction near single-family homes, according to a new
city analysis
.
The report on the effects of Austin's
compatibility standards
—rules laying out where and how tall new buildings can be built near single-family homes—stems from city officials' continuing push to
reform the standards
to allow more housing construction across town, particularly multifamily buildings like apartments. In their August analysis, city staff also suggested drastically reducing compatibility's range of influence to line Austin up with comparable cities.

The big picture
That recommendation and others tied to compatibility have already received support on the City Council dais and its many members who've promoted land-use reforms. With such policies in focus, updated rules applied to properties across the city will likely be approved early next year based in part on the new findings.
However, those changes remain opposed by many Austinites concerned about impacts on existing communities and their legality. Several recent land-use changes including loosened compatibility regulations are already targeted in a resident-led lawsuit against the city stemming from the
successful legal effort
to halt previous council-approved zoning policy updates.
How we got here
This spring, council kicked off a review of Austin's compatibility standards as an initial step toward slashing their effects citywide. That followed the passage of compatibility reductions only
along major transit corridors
in late 2022.
Council Member Chito Vela, who called the rules overly broad and Austin's "No. 1 housing killer" that hampers new construction and affordability, has been a leader in the charge to cut compatibility. His June request to limit multiple aspects of the regulations—such as cutting the "trigger zone," or distance of influence from residential homes, from a current extent of up to 540 feet down to 100 feet or less—is expected to come back before City Council in early 2024 for final approval.
The details
In their August report, staff suggested that ending compatibility at 75 feet would be the most effective approach to opening up more housing across Austin. Moving down to just 50 feet would allow even more production.
"To make an impact, it really needs to be ... closer in than 100 feet because that's where the majority of that housing capacity is potentially lost," said Rachel Tepper, a principal planner in the Housing Department, during a Sept. 6 council briefing.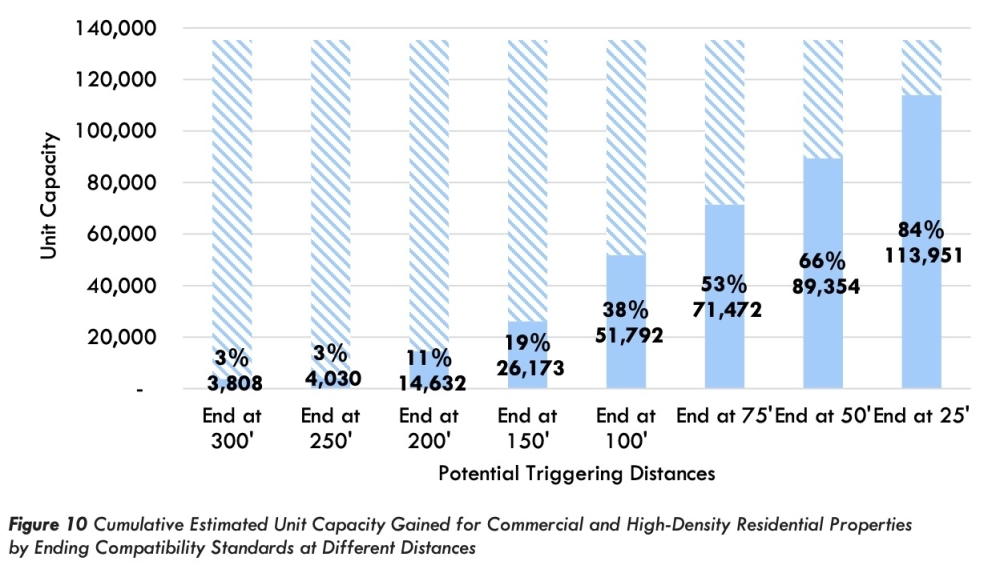 The city's maximum 540-foot trigger zone has long been noted as far more restrictive for development than other comparable cities. Dallas and San Antonio cap compatibility at just 50 feet, while Houston has no such rules.
Tepper said 98% of local builders interviewed by the city reported having scrapped project plans in Austin because of the strict regulations. A majority said the rules had caused significant delays to their past projects.
If the 75-foot limit is eventually adopted, staff said the change could have a significant impact on the potential for new housing construction in the city.
About 27 square miles—more than 8% of the land in Austin—is constrained by compatibility to some extent today. The capacity for 71,794 residential units that are currently lost could be unlocked if limits are reduced from 540 to just 75 feet, staff determined. Thousands more could be realized if housing is added in the city's commercial zones; that development option was added last year and is also targeted in the resident lawsuit.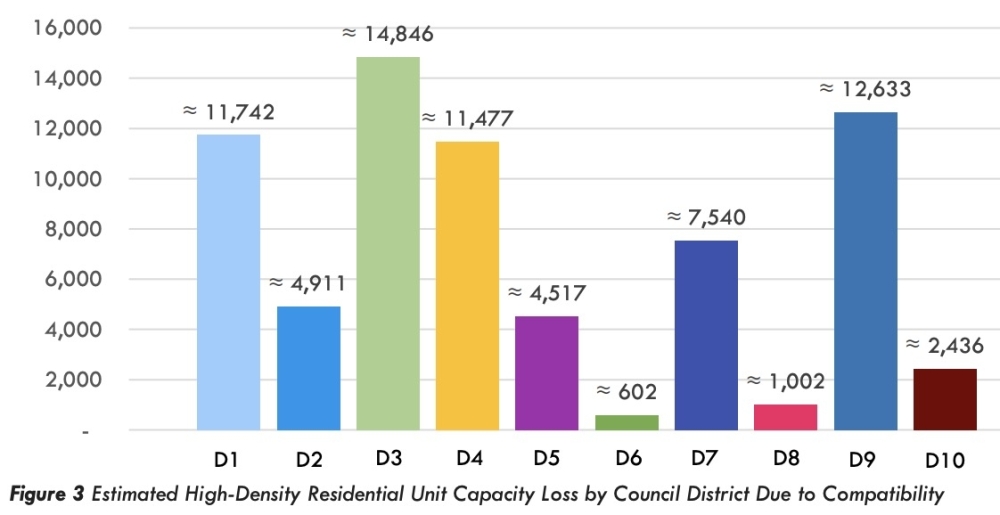 The potential housing gains are theoretical, staff noted, given the unlikelihood of housing construction up to the full potential of every site they analyzed. However, they said the findings illustrate the full scope of compatibility's effects and the thousands of additional residences that could be added if Austin's rules are revised.
The anticipated blanket trigger zone cuts would not be accompanied by any affordability requirement—a setup that split some council members earlier this year. Staff also proposed further compatibility rollbacks for projects that include affordable housing or are situated near higher-density residential zones.
Reducing compatibility to 75 feet and allowing additional reductions for affordable housing is very well thought out. Given the impact at distances under 75 feet, developers will have very strong incentive to participate in affordable housing bonus programs.

— Chito Vela III (@chitovela3) September 8, 2023
A closer look
Like many aspects of zoning in Austin, staff also found that any compatibility tweaks wouldn't be felt equitably across the city.
Much of the land that's open for higher-density projects like apartment buildings is located in Central or East Austin, and Tepper said about two-thirds of that space is also identified as areas where residents are at risk of displacement. Unlocking more opportunities for residential construction in those locations would bring "underlying disproportionate impacts" to such places, she added, as some existing housing would likely be wiped out thanks to heightened redevelopment pressures.
Staff said city leaders should also consider preservation and displacement prevention policies alongside tenant stabilization strategies to accompany any code updates.
"We think it's really important to balance the impacts of other existing regulations on housing capacity and engage in holistic discussions on the zoning, urban design, landscaping and other ways to establish transitions between development intensities," Tepper said.
What they're saying
During the September briefing, Vela also highlighted how the proposed changes could create a "virtuous cycle" of development that creates more residences while boosting the city's coffers through property tax increases. He also said the move would support several civic policies related to creating more connected communities given the high amount of housing that could be realized along transit corridors.
"Given our goals with regard to transit, given our goals with regard to climate change, it just seems to make a world of sense to boost housing on those corridors where they will have access to bike lanes, high-quality transit, and just a good mix of commercial, retail and other services that are a short walk away, hopefully just downstairs," he said.
While the report mainly covered the farther reaches of compatibility's trigger zone, Council Member Ryan Alter also suggested more review of standards that apply closest to triggering single-family homes. Compatibility imposes strict rules on additions within a 25-foot "buffer zone" of a home, and Alter said adjusting that system could open up more of a property's footprint for housing.
"I feel like at this stage it would be very beneficial for us to at least look at not the structures within that 25 feet, but just what is allowed to be built there; maybe up to 5 feet or something very surface-level where we're talking about the ponds, the parking. Things that just take up space that are going to take up building space otherwise," he said.
What's next
As called for in Vela's June resolution, city staff anticipate finishing up an ordinance with many of the proposed updates early next year. City Council could vote to adopt any changes as soon as February or March, a process that would be accompanied by public feedback.
In the meantime, the legal request that could roll back Austin's most recently approved compatibility update is scheduled for a Sept. 26 court hearing.