Limits on new construction in Austin near single-family homes could soon be greatly reduced citywide, a contentious and long-analyzed change to local development rules that some officials and community stakeholders say would greatly expand housing production throughout the city.
The setup
Compatibility standards
regulate how tall new developments like apartment complexes may reach within a certain distance of single-family homes, and where on a site any construction is allowed.
The land-use policies were originally laid out to ensure new buildings fit within surrounding residential communities, and supporters of the standards have said they help maintain local character amid rapid redevelopment and population growth.
Compatibility in Austin is notoriously more strict than in comparable cities nationwide, including others in Texas. Austin homes can limit the height and design of new development up to 540 feet away; those limitations typically cover just 100-200 feet or less in most other places with such rules on the books.

The effect can extend across property lines and roadways regardless of factors such as whether property owners care to see the rules enforced or if a site zoned for single-family use is serving as a residence.
The rules cut out pieces of new construction within the compatibility trigger area if they'd exist too close to a nearby house. Looking around the city, structures that gradually step up in height may be displaying an aesthetic architectural choice, but are often building to the maximum height allowed over different parts of a property based on compatibility standards.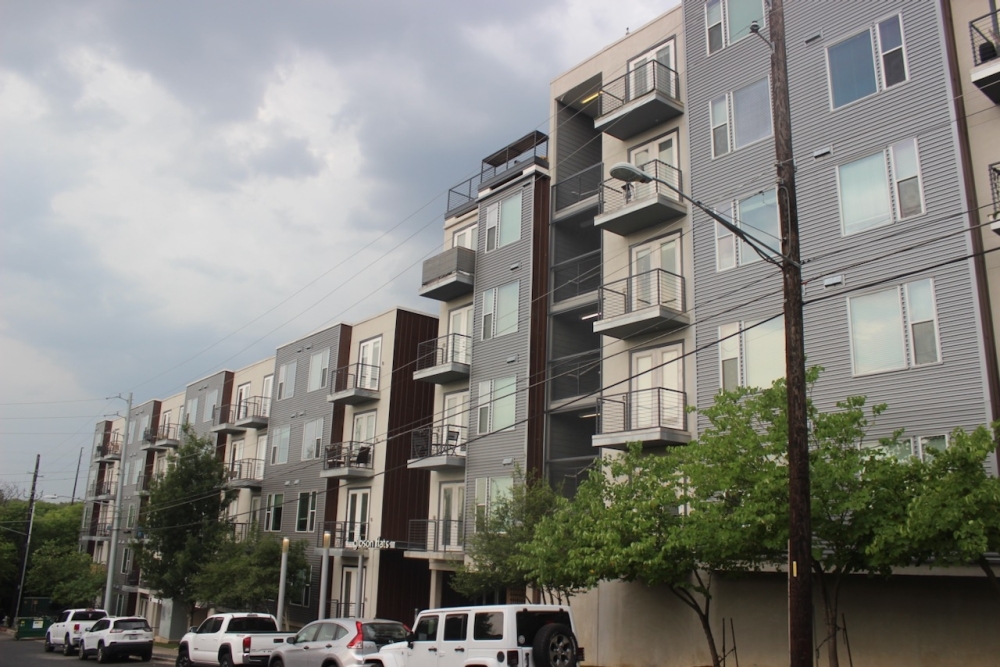 What's happening
On June 8, officials will vote on a
proposal
from Council Member Chito Vela that would slash the influence and application of compatibility. Vela said during a June 5 interview that he's calling for the change as the standards have become Austin's "No. 1 housing killer" and a policy he believes provides no measurable benefit.
"Just anecdotally, you lose 30 units off of here, 40 units off of here, 20 units off of here. In our conversation with builders—and this is not just with for-profit builders, this is also with nonprofit builders—they immediately point to compatibility as costing them a lot of housing," Vela said. "What are we gaining from the loss of this housing?"
The change would end up cutting compatibility's trigger distance down from 540 to 100 feet—or less, if recommended by city staff following further review.
The update would also strike developments such as townhomes or other "missing middle" projects from compatibility rules, meaning they could build higher near single-family homes without restriction. And if it's approved, only properties now being used as single-family residences could trigger compatibility, eliminating the effect around vacant lots and some facilities, such as churches, that are situated in neighborhoods but do not serve as housing.
"Compatibility in Austin has cast a very wide net—and too wide. We have to trim and focus that, and that is what the resolution is trying to address," Vela said.
Sorting out details
The compatibility item up for a vote June 8 has been formally supported by Vela and council members Natasha Harper-Madison, Vanessa Fuentes, José Velásquez and Ryan Alter—who have each backed several housing policy updates on the upcoming agenda and in recent months.
Some debate over the merits of Vela's proposal arose June 6 during council's
work session review
of how the city is tackling its extensive slate of pending land-use reforms.
Vela's proposal is a development code edit that would apply uniformly citywide. However, council last year approved a more focused land-use overlay—dubbed "
compatibility on corridors
"—that grants some relief from the standards if a project provides affordable housing based on income—a topic that's not addressed in the new proposal.
Council Member Alison Alter, who represents much of West Austin, raised issue with that "very alarming" aspect of Vela's approach. Alter said her concern is based on the large-scale action that doesn't ask anything of the property owners who would gain flexibility from the change, especially in places like her district where affordable housing is already rare and difficult to realize.
"We might debate that we need to calibrate these programs differently, but this action eliminates affordable housing requirements wholesale," she said. "I think that's a step in the wrong direction."
In response, Vela said he believes Austin is so out of line with other comparable cities' standards that change is needed, and that creating more housing is a key way to naturally provide more and cheaper options to live in the market.
"I just think that the idea of kind of holding development hostage using compatibility and trying to squeeze out a few affordable units, ultimately, that's not going to be an effective way to get housing produced," Vela said.
Digging deeper
This week's deliberations come after broader changes to the rules had been
proposed
at points during
failed
land development code rewrites of the 2010s and early 2020s. More recently, council backed the reduction of compatibility standards along dozens of major roadways in late 2022.
When the corridor adjustment was passed, some said the change would have an
inequitable effect
between East and West Austin, and was also too narrow to have noticeable effects. City staff confirmed on June 6 that only one person has expressed interest in building under those rules in the six months since additional allowances were granted.
Separate from Vela's item, council will vote June 8 to
update
the corridor compatibility overlay to include
multiple stretches
of Hwy. 290, Menchaca Road and East 51st Street that were accidentally omitted when that change went into place.
After the corridor update went into place, a group of residents sued the city over the move. An initial court hearing over their motion to cancel the policy is scheduled for late August.
The debate also comes on the heels of a state legislative effort that nearly overturned stricter compatibility rules across Texas.
A bill
supported by some housing advocates in Austin and opposed by other local residents would have
capped compatibility's trigger distance
at just 50 feet in all major Texas cities. The bill passed the Senate and nearly advanced to a vote in the House in recent weeks, before dying in the final days of the spring legislative session.
Vela said his resolution was not inspired by that proposal from Texas lawmakers, but that the bill's near-passage showed city leaders should take matters into their own hands to avoid mandates from the state.
"We would not have been the only city affected by that [bill], by any means. But if we don't want the state to take action, then I think we need to take action to forestall the state doing it for us, in this respect in particular," Vela said.