Austin Energy customers are facing the
first increase
to their base electricity rates in a decade, and the city utility is also planning for a separate rate hike that could tack an extra $20 on residents' monthly bills.
AE's base rate covers the city electric utility's basic maintenance and operations costs. A
base rate review process
, the first since 2016, has continued through the year as AE seeks to balance rising costs with additional revenue. Along with an overall rate hike, AE is also proposing to compress its residential rate tiers from five to three, and to bump its fixed monthly customer service charge up 150% from $10 to $25.
AE officials originally said the proposed 7.6% base rate increase would cost the average resident $15.56 more on their monthly power bill—nearly $187 per year—to bring in $48 million more in annual revenue. That figure could still change, and following a series of public meetings this fall City Council will sign off on a new base rate to go into effect in 2023.
Separate from that ongoing and controversial base rate review, AE officials
announced
Sept. 21 that an additional $20 monthly charge could start hitting customers in November. That change was also proposed in response to rising costs and covers AE pass-through rates, including power supply adjustment, or PSA, as well as regulatory and community benefit charges.
If both the base and pass-through rate hikes take effect as proposed, a typical AE customer could see their annual utility bills spike by more than $420.
Adjustment analysis
While AE's base rate review takes place every few years amid an extensive public process, the pass-through adjustment is made annually and without as much advance notice. AE laid out the reasoning behind its $20 proposal in a Sept. 21 memo to council and during a Sept. 27 council work session briefing. City Council is set to consider the changes Sept. 29, although that vote could be pushed back.
According to AE, the pass-through increases stem from multiple factors, including the global spike in energy costs, particularly natural gas; continuing fallout from last year's Winter Storm Uri; and changes to the state's power grid under the management of the Electric Reliability Council of Texas, or ERCOT.
AE CFO Mark Dombroski told council the increase is tied in part to ERCOT's
redesign
of the Texas electricity market in the wake of the winter storm. Dombroski said a
recent report
by ERCOT's independent monitor estimated changes aimed at grid stability have cost $1.5 billion in 2022 alone and that Austin's utility has born 4% of that statewide load.
"For the longest time, the market was focused on a bias towards price; they were really focused on low cost of power. And we enjoyed that for many years. Now the bias is more towards reliability, and so that drives up the cost, and that's what we're seeing," Dombroski said.
While utilities throughout Texas are experiencing higher energy costs and the effects of ERCOT's new strategy, AE is also contending with its unique results from Winter Storm Uri. Austin experienced
its share of blackouts
, but AE actually ended up
making tens of millions of dollars
at the time by continuing to generate power amid the disaster.
That resulted in AE customers getting a break last year as that additional revenue led AE to lower the PSA. However, Dombroski said broader energy trends and other rising costs mean that PSA is now under-compensating for the utility's needs, leaving it in a hole that must now be made up. Mayor Pro Tem Alison Alter said market changes were not accounted for fast enough, one of the various issues making the notable rate change difficult to interpret.
"The Uri stuff is a good story and a bad story. It's a good story because we made money on Uri; it's a bad story because didn't adjust it fast enough to get going. ... We didn't correct it," she said. "And then there's the cost of power, which is up in part because of how ERCOT is changing things and the congestion costs of ERCOT. That's a lot to try to explain to people."
Council could sign off on AE's adjusted PSA and other pass-through charges Sept. 29. However, officials pointed to the short timeline they and the public have had to review the proposal as reasons to potentially hold off on a vote until October.
"To have such a substantial increase in peoples' bills, [to] come to us and say, 'You have to act within seven days on this,' begs the question of, 'How can it possibly be that we suddenly hear about this and are expected to take action in seven days?'" Mayor Steve Adler told City Manager Spencer Cronk. "This council can't be ready for that; the community can't be ready for that; no one can plan for that. There's got to be a different and better way for us to be able to deal with this situation."
Instead of backing AE's current proposal, Dombroski said council could also opt to spread PSA cost recovery across multiple years. That move would raise Austinites' monthly bills by closer to $15 than $20.
Other alternatives floated by Dombroski included using other city dollars to reduce residents' payments or having council members set a desired PSA for AE to target. However, he said those paths could bring possible financial and credit consequences for the utility. He also said the utility's options are limited after its cash balance dropped more than 54% between October 2020 and August 2022, and following its recent credit rating
downgrades
.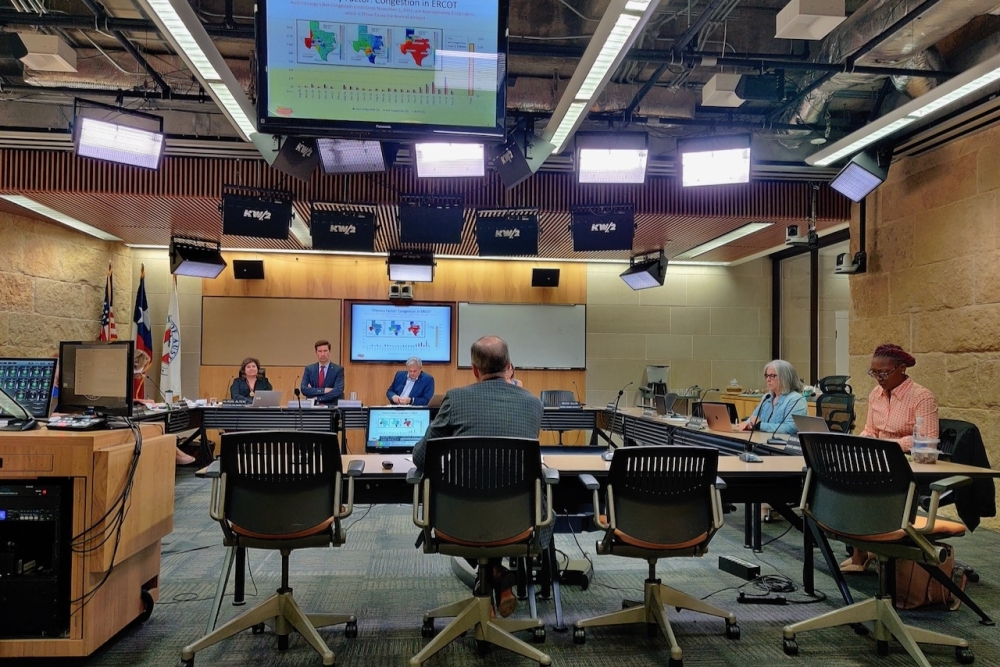 Base rate review continues
While the base rate and pass-through charges are separate issues, District 9 Council Member Kathie Tovo said council should look at them together and potentially try to limit their effects.
"Those proposed increases are going to hit the same ratepayers," Tovo said. "We can't afford not to consider how these things are coming at the same time. And frankly, I always thought the base rate proposal was too high and would prefer having five [rate] tiers rather than three, but I think in light of what is likely going to be a necessary increase ... we also have to re-evaluate the rate proposal."
As part of the base rate review process, an impartial examiner appointed by city officials recently
reviewed
AE's proposal along with feedback from community stakeholders. While agreeing with AE's need to boost revenue, the examiner recommended that council members shift several pieces of the utility's proposal before their final vote on the plan, including the rate design itself.
That review highlighted issues, including likely "rate shock" among AE's most vulnerable customers; the potential for a three-tier residential rate structure to disincentivize energy conservation and disproportionately affect lower-income residents; and AE's use of 2021—a year when Austin weathered WInter Storm Uri and was still experiencing the height of the COVID-19 pandemic—as a baseline for its cost projections.
City Council's AE oversight committee is set to meet Oct. 11, when officials will likely take up the base rate process and the new PSA adjustment. The citizen-led Electric Utility Commission, which has also followed the ongoing rate review, is next scheduled to meet Oct. 17.