Over her family's eight years at Creeks Edge Apartments in North Austin, Petra Antonio, 38, has gotten to know her neighbors well, their weekday morning routines intersecting as they head to work or send children off to school.
Over the last eight months, that reliable hum of morning activity has dulled, she said, as neighbors have struggled to find work and classrooms continue to operate through Zoom. Antonio lost her job as a house cleaner, and her husband's hours at construction sites have been cut in half. Working with a fraction of their typical earnings and raising four school-aged children, the Antonios are behind on rent—for the first time ever—by two months.
Antonio and her family are protected through local and federal eviction moratoriums but they are temporary. She applied to the city's rental assistance program but those dollars are limited. She is worried her rent debt will become insurmountable under current economic conditions. So, each morning, she has been catching her neighbors who still have morning commutes and selling them lunch plates—up to 30 per day—of her homemade mole and rice as a way to shave that debt. Antonio, an Austinite for 23 years, said, beyond Creeks Edge Apartments, her family is out of options.
Since March 26, as the coronavirus took hold locally, the city has protected renters from evictions for missing rent. The mayor unilaterally prohibited landlords from issuing notices to vacate—a prerequisite for an eviction filing. City Council also approved a 60-day grace period for tenants to pay back missed rent and city staff built a program on track to send out roughly $12.9 million in rental assistance by the year's end.
However, the local protections in place for renters were not built as long-term fixes, nor was the city built to continue shouldering the burden on its own, city leaders said. As renters continue to accrue debt and landlords continue losing revenue, the lengthy tenure of these short-term answers has made possible solutions more complex.
"It's not a sustainable place to be doing what we're doing and people will not survive this," Austin Mayor Steve Adler told
Community Impact Newspaper
.
With mass vaccinations on the horizon
, many advocates, community leaders and legal experts are worried about a possible wave of evictions once moratoriums are eventually lifted, spiking homelessness and exacerbating another public health issue. They say whether that wave will be a tsunami, as some have predicted, will be up to the progress communities can make while the moratoriums remain in place.
However, issues in collecting local data have left the city uncertain as to the scale of unpaid rent in Austin and, thus, the resources required to address it. The federal government's only coronavirus stimulus package is set to expire Dec. 31 and local elected leaders, government officials and housing advocates say without another one, progress will be difficult to forge.
A 'double-edged sword'
Cecil Domel has worked as a property manager for BelcoEquities' 13 rental properties for 15 years. The company has 3,329 units between Round Rock and South Central Austin. Domel said most units are available for "blue-collar workers" but the overall portfolio ranges from higher end units to subsidized.
Domel admits BelcoEquities has fared better than many in the rental industry. However, he said delinquencies are increasing and have cost the properties $303,000 as of early December. He called the eviction moratoriums a "double-edged sword" and said the missing rent could mean less money for staff salaries, property maintenance and amenities.
"If delinquencies continue to climb it could put properties in a position where they have to cut staff," Domel said. "When you cut staff, it affects other things."
Christie Altree, who rents out two homes to long-term tenants in Southwest Austin, said the pressure can be more immediate on small-scale landlords. Altree says she does not make a profit and uses the rent to pay the mortgages, property taxes and insurance on the homes.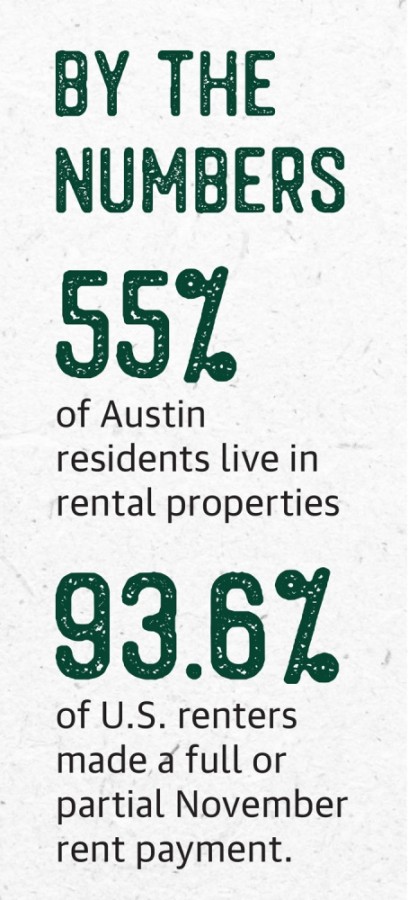 "If I can't pay the mortgage I would need to sell the properties to avoid the risk of foreclosure and my tenants would be out of a home anyway," Altree said.
Domel and Altree said they have prioritized communication with tenants. Domel said he supports amending the eviction moratorium to require residents to prove economic hardship due to the pandemic. Others, including District 4 City Council Member Greg Casar, have opposed such a measure, saying it would add an unnecessary burden to an already burdened resident.
Casar said he supports extending the local eviction moratorium, which he credited for curbing the pandemic's health and economic impact on Austin. According to Princeton University's Eviction Lab, which has tracked eviction filings across major cities through the pandemic, landlords in Austin have filed 725 evictions since March, compared to 9,266 in Fort Worth and 18,229 in Houston, where renters are protected only by the federal moratorium. The federal moratorium has a long list of eligibility criteria that requires tenants to prove, among other things, economic hardship due to the pandemic and that they are trying to pay rent.
"There are lots of people who still have a lot of back rent to pay and I wouldn't support lifting the moratorium until those levels of government who have the ability ... start taking really significant steps to make things better," Casar said.
Casar said he supports congressional efforts to effectively cancel rent for those who cannot pay due pandemic hardship. Adler does not think the solution is as easy.
"You can stop evictions so that someone doesn't have to pay rent but what do you do to protect the person who needs that rent to pay their mortgage and avoid foreclosure? That person is also in an incredibly precarious position," Adler said. "Ultimately, the federal government could go a long way in making this simple with the amount of relief it wants to bring."
Emily Blair, executive vice president with the Austin Apartments Association, said rental housing financing structures are often complex and reach beyond landlord and tenant. Most rental housing is not financed through federally-backed mortgages, Blair said, so the government has less influence over them. According to federal data, 660 rental housing properties in Austin have such mortgages. For context, the Austin Apartments Association represents 1,779 rental properties.
What's next
Collecting statistically valid data on the impact of the local eviction moratoriums and the scale of unpaid rent has been difficult, Blair said. Data from the National Multifamily Housing Council estimates that, in November 2020, 93.6% of the country's tenants made full or partial payments—the lowest percentage throughout the pandemic, but only 1.6% lower than estimates for November 2019.
Local anecdotes and national trends have led some to believe the problem may be more manageable.
"When all these moratoriums lift, we will have a wave [of eviction filings] but how much of a wave?" said Shoshana Krieger, whose nonprofit, Building and Strengthening Tenant Action, works with low-income tenants. "A lot of tenants who were behind in April and May have likely already moved out. What the moratoriums gave them was more time to plan and not have as hard a fall."
Getting local data will be crucial to right-sized solutions. Adler said the city will not lift eviction protections during a pandemic; however, he has discussed a potential amendment to eventually allow landlords to file evictions with the court but not let the process go any further. This could allow the city to collect filing data.
"It's so we can get a better count of how many people are facing the kind of anticipated tsunami of evictions," Adler said. "We just don't know the full extent of the challenge."
By allowing landlords to file evictions, Austinites would be able to access the Texas Eviction Diversion Program, a state-created $141 million fund that launches Jan. 1 and offers to pay up to six months of back rent for pandemic-impacted tenants. The caveat, however, is that the landlord and tenant have to agree to enter the program, and that agreement can only be made through the court after an eviction is filed.
Krieger and Casar criticized this requirement, saying many tenants do not show up to court after an eviction is filed, choosing instead to simply vacate the property.
Judge Nicholas Chu, Travis County Justice of the Peace for Precinct 5, said the precinct justices will continue their own moratorium on hearing eviction cases at least until Texas Gov. Greg Abbott lifts his disaster declaration. When eviction cases eventually reach the courts again, Chu said tempering a wave of evictions will be up to policymakers, not judges.
"Judges are constrained by the legal lens that exists right now ... we cannot interject our personal opinions or bias or sympathies to a case," Chu said.
In August, the city launched a more robust version of its rental assistance program—funded in part by federal CARES Act money, which the city is on pace to run out of by the end of 2020. However, Nefertitti Jackmon, housing and policy manager with the city's Housing and Planning Department, said the program was under development before the coronavirus hit and the city has plans to sustain it permanently to address Austin's rising housing affordability issues.
Antonio and her family learned in December they qualified for aid from the city's program; however, she said without consistent work she will remain worried for their future.
"I know we and our neighbors are suffering a lot," Antonio said through a translator. "We just want the opportunity to work and to be able to pay rent and support our families."