Austin's South Central Waterfront is set to welcome a wave of new development, public spaces and other local improvements as decades of public and private planning are reshaping what many hope can become one of the city's signature districts alongside Lady Bird Lake.
One of the area's centerpiece properties, 305 South Congress,
received city approval
in late 2022 to move ahead on its transformation into a series of high-rises with hundreds of residences, a hotel, commercial space and parkland. Nearby, several other properties are lined up for vertical construction as an expansion of a growing South Austin skyline, and the city is also pushing to
ensure long-term benefits
in the area come to fruition.
Since the entire neighborhood is not being redeveloped in one pass, stakeholders said successfully setting up plans for the South Central Waterfront's future is necessary to build up the area as desired and potentially an extension of downtown. If that works take place as envisioned, it could soon become a walkable district home to prime lakeshore and recreational access, shopping opportunities and transit connections accessible to all in the city.
"It's important to get this right because I think we have a really good shot at it. And the decisions that we're making today are going to last with us for decades to come," said District 9 Council Member Zo Qadri, who represents the area.
District vision
The waterfront district is situated on Lady Bird Lake across from downtown and is now home to a mix of residential and commercial space. The 118-acre area—about one-third the size of Zilker Park—is home to more than 30 individual properties and is poised to redevelop in a way guided by the community's vision, and soon, city policy.
A
community-backed road map
for the waterfront's future was produced in 2016,
laying out goals
for a denser, more walkable and environmentally friendly area with public spaces and waterfront access. The vision plan also called for 20% of all new housing in the district to be reserved as affordable based on income.
"The vision plan is, I would say it's a living document. It's exactly that: It's a vision; it's not anything codified into city code. And that vision, like all things, can change," said Samuel Franco, outgoing chair of the city's South Central Waterfront Advisory Board.
Wendy Price Todd, president of the South River City Citizens Neighborhood Association representing a portion of the district, said community members have pressed to ensure sustainability, accessibility and safety amid growth in what she called the "gateway" between South Austin and downtown.
"We are not, not in favor of redevelopment; we are for housing and for meaningful work," she said. "We want safe access. We want to be able to filter from the schools, the neighborhood, the retail across those properties to the lake, to the trail for everybody to be able to experience it."
While it lays out many community goals for the South Central Waterfront, the existing vision plan is not official city policy and is generally only used as a recommendation for new construction rather than a requirement for developers to follow.
A next step that has been long in the works would see the approval of a formal regulating plan—featuring development standards tied to affordability, density, green building rules and the local watershed. Once completed and accepted by city leaders, it would become a benchmark for local development rather than guidelines only.
"It's important to have someone at the helm saying, 'Yeah, this is in line with the original goals and intentions of the plan,'" Franco said. "It's important to have someone shepherding the plan to its completion and making sure the vision itself and the community benefits are realized."
City leaders
pressed last September
for the completion of the regulating plan and other development incentives to realize what they labeled as the "once in a generation" opportunity in the district. The plan is in the works and is expected to be finalized by city planners this year before it is presented for City Council approval.
Building up
Even without a regulating plan, new development is coming to the district.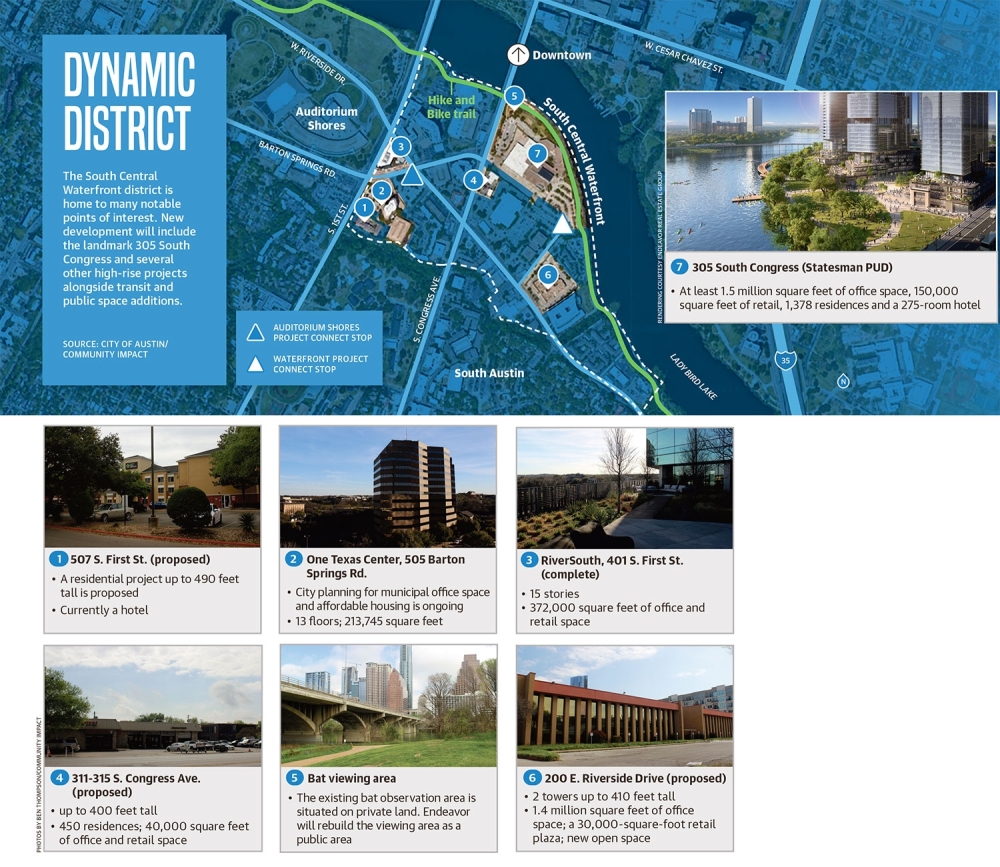 On Dec. 2, council gave a thumbs-up to Endeavor Real Estate Group's proposal for a 19-acre planned unit development, or PUD, at the former home of the Austin American-Statesman on South Congress Avenue.
Known as 305 South Congress, the project would feature six towers alongside an extension of Barton Springs Road, a new public park and viewing area for the Congress Avenue Bridge bat colony, and a reworked stretch of the lakeside hike and bike trail.
Endeavor will also pay over $30 million to the city for affordable housing and parkland dedication elsewhere.
In total, 305 South Congress could include almost 1,400 residences, a 275-room hotel, and 1.65 million square feet of retail and office space. Towers will range from 250 to 525 feet tall—potentially more than 50 stories—and could stretch another 200 feet higher if Endeavor contributes more affordable housing units or payments.
At the earliest, the project will break ground by late 2023, and construction will take place in three phases over the coming years, beginning on the property's west side next to Congress Avenue and moving east.
Without a local city development plan in place, Endeavor worked through a city PUD review requiring that larger projects offer more benefits than is typical. The PUD plans took well over a year to hash out, and among community members speaking on the issue at public meetings, most were generally opposed given concerns related to the amount of parkland added and the likelihood that affordable housing will not be featured on-site.
"I think like all new construction and exciting opportunities for employment and housing, people will get used to it. But it is not what the plan intended," Todd said. "It is not what the public believed that the plan would have offered."
Nearby, more PUDs are now moving through the city review process and could bring additional high-rise construction to the district.
A PUD from real estate firm Tishman Speyer at 311-315 S. Congress Ave. centers on a residential tower up to 400 feet, or up to 40 stories, tall. Down the block, a separate PUD from Garwald Co. Inc. at 200 E. Riverside Drive would bring a pair of office towers up to 410 feet tall.
Plans are also in the works to transform the 3.32-acre parking lot of the lakeshore Hyatt Regency Austin, located on Barton Springs Road between South Congress Avenue and South First Street, into a mixed-use complex.
PUD plans presented
to a city commission in April outline a 201-apartment, 86-condominium project with ground-floor retail space and a new waterfront park and boardwalk.
On top of all the private activity in the area, a key piece of Austin's affordable housing goals could be fulfilled through the redevelopment of the city-owned One Texas Center office tower at Barton Springs and South First Street. Officials have eyed that property for conversion into affordable living, although no project details are yet in place.
Sarah Torchin, a spokesperson for Austin's financial services department, said redevelopment plans for the city complex are pending.
"Joint use options that accommodate both municipal office space and affordable housing are being reviewed. Opportunities for additional community benefits will be considered once a redevelopment scope is determined," she said in an email.
While many projects are still years away, the waterfront district is already home to one new building that serves as an example of construction based around its vision plan. Stream Realty Partners' 15-story RiverSouth office tower has been recognized in the architecture community for innovative smart and green design elements, many of which were inspired by local planning efforts and public PUD reviews, according to Stream.
"Our little triangular site in what we consider to be the 'heartbeat of Austin' cut no corners when it came to focusing on sustainability, multimodal connectivity, wellness, and beautiful architecture," said Eric Herron, Stream's managing director of development and construction.
Stream officials also view the project as a draw for tenants across the river as more spaces come online in the district. Stream itself also plans to move its downtown headquarters and scores of employees to RiverSouth.
Planning for the future
The district may also become a transportation hub bridging South Austin and downtown. Originally, the Project Connect transit system was meant to serve the area with dedicated rail stops adjacent to 305 South Congress and near Auditorium Shores.
Project Connect's first phase was reworked due to cost increases, however, and
a new plan
for the rail's path through the city will be decided this spring.
Different options
now up for consideration include either the Waterfront or Auditorium Shores stations, but not both.
The city has also stepped in to support long-range improvements throughout the district.
While the new development projects will bring different upgrades to their own properties, Austin City Council
in late 2021
established a local tax increment reinvestment zone, or TIRZ, to fund the extensive local infrastructure city planners and officials have said is needed to support a vibrant, growing district.
A TIRZ is used to reserve a portion of property tax collections within "blighted" or underdeveloped area for civic needs; a new road grid and streetscapes, drainage infrastructure, parkland and affordable housing are all possibilities. Former Mayor Steve Adler said while the district is primed for new development, the funding system is needed to ensure the South Central Waterfront builds out as desired.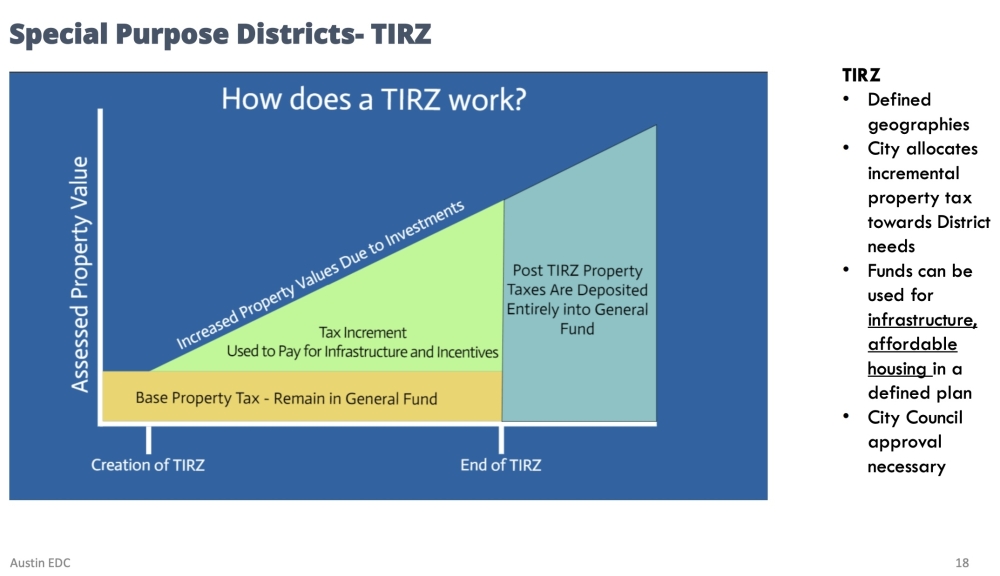 With land values growing over time as more properties redevelop, the city said it expects to collect hundreds of millions from the TIRZ for those improvements in the next two decades. Council updated the South Central Waterfront TIRZ in late 2022 to begin tax collections.
The taxing plan is also facing a challenge in court. The Save Our Springs Alliance and several homeowners sued Austin in April, alleging the TIRZ amounts to an "illegal tax kickback scheme" to support private development and that the zone is not "blighted" or in need of city taxpayers' support.
The city has contended that the TIRZ is legal and that the South Central Waterfront suffers from several infrastructure shortcomings that the additional funding can address.
As that process plays out, the district regulating plan remains in progress while some of the area's more prominent properties head toward redevelopment. After years of waiting for policy updates, residents are now hoping the city can keep pace with local activity and ensure the district's vision comes to fruition.
"I think that the entire city knows everything in that area is going to change. And it's going to change quicker than we think," Franco said.