Plans to redevelop nearly 19 acres of lakefront property south of downtown were approved by Austin City Council on Dec. 2, clearing the way for a new multimillion-square-foot high-rise project at the former
Austin American-Statesman
property after extensive review.
Initial plans for the mixed-use "Statesman PUD"—planned unit development—at 305 S. Congress Ave. would bring nearly 1,400 residences, 1.5 million square feet of office space, 150,000 square feet of commercial space and a 275-room hotel to the site. The project, now named 305 South Congress, would spread across a half-dozen towers, each stretching hundreds of feet high.
A late adjustment from council could grant 200 additional feet of height and bring over 1 million more square feet of space to the site.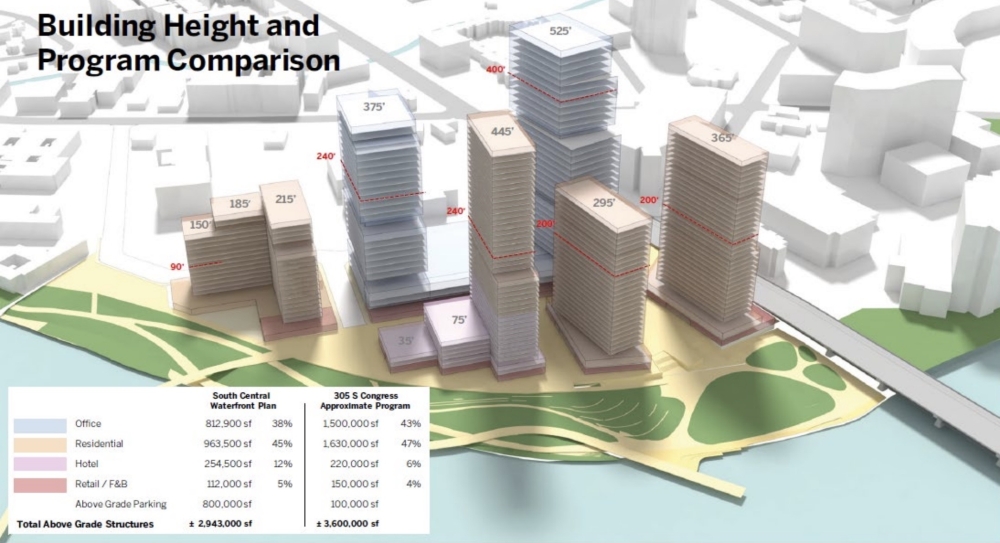 The plan also includes several acres of new parkland and public space, such as a 1.5-acre plaza and bat viewing area next to the Congress Avenue bridge; a revamp of the waterfront hike-and-bike trail; and an extension of Barton Springs Road through the site.
The development plans come from Endeavor Real Estate Group, the firm behind other local projects, such as the Domain in North Austin. The property's owner, the Cox family, operates Cox Enterprises and previously owned the newspaper until its
sale to GateHouse Media
in 2018.
Richard Suttle, a lobbyist representing Endeavor through the PUD process, said it will likely be at least one year until the project breaks ground as the developer secures its building permits. Endeavor plans to build the project out over three phases.
To move forward on the project, Endeavor had to reach an agreement with the city over terms for its PUD. Planned unit developments allow building beyond a property's zoning limits if they are "superior" and typically apply to bigger and more complicated projects.
Council's December vote wrapped up months of scrutiny of Endeavor's proposal, which over the past year received general opposition from community members and some officials. Residents have spoken out against aspects of the project, including the size of the new development and its effects on the lakeside ecosystem, the amount of parkland to be accessible to the public, how the developer would fund certain amenities, and what affordable housing will be offered by Endeavor.
In the end, council elected to require that Endeavor's affordable housing obligation—at least $23.2 million—support units outside of the PUD itself. Instead, that funding could be used on affordable housing within a few miles of the project. One option could be a future development from Foundation Communities and the Mary Lee Foundation on South Lamar Boulevard.
The move was made with objection from District 9 Council Member Kathie Tovo, who was opposed to the choice to not require dozens of affordable housing units within the surrounding South Central Waterfront district.
"There's been a council action to invest what would otherwise flow into the general fund as dollars that we're now going to invest to create and help build out a plan that is not even going to create housing for all kinds of people in this part of town," she said. "Now we're investing dollars and infrastructure for an area that's probably just going to have high-dollar luxury housing."
City staff had also recommended that any affordable housing tied to 305 South Congress remain within the waterfront district. However, several officials said the relevant funds would go further if used elsewhere in town.
Endeavor could end up dedicating even more affordable housing if project plans expand. Additional funding could be used to reserve multiple units at 422 at the Lake, a nearby apartment complex at Riverside Drive and South First Street, at an affordable rate.
The question of whether to allow a hotel use at the site was another final piece of the PUD puzzle. The hotel use had been opposed by hospitality union Unite Here, and District 2 Council Member Vanessa Fuentes previously passed an amendment prohibiting a hotel on-site. That change was rolled back Dec. 2 when council voted to allow a hotel with an ask that Endeavor notify the city when its plans for that portion of the project move along.
On Dec. 2, Endeavor's rezoning request cleared City Council 8-2-1 with Tovo and Mayor Pro Tem Alison Alter voting against. District 6 Council Member Mackenzie Kelly abstained.
Tovo said she may have supported the PUD if affordable housing ended up in the South Central Waterfront. And Alter criticized a city process for PUD approvals she said feels "broken," becomes contentious and leaves community members feeling that the city did not reach the best outcome.
"Public confidence in our decisions matters, and while this proposal has improved from where it began, in my view the bar from where we started was so low that even with those improvements I don't believe we have the public confidence that the council has achieved an outcome that merits approval," she said.
South shore district plans
Some community members also raised concerns about the project's place within broader plans for the South Central Waterfront, the 118-acre area along the lakeshore that has long been targeted for widespread improvements and redevelopment. For a decade, the Statesman site
has been viewed
as a cornerstone for the district's future and the goals laid out in a
community vision plan
for the area.
Ahead of their December vote on Endeavor's project outline, council members approved an update to the tax increment reinvestment zone, or TIRZ, that
covers the district
. A TIRZ collects a portion of property tax growth within the zone over time to be used on infrastructure in the area.
Officials have said the South Central Waterfront TIRZ is needed to support development and other additions in the district, including Endeavor's project.
"We want to have a dynamic area with a lot of people that's going to support transit, especially with a transit station there. That means we need more space for more people and more opportunity for people to be able to build," Mayor Steve Adler said Dec. 1. "If we don't do this, it'll develop. It'll develop in significant ways. But they'll be low-slung buildings and not with the number of people or with the volume that is necessary to raise the dollars that we want."
Council
established the TIRZ
in late 2021 but did not set a tax collection rate until Dec. 1. Going forward, expanded property tax collections will go toward updating roads, sidewalks, drainage, utilities and public spaces across the South Central Waterfront.
With council's approval of the 305 South Congress plans, TIRZ dollars will also go toward the Barton Springs Road extension, road and utility improvements around Congress Avenue, and parkland.