A proposal to bring more than 200 residences to East Austin's Swede Hill neighborhood is moving forward after making it through a maze of zoning questions inspired by the city's land-use rules.
The redevelopment of a 1.28-acre site off I-35 now home to a Denny's restaurant would include a 200-foot condominium tower and a row of townhomes facing East 16th Street. The property at 1601 N. I-35 is located on the edge of Swede Hill and surrounded by the highway, a hotel, a cemetery and a neighborhood.
Applicant Alice Glasco requested the rezone to secure a height increase that would more than double the number of residences in the project from around 100 to more than 200. The "Denny's Condos" case was heard by the planning commission on March 14 and forwarded to City Council in a 7-1-1 vote, with backing from community members following months of discussion with the project representatives.
"We think that this project would go a long ways toward achieving the maximum amount of community benefit and provide some additional diverse housing for our neighborhood. So we strongly support this project as we know it today," said Mike Tolleson with the Swede Hill Neighborhood Association.
Zoning puzzle
Despite broad support for a housing addition in concept, actually ushering the project through Austin's zoning review based on outdated land code standards proved to be a complicated process.
Convoluted regulations led Glasco to apply for the rezoning under an industrial label, she said, rather than a different designation more typical for a residential project. However, there are no true industrial aspects to the proposal, and the zoning request features conditions banning more than 40 such uses, including auto services, warehousing and manufacturing.
Glasco said she hoped to get a height increase by adjusting the site's zoning designation of commercial highway services, or CH, to go vertical. But Austin's current land development regulations require any property like the Denny's site that seeks such changes to be at least 10 acres, several times larger than the property.
After city staff shared the technical conflict, Glasco said she revised her zoning request to a new designation of limited industrial—or LI—in a planned development area to work around the 10-acre limitation. While the label is not preferred since the project has no industrial backdrop, she said the land-use code and the tens of thousands of dollars that alternative rezoning reviews would cost left her at that option.
"It's really the lack of the tools, that the tools were created 40 years ago. And so as our land use has evolved and as our needs have evolved, our code has not evolved accordingly. So we find ourselves using tools that don't appear to be normal," Glasco said.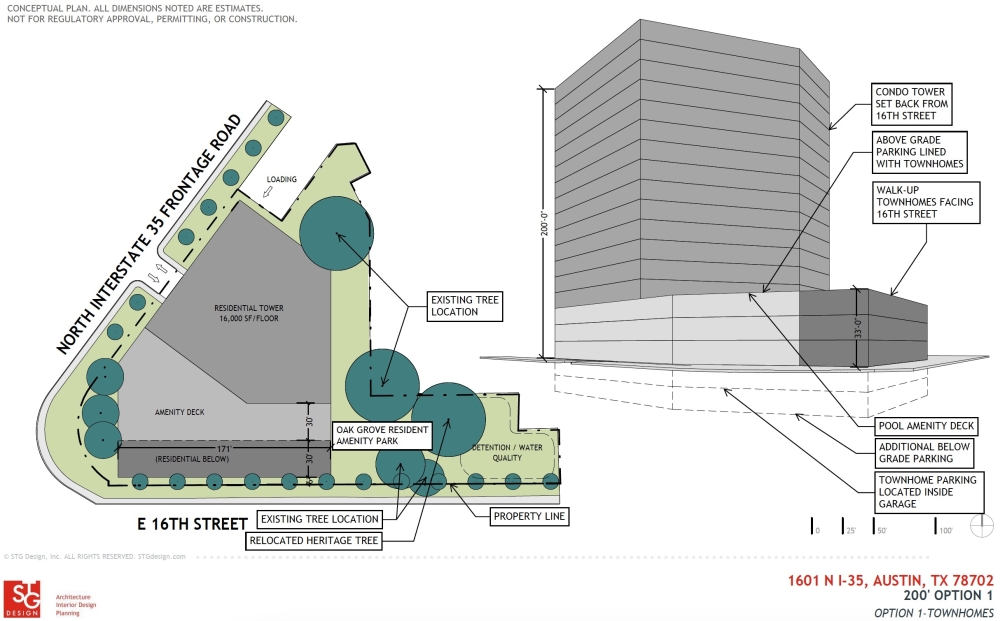 Industrial concerns
While no planning commission members opposed the condo and townhouse plans overall, their discussion on March 14 centered around whether the housing project was worth adding a new industrial site in East Austin—even if that move would be on paper temporarily. City planners reviewing the case also said they were against an LI label.
Case manager Heather Chaffin previously said staff held "serious concerns" about the process given the longtime efforts by both Austin and the east side community to scale back industrial activity in the area. And Chief Zoning Officer Joi Harden noted that, if a request ends up blocking dozens of uses allowed under a certain zoning designation, then that designation may not be the right option.
"[Zoning] letters mean something to some of us, and having industrial zoning on the map at that location does mean something to some of us. So housing is important, it is important, but the LI is a problem there," Harden said in response to a commission question about the effects of the rezoning. "Staff is not looking at that as an equation of housing; they're looking at this zoning not being appropriate at that location."
Even with the focus on the industrial tag, it is not intended to stick for the long term.
City Council on March 9 had launched a city code update specifically centered on the CH zoning designation—which Glasco initially sought before encountering the acreage issue—to address lot size constraints that "no longer serve a meaningful purpose," especially on properties expected to redevelop.
The council resolution, sponsored by District 7 Council Member Leslie Pool, stated the change would help to avoid the "unnecessary" use of industrial zoning to advance other types of projects.
Pool's office confirmed the Denny's redevelopment is one of many
similar cases
that have prompted the review, and that supportive council members are looking to make sure CH is a viable option for residential projects instead of the LI workaround that results in more industrially zoned sites across Austin.
If council firms up that code revision, Glasco said she expects officials will be able to replace her LI request with the original commercial label when they take up the rezoning this spring, eliminating the prospect of a new industrial property on the east side.
The planning commission eventually voted to push the rezoning to City Council while prohibiting industrial and commercial uses, as agreed upon by neighbors and the applicant.
Commissioners Grayson Cox and Robert Schneider voted against and abstained, respectively, given how voting for industrial use could be viewed, even with what Cox and others called a "broken" land-use code.
"I have an issue with this strategy, both from a perception standpoint and a practical standpoint, and I don't think this commission should be recommending light industrial in East Austin in order to get some condos and apartment complexes," Cox said. "It's just not the right thing to do."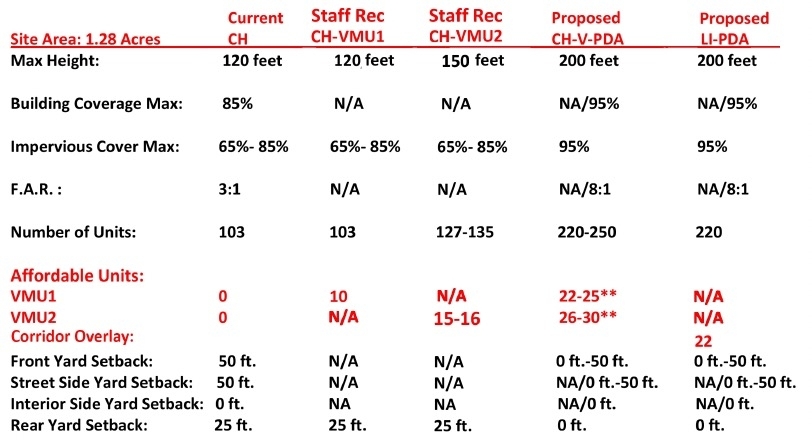 Code in focus
Several commissioners who supported the move also expressed frustration with the zoning review system and often-confusing options that they, city planners, community members and area developers have when weighing cases and reaching a desired outcome.
"If council wants to step up—as it must—and fix the code that we have, then that is how it should be. That is what council should do," Commissioner Joao Paulo Connolly said. "But our job is to work with these tools and to make it clear that these tools are insufficient, and yet that we support this project moving forward."
Chair Todd Shaw shared similar sentiments. While he said community safety, including environmental effects, is
typically a priority
consideration for him as a planning commissioner, he ended up voting for the industrial proposal.
"We have a housing crisis, and we have a very poor toolkit. ... There's a lot of issues with the current code, but I think this actually gives us the best opportunity for the most housing, which is the issue of the day," Shaw said.
Commissioner Patrick Howard called the situation "perplexing."
"None of this sounds good; none of it feels good. As a planner I wouldn't necessarily encourage this either, but I mean, that is where the code is, and we're trying to sort of gerrymander something to figure out how to get something that's better," he said. "It's unfortunate, but that's where we are."
Commissioner Greg Anderson said the case served as an example of the shortcomings of the city's rules.
"What an amazing opportunity to point out how garbage our land development code is," he said. "All we want to do is build housing; there's a tool to do it, but it's labeled something so bad we don't want to use that label. So we're going to delay housing another couple of months."