Initial plans for the transformation of the "Statesman PUD" site that could bring a new
landmark development
to the south shore of Lady Bird Lake are progressing and could be finalized in early 2022.
The 305 S. Congress Ave. planned unit development, or PUD, is home to the
Austin American-Statesman
building, a portion of the Ann and Roy Butler Hike and Bike Trail, and an unofficial viewing area for nightly bat flights from the Congress Avenue bridge. The redevelopment of the property appraised at more than $74 million has been in the works for years, and plans now center on bringing more than 3.6 million square feet of residential, hotel, office, retail and restaurant space to the lakeshore.
A Dec. 14 decision by the Austin Planning Commission pushed its formal vote on the PUD update to late January, when the body could approve the project outline and send it to City Council for consideration.
Under the proposal from Endeavor Real Estate Group, the old newspaper campus and waterfront trail would be razed and replaced with multiple high-rises, bike and pedestrian pathways, parkland and recreational features. An eastern extension of Barton Springs Road and a link to a future Project Connect transit
station
are also included in the proposed project scope.
"Right now there's no parkland out there, there's no roads. And what this plan proposes is parks, roads, transit, open space, housing and trails," said Richard Suttle, an attorney representing the development team.
Project features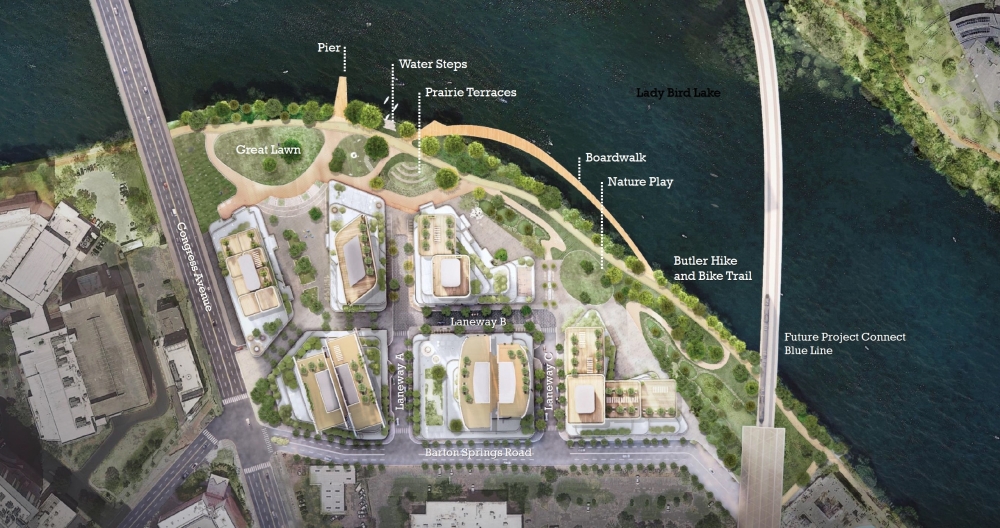 As laid out in the updated PUD plan, the new campus would feature towers ranging in height from 150 feet on the property's eastern edge to more than 500 feet off South Congress. That new skyline would be made up of two office buildings surrounded by residential towers with a lakefront view, one including a hotel.
By use, the proposal is broken up into 1.65 million square feet of residential space, 1.5 million square feet of office space, a 220,000-square-foot hotel and 150,000 square feet of mixed commercial space.
Per the city's local
district plan
of 2016, 4% of housing units would be dedicated as affordable. Plans call for that to be broken up into two pieces; 4% of rental units would be listed at an affordable rate, while the developer would pay fees in place of providing 4% of affordable ownership spaces.
The high-rise towers are envisioned with ground-floor stores or restaurants and walkable spaces between the buildings, adjacent streets and the waterfront trail. And almost all, 95%, of the property's new parking would be placed underground. Jerry Rusthoven, assistant director of the city housing department, cited the lack of above-ground parking as "a very huge get" from the city's PUD negotiations.
On the environmental front, the project team highlighted the dedication of new waterfront parkland as a key improvement.
While the property now includes a portion of the hike and bike trail and the bat viewing area frequented by downtown visitors, Suttle noted both are located private land and only accessible because the owner allows it. The PUD's redevelopment would dedicate more than one-third of the PUD's shoreline as city parkland, including a restored stretch of the trail, a boardwalk over Lady Bird Lake, and a pier and observation area accessible from South Congress—all of which would remain open to the public.
"They would be making improvements, building what's been called the Great Steps, which would lead to the Great Lawn, which I guess would let people see the great bats," Rusthoven said.
Planning moves ahead
Planning commissioners, development team representatives and city staff spent several hours Dec. 14 parsing through the extensive PUD outline, although a final decision was pushed to next year.
The PUD plan in recent months made its way through various city
reviews
, and a portion of the December planning session saw commissioners focus on the remaining concerns from other boards and staff. Topics covered included the development's place in the South Central Waterfront district plan, mobility through the area, affordable housing and environmental effects.
Altogether, Rusthoven noted that while the plan would bring Austin a smaller number of improvements than might typically be traded off in the PUD process, the scope of the site and those benefits are expected to be more substantial.
"Sometimes, the list of things that are superior in a PUD, we may have a very long list of small things. And sometimes, as in this case, we have a shorter list of superior items, but I think that they are large in terms of importance and large in terms of dollar value," he said.
Commissioners wrapped up their December meeting with several lingering questions and concerns related to the project's community benefits as well as the local traffic and environment. The vote that could send the PUD plan along to council was postponed until Jan. 25, and commissioners also established a small working group to more closely examine final details before that date.
"This is [a] once-in-a-generation, once-in-a-lifetime opportunity to develop this piece of property, ... and so we need to get it right. And I know the developer wants to get it right, and I appreciate the very lengthy, multiyear process," Commissioner Grayson Cox said. "I feel like this is almost there but not quite. It needs to sit in the oven just a little bit longer."