Austin Public Health has raised the city of Austin and Travis County's COVID-19 risk status to Stage 3 following confirmation of multiple cases of the contagious delta variant in the county and sharply rising case counts.
"We are taking this moment to direct our attention to what we know has worked in the past. We have had two spikes in cases—one last July, and one in January—and this community worked together to reduce those case numbers by doing the things that we know work: We wore masks, washed our hands, social distanced and stayed home when we were sick. This must be reviewed and revived," said Dr. Desmar Walkes, Austin-Travis County Health Authority, in a July 15 news conference.
Since mid-May
, the Austin-Travis County community has been under Stage 2 guidance, with the number of confirmed COVID-19 cases and hospitalizations at its lowest since the start of the pandemic. As of July 14, the seven-day moving average for daily coronavirus-related hospitalizations in the area—APH's key indicator for risk—was 19.7, which is above the Stage 3 threshold of 15.
The Stage 3 guidelines now in place primarily change recommendations for unvaccinated individuals. They are now urged to where a mask in most situations, as are people at high-risk of developing complications from COVID-19.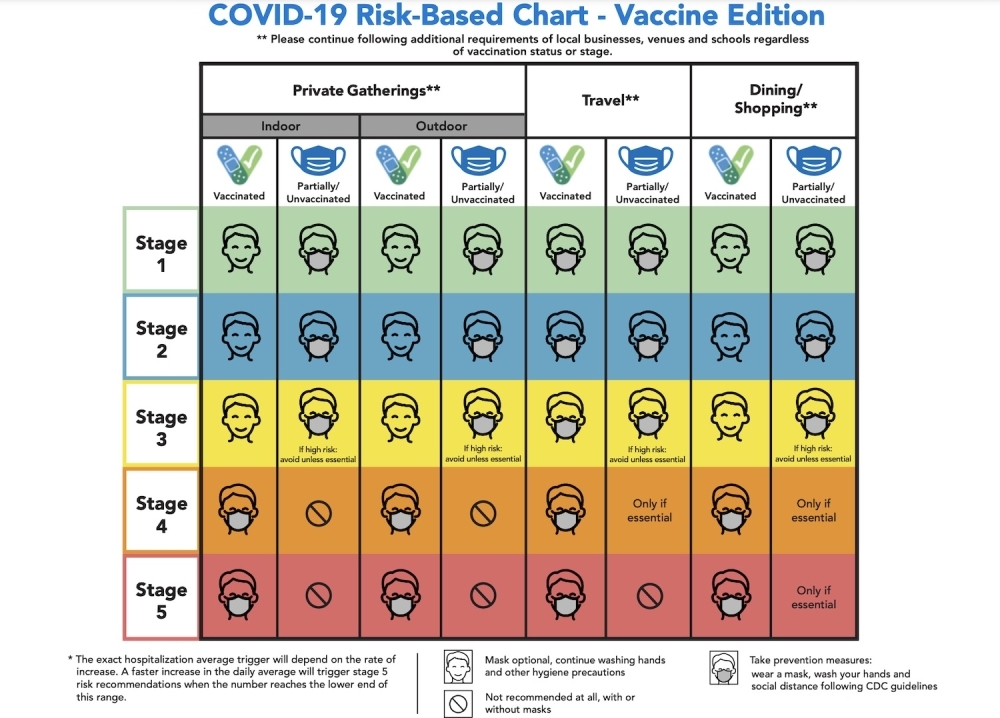 A total of 137 coronavirus patients are hospitalized in the Austin metro area, with 47 in intensive care units and 25 on ventilators. Of the four individuals with confirmed cases of the delta variant, one is hospitalized. Walkes said local ICUs were under strain, and that APH is appealing to the state for staffing support.
"Largely, this is due to the fact that we have a shortage of staff, and we also have more respiratory illness as we've relaxed our masking policy and as there's been more travel in social interaction," she said.
Walkes warned that the delta variant is "much more infectious" than the original strain of COVID-19, and may account for the recent uptick in cases, which is at a seven-day moving average of 81 new cases per day. Most of the new cases are in unvaccinated individuals, including children under age 12, she said. Walkes also encouraged parents to vaccinate older children ahead of the start of school in August.
Mayor Steve Adler and Travis County Judge Andy Brown also encouraged unvaccinated community members to seek out a COVID-19 vaccine. Adler said it was "gut check time" for the 30% of residents who have yet to receive a shot.
"Almost everyone in our hospitals right now, in our ICUs right now, are people that have not been vaccinated," Adler said. "At this point, millions and millions of [doses of] this vaccine have been given to people all over the world, and the data is very clear: these vaccinations are extremely safe. The risk of not taking the vaccination is greater than any risk associated with taking the vaccination, and we also know that it's very, very effective."
The mayor also urged people not to give in to fatigue, but to double down on protections against the virus.
"We cannot pretend that we are done with a virus that is not done with us," he said.