Austin Public Health has lowered the city of Austin and Travis County's coronavirus risk status to Stage 2, the community's lowest risk level since early in the pandemic. Austin-Travis County interim Health Authority Mark Escott also updated rules regarding masking and other safety precautions, allowing fully vaccinated individuals to forego masks in most circumstances in line with Centers for Disease Control and Prevention guidelines.
"We did not get to this stage by luck. Throughout this pandemic, our community took the necessary protection measures to reduce spread and get vaccinated, which helped us achieve a lower risk level and therefore relaxed rules," Escott said in a news release.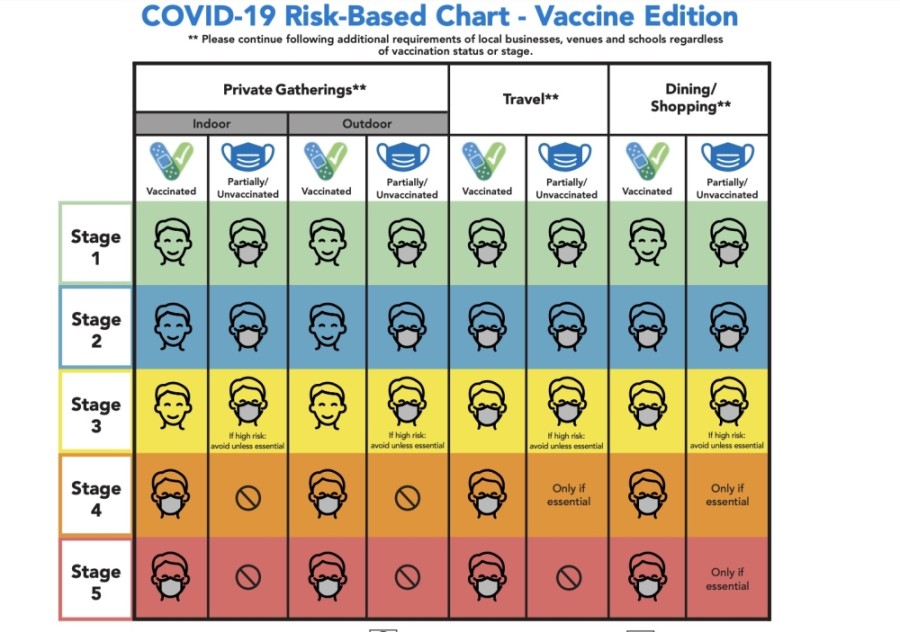 Under Stage 2, fully vaccinated individuals in Austin and Travis County—those for whom two weeks have passed since receiving a Johnson & Johnson shot or a second Moderna or Pfizer shot—are allowed to go without a mask at indoor and outdoor gatherings. Fully vaccinated individuals may also go without a masks while dining and shopping, so long as the business allows it.
Partially vaccinated and unvaccinated individuals are still asked to wear masks and maintain at least 3 feet of social distance at both outdoor and indoor events and during most other activities.
Masks will continue to be required across the board in certain environments, including during travel and in hospitals, health care facilities, long-term care facilities, congregate shelters, jails and prisons. Masks also remain required on mass transit, where Escott said ventilation tends to be poor and the risk tends to be higher. Additionally, he said masking should continue in schools, where most children have not yet had the opportunity to receive a vaccine.
Guidelines have also been updates for businesses and event sites. For outdoor sites, gatherings of more than 2,500 people must include a face mask requirement, but smaller gatherings may include a policy to allow vaccinated participants to forego masks. For indoor sites, gatherings greater than 500 people must include a mask requirement.
The shift to Stage 2 comes after APH determined that hospital admissions among residents of the Austin area had dropped below 15 per day over most of the last two weeks. The positivity rate during the last week also dropped below 3%, a first since APH began tracking the community's positivity rate.
"Austin-Travis County residents have made great strides in getting vaccinated and taking precautionary measures to reduce spread, and the data reflects that. I want to thank our residents for their efforts—they are paying off," Escott said.
However, he also acknowledged that cautious individuals may still want to wear a mask, particularly in mixed groups of vaccinated and unvaccinated individuals.
"The safest position is vaccinated and masked," Escott said. "We're going to have folks who are fully vaccinated, like myself, who may want to continue to wear a mask in a public place. Maybe they want to ensure that other people around them feel comfortable with them being there. Maybe they have a high-risk medical condition and want to have that extra layer of protection. Maybe they have a loved one at home that is immunocompromised, and they don't want to take that risk."