With the recent rise in local housing costs and ongoing concern over displacement and gentrification, the city is seeking out Austinites to link their neighbors with resources to help them stay in their homes.
The plan
The city is launching a pilot "displacement prevention navigator" program that will see local navigators work in targeted neighborhoods to inform community members about city housing support services and help connect them with those offerings.
The pilot is being rolled out in Northeast Austin's Colony Park and Southeast Austin's Dove Springs. The neighborhoods have higher shares of residents who have lived in their homes for 20-plus years and are now experiencing significant cost burdens with more than one-third of their incomes spent on housing.
The cost of renting a space or owning a home in the Austin area has spiked for years, despite
some recent declines
in the market. While median incomes in the region have also grown in recent years as wealthier residents and higher-paying jobs pour in, longtime Austinites are seeing their rents and property tax bills rise at a rapid pace—a trend that could accelerate with the arrival of more development and other investments, such as Project Connect bus and rail lines.
The details
The city is looking to bring 15 Colony Park and Dove Springs residents on board to serve as community navigators. They will be paid $25 per hour and can expect to work 10-15 hours weekly over the course of the one-year pilot.
"By recruiting housing navigators from the communities they serve we will reach more folks. Period, point-blank. We will build the bench in the community. This is capacity-building. It's critical, and here we are well on our way," District 1 Council Member Natasha Harper-Madison, who represents Colony Park, said during a March 30 press conference.
Applications opened March 30 and will close April 30. Training is expected to run into the summer before the program expands into the community in the fall.
Interested residents may apply
here
, and more program details are available
here
.
The displacement navigator program is funded with $360,000 from Austin's Housing Trust Fund established to support a variety of civic housing assistance and affordable housing programs. The initiative was
first proposed
in 2021 by Council Member Vanessa Fuentes, who represents council District 2, including Dove Springs.
"This has been a long time coming, and it's truly focused about the people in our neighborhood, nuestra gente, that understand how our communities work," she said.
The program is not Austin's first to feature resident-based networking and support. Similar previous efforts include community
health navigators
providing assistance related to the pandemic and
climate ambassadors
tied to the city's
Climate Equity Plan
.
After a one-year pilot, the navigator program could be extended and expanded.
Quotes of note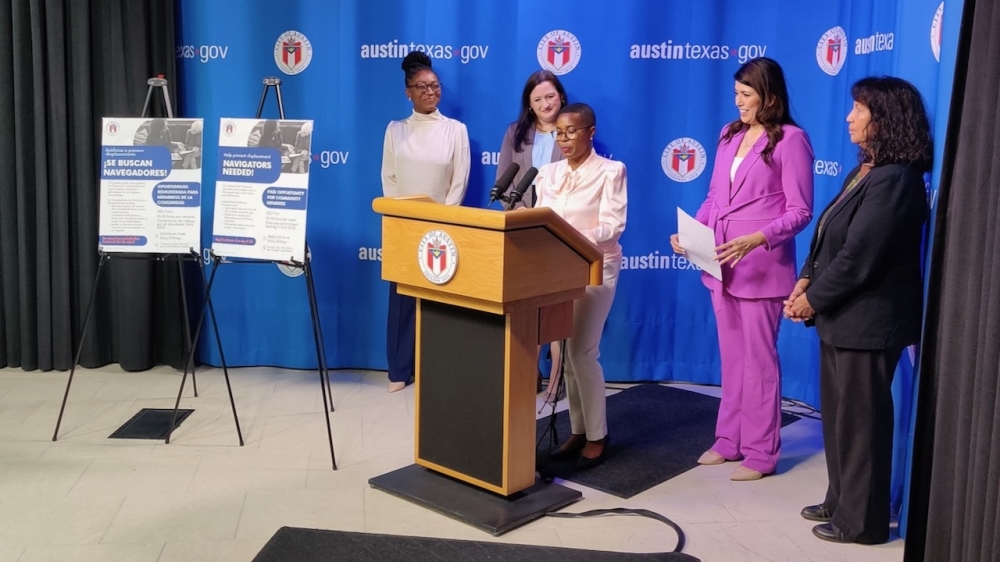 "It's not always easy for households to know where to go or know all about the tons of city programs that we have available, so that's why these navigators are key," Fuentes said. "Because they're going to have those in-person conversations, bilingual conversations, pointing and directing folks to our housing programs. We already know that we are in a housing crisis here in the city and that costs are on the rise. So it's on us to do something about it."
"When we talk about what we need in our community, we talk about advocacy for ourselves. People know when you're patronizing them. They also know when you empower them. We are trying to empower community members right now to take care of what we need to know and what we need to do," Harper-Madison said.
"Navigators will go beyond just informing people about the services [that] are available, but they're going to provide a personal approach and touch working closely with people to connect them to available resources in the city," said Nefertitti Jackmon, Austin's community displacement prevention officer.