An external consultant has recommended changes to community review of the Austin Police Department's cadet academy training and curriculum after finding limited progress and dissatisfaction with the work so far.
A new report from Kroll Associates Inc., the New York-based consulting firm handling Austin's third-party police department reviews, details issues with the curriculum evaluation by both community and APD representatives, and process shortcomings that have hindered the initiative's success.
The background
City officials
backed wide-ranging external investigations
into APD's culture in 2019, including a look at racism, discrimination, training protocols and other topics within the department. City Council's action was based on past findings of racially disproportionate policing in Austin, and a whistleblower complaint alleging an assistant police chief regularly used racist language at work.
Council also voted to suspend new APD academy classes and called for an audit of cadet training. New cadet classes were placed on hold
beginning in 2020
and through the politically charged debates over racial justice and police brutality in 2020 that also led city leaders to
reallocate tens of millions of dollars
in the APD budget.
The cadet academy training was eventually
rebooted in 2021
in a conditional trial run with a stated focus on concepts such as community engagement, racial equity training and shifting from a "warrior" to a "guardian" mentality. The academy also relaunched with the promise of ongoing community evaluation of policing curriculum along the way.
The issue
Austin's first
"reimagined" academy
cohort
graduated
in January 2022, and new classes have continued training since then. Despite some positive notes, however, both the civilian panel tasked with reviewing APD training and the third-party consultants monitoring the new version of the academy have raised issues with the process along the way.
Kroll previously noted that many of the new concepts city officials and community members hoped to see integrated into APD training have still
faced some resistance
within the department.
Since training started again, members of the resident curriculum review panel have also
questioned how their work
was being taken into account and whether any significant changes at the academy were in motion.
A new
Kroll report
covering the APD academy's curriculum review was publicly released March 16. The analysis lays out many of the frustrations raised by community reviewers and police representatives, some potential shortcomings with the process overall, and recommendations for improved reviews going forward—including a proposal to expand the review structure.
The findings
Kroll's assessment found that curriculum review has regularly encountered problems both within the civilian committee and APD.
The Kroll analysts said many participants on the resident committee believe APD was not engaging in a good-faith effort to tweak its training, and that they never had enough access to the academy to engage and assess their work.
The panel also suffered from a lack of a defined process since launching in 2021. Some committee recommendations to the department made were outside the scope of the police academy and materials being taught, Kroll said, and some action items were not presented to APD in a straightforward way for police instructors to consider.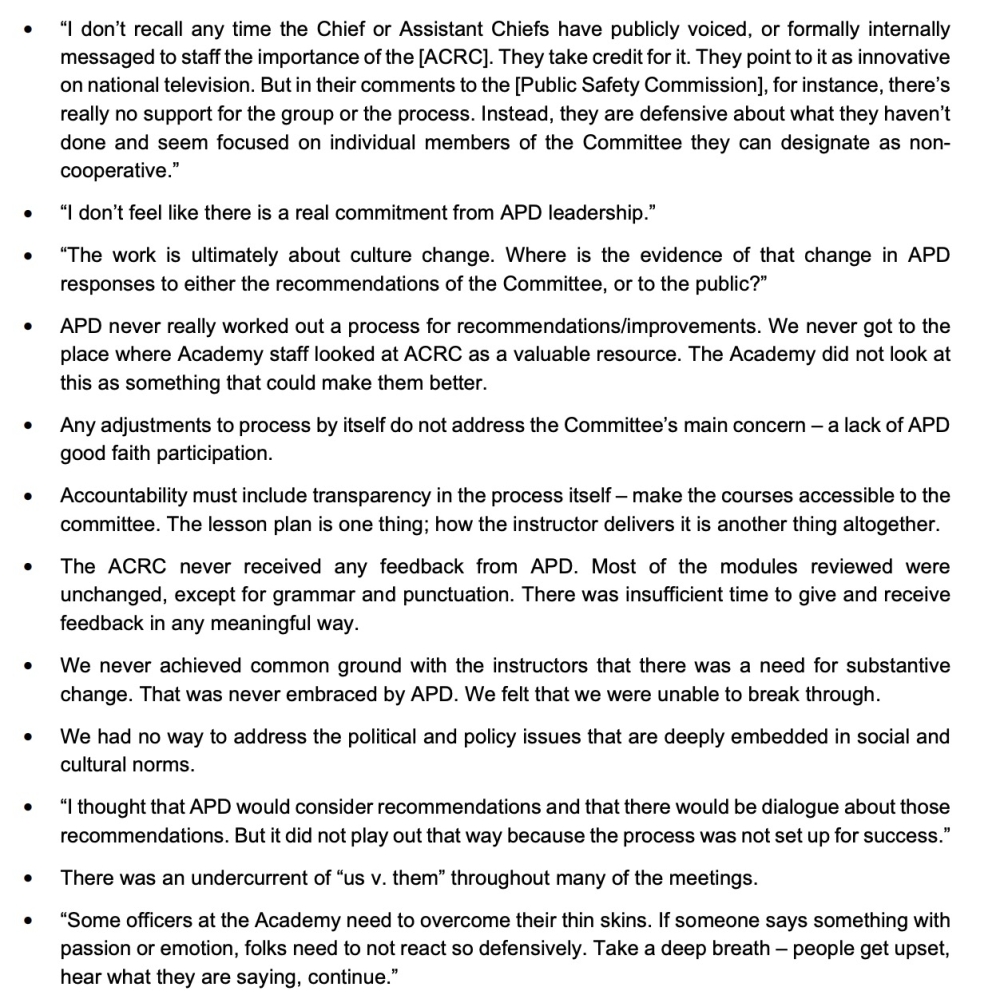 The Kroll report also detailed a series of contentious meetings between community and police representatives that eventually led them to be put on hold last summer.
Within the department, Kroll found ongoing resistance and "institutional barriers" to changes floated by the curriculum panel, running disagreements between participants, and a lack of support for the process from department higher-ups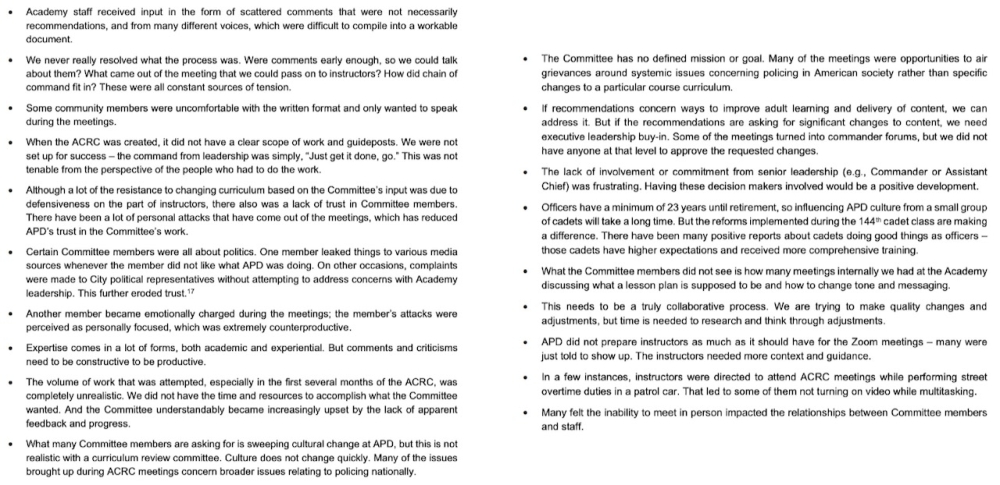 Additionally, the role of the division manager—a civilian position created to oversee academy training—remains contested at the academy.
Despite new department directives to the contrary, Kroll reviewers said many sworn police staff still believe Division Manager Anne Kringen cannot make changes to the training process. APD has not enforced the division manager's authority or provided Kringen with enough resources, Kroll said, meaning she has had limited oversight of requested curriculum adjustments.
While most of its report covered "perceived shortcomings" of curriculum review so far, Kroll said the process has resulted in improvements to APD's constitutional law course and victim services training.
Proposed next steps
Overall, Kroll highlighted Austin's first pass at community oversight of APD training as a "noteworthy development in the annals of modern policing" beyond what most other U.S. cities have attempted. Still, Kroll said the reviews have yet to be fully successful and should be further reformed.
"Ultimately, the process failed to establish true police-community collaboration. A lack of trust existed from the beginning that was never resolved," Kroll analysts wrote.
The new report came with several proposed fixes headlined by a reworking of how academy curriculum is considered by community members. The Kroll team said the current review panel should be replaced with two new bodies.
One, a community advisory board, would meet quarterly with APD staff to talk over training topics and discuss future actions. The second, a professional advisory board, would gather outside subject-matter experts and academics to collaborate with academy staff on curriculum changes.
Additionally, Kroll suggested that APD hold regular neighborhood-level meetings to gather Austinites' input on policing; that academy staffers be retrained on updated operating procedures including the role of the division manager and held accountable to that policy; and that APD leadership be more public in their commitment to and implementation of the new academy process.
The APD did not respond to a request for comment on the Kroll report or how recommendations would be handled.
Review continues
The March evaluation from Kroll will not be the last. City Council
funded a separate analysis
last year for the consulting team to look into APD compliance with anti-discrimination rules, the
history of lawsuits
the city has settled related to officer misconduct and more.
And on March 23, council is set to sign off on
additional funding
for further Kroll review of the APD cadet academy. The one-year, $350,000 extension, if approved, will bring Austin's total contract with Kroll to $2.38 million since 2020.