After Austin recently sent tens of millions of dollars toward continued and expanding homelessness services, a recent update on the city's rehousing efforts also detailed how that work could be picking up speed.
Around the same time that
Austin voters criminalized
camping and sitting, sleeping and lying down in public—rolling back a
camping policy
City Council approved in 2019—the city ramped up its Housing-Focused Encampment Assistance Link, or HEAL, program to move people from encampments into shelter. Since last spring, 10 public camps have been "decommissioned" with more than 360 people moved from Austin's streets, underpasses and parks into bridge shelter.
The goals of the city HEAL initiative include shutting down encampments and sheltering people experiencing homelessness as well as connecting them with support and a path to permanent housing. During a Sept. 7 briefing to City Council, Homeless Strategy Officer Dianna Grey said more than half of those sheltered through HEAL as of late July are now enrolled in a housing program, and 94—26%—have moved into supportive housing.
Since June 2021, when the first public encampment
was cleared through HEAL
, the program has moved its clients from shelter to housing over an average of 173 days, or around 5.75 months. Grey said that timeline is "longer than we would like" but noted some delays came with the program's initial rollout as a service plan went into place.
In fiscal year 2021-22, Grey said results have looked better. Since last October, several months after HEAL's launch and the start of the city's
full enforcement
of the reinstated camping ban, six encampments have been cleared with more than 218 people—including around 90 in August—moved into shelter. Of those, 120 are enrolled in housing services, and 23 have moved into housing over an average timeline of 106 days, or around 3.5 months.
"We're encouraged that we are seeing some reduction in the time from entry to housing," Grey said.
Despite that progress, Grey also outlined statistics showing several dozen clients never made it into housing. Nearly half of those who exited a HEAL shelter ended up returning to homelessness, most of whom did not stay enrolled in a housing program.
Grey said that trend was due in part to how long the program's service and housing connections initially took, likely discouraging some tenants from remaining enrolled. She also said the totals will likely shift in a more positive direction over the coming months as clients in the city's two shelters, which are at or near capacity, secure housing.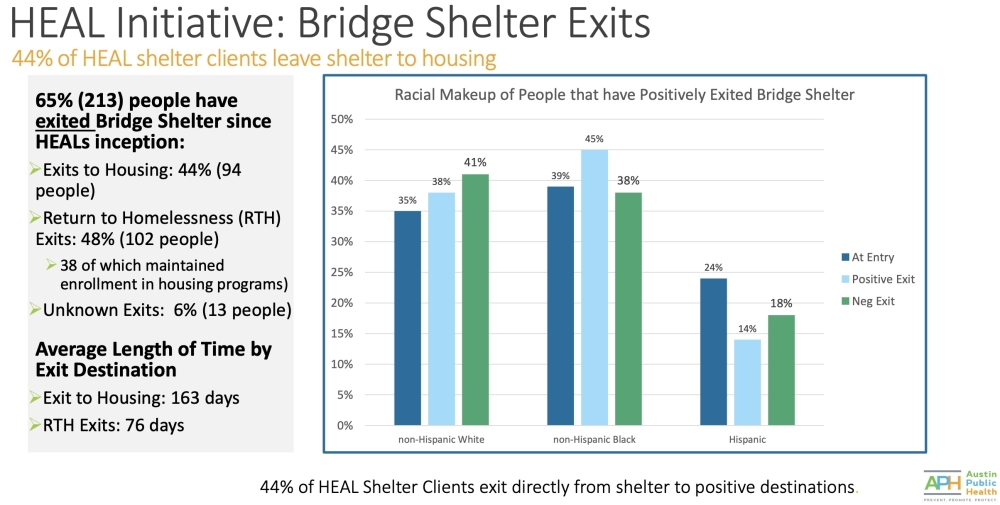 With those challenges, the HEAL program has reached the sheltering goals laid out by council this year and is set to receive continuing funding going forward. And while the program cannot address each of the
dozens of encampments
remaining around Austin, its targeted scope has had its own benefits for participants.
"Very often, there are strong bonds built within encampments, some of which existed for years and years. And so one of the real strengths of the HEAL initiative is the offer to move the entire encampment into shelter at once so that people don't feel like they are leaving their entire existing social network—or a great deal of it—behind," Grey said.
The September update to council came weeks after the city formally
launched
its new Homeless Encampment Management Team to streamline how Austin tracks and responds to public camps. Council's FY 2022-23 budget process also saw millions of dollars dedicated toward encampment cleanups including
continuing HEAL work
, with a goal of sheltering at least 200 more people over the coming year.
Direction from District 5 Council Member Ann Kitchen, who sponsored the
original HEAL plan
last February, will also support the $10 million-plus acquisition of a new bridge shelter facility. The funding will go toward replacing one of the two city-owned shelters Austin plans to convert into a permanent supportive housing complex.
Earlier this month, City Council also signed off on a slate of American Rescue Plan Act-funded contracts with several local organizations to provide both
rapid
rehousing and
permanent supportive
housing
services
over the coming years. The contracts, which could end up totaling nearly $70 million, were developed following multiple city requests for proposals for homelessness services.
The approval of those contracts came alongside millions of dollars in other homelessness service funding with millions more on council's Sept. 15 agenda as well.