Designs for a new Dougherty Arts Center on Lady Bird Lake are coming together as Austin seeks to open the rehabilitated cultural facility by late 2024.
The city has been working to relocate the aging DAC, currently situated at 1110 Barton Springs Road, for well over a decade after the 75-year-old building was designated as "beyond repair." The replacement project, backed by $28 million in 2012 and 2018 city bond funding, would see a new DAC constructed on Lady Bird Lake a few blocks from the existing center.
City Council first
authorized
the relocation project in spring 2019. And last May, officials signed off on a
plan
to place the new DAC at the end of Riverside Drive next door to the ZACH Theatre campus at Butler Shores. Now, project planners have released updated designs for the proposed 45,000-square-foot cultural center and parkland improvements as development progresses.
As currently envisioned, the new DAC will feature several theaters, studios, galleries, classrooms, offices and a mix of outdoor spaces. The plans also include a great lawn in place of an existing baseball field, an underground parking garage, courtyards and a rooftop terrace for public and private events.
"This new building is going to radically expand DAC's mission. It's going to radically expand DAC's ability to provide arts access to all, and to be the cultural living room of Austin—as it is now, but it's a pretty cramped living room," Rick Archer, a designer with Overland Partners, said during an April 25 community meeting for the project. "With the new DAC, we're going to be able to do that much more expansively welcoming more and more people into not only the Dougherty Arts Center but into the arts in Austin."
Archer said the new DAC's location near the ZACH and a city parks department building will create a downtown "cultural zone" that can host events ranging from smaller educational classes to larger festivals. The center's school, theater and gallery spaces are also designed to link with the outdoor amenities and community artwork.
"This is a place for art. It's a place for the park to interact with the art, and for us to interact with the park. It's a place which is both simple in some ways and yet welcomes you and kind of veils itself from being fully understood, but still opens itself to the public as you enter. And it's a place where we want to see art celebrated," he said.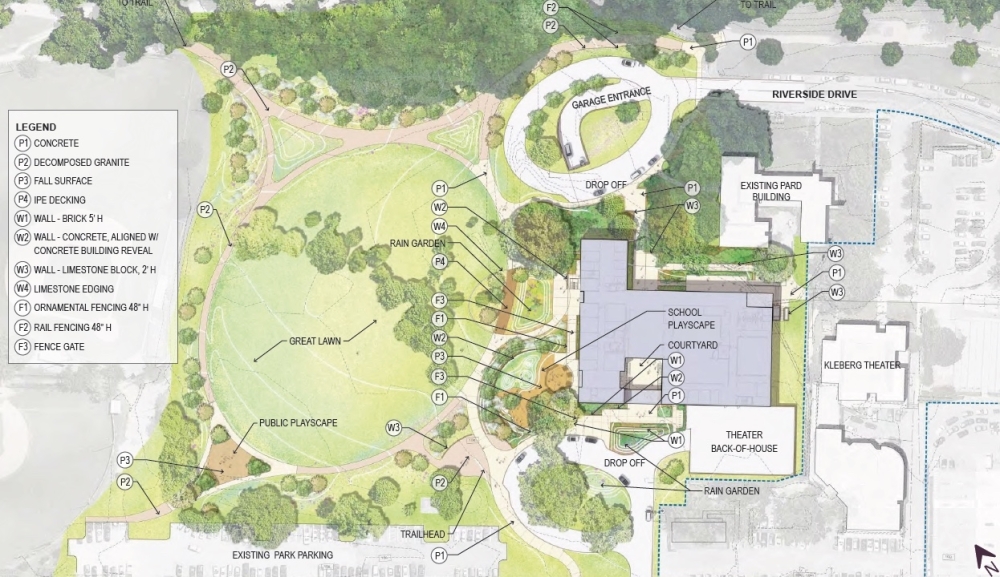 With initial project concepts now released to the public, project team members said the new DAC will now move through several more months of design work expected to wrap up by the end of the year. Additional site planning, budget reviews and solicitation for artwork from the public through Austin's Art in Public Places program would follow, and an estimated 18-month construction process could see the relocated DAC to open in late 2024.
Design, funding questions remain
As city and project representatives participated in the community forum April 25, the Design Commission was also reviewing whether the latest DAC outline complies with Austin design standards. The commission ended up voting to postpone its decision for at least one month given some members' questions about the DAC's scope and funding.
Project team members have also acknowledged that a funding gap exists for portions of the DAC plan as currently laid out. That issue was detailed by city staff earlier this year in a
memo
highlighting a "substantial construction budget deficit" in part given an extended development timeline and design changes over time.
Staff said project finances could affect its underground parking garage, some parkland items, and the possible demolition of the old DAC building on Barton Springs. One option for increased funding could stem from planned fundraising by the Friends of the Dougherty Arts Center, although that effort may still not fully bridge the projected gap.
More information on the DAC replacement initiative is available through the city's
webpage
.