Editor's note: This story has been updated to include visuals for the draft map approved by the Independent Citizens Redistricting Commission Sept. 15.
A new map of Austin's 10 City Council districts is now ready for community review, after a draft update to the civic boundaries was approved Sept. 15.
The city's Independent Citizens Redistricting Commission, made up of a panel of volunteer residents tasked with a nonpartisan redrawing of the district maps, voted unanimously in favor of the draft map. Around a month and a half remains until the City Council map is completely finalized, and the new boundaries will come into play for Austin's November 2022 city elections.
The Sept. 15 commission meeting came one week after an initial map outline was
unveiled
, and following several tweaks proposed by the NAACP/Hispanic Coalition and individual commissioners. The session saw commissioners work through a series of votes on those final adjustments to the draft plan aimed at having districts follow select geographic boundaries, maintain historic neighborhood borders and reach demographic goals.
The commission began its review by approving a slate of changes proposed by the coalition in council districts 1 through 4 to strengthen the base of Black and Hispanic residents there. The alterations were made to reconcile differences between maps presented by the coalition and those drafted by commission Mapping Specialist George Korbel, a process that played out at the commission's direction over the past week.
Among the notable changes was a realignment of District 1 to include the LBJ Presidential Library and Waterloo Park west of I-35, a move that would also cause no population change. The southern tip of District 9 was also separated into District 3.
While supporting the moves as the best possible outcome for minority representation in the city, consultant Peck Young also lamented how difficult it had been to reach the final outcome given Austin's shifting demographics.
"We wish we could do better," Young said. "It is disturbing to me that in the African American district for the first time in my life—and I have been working in that part of town since 1960—we could not find a single precinct that was majority African American. However, we worked and Mr. Korbel worked diligently to create what we believe is a genuine Black opportunity district at least for the time being. The fact that the African American community in Austin is being driven out of town is disturbing."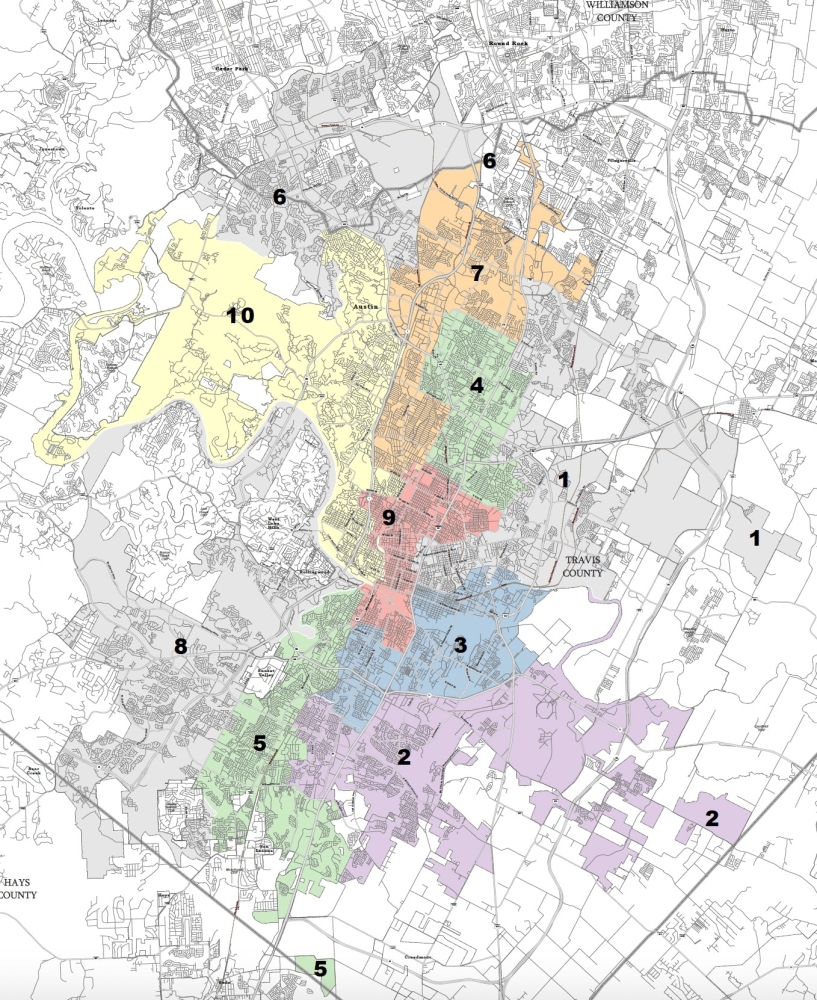 After working through the coalition priorities, commissioners also approved a slate of changes several members had proposed. The first of those included the shifting of areas west of Hwy. 360 and south of Lake Austin into District 8, and a related move of far west District 6 into District 10 to offset population swings. Smaller changes included adjustments to keep specific communities such as Allandale, Balcones Woods and Northwest Austin neighborhoods contained within a single council district.
One of the largest changes involved the shift of the western corner of District 9, roughly bounded by Lady Bird Lake, Shoal Creek and MoPac, into District 10. The densely-packed area is home to more than 7,400 residents, and commission Vice Chair Luis Gonzalez said he proposed the move to offset the crowded downtown rather than targeting specific neighborhood boundaries.
The move was backed by Korbel given the population factor but questioned by some commissioners, although the proposal eventually passed with members noting that any potential community concerns can be addressed before final approval.
Although the new map is largely in line with the existing plan set in 2013 when Austin first divided into 10 geographic districts, the adjustments could end up shifting around several thousand Austinites in total. Most districts in the draft plan contain similar populations with around a 10% difference between the largest and smallest districts, a margin that may decrease further as the mapping process continues. The approved draft ranges from District 3's estimated 92,924 residents to District 8's 101,397.
Ensuring relatively equal populations is a key requirement of redistricting. Korbel—who has overseen the preliminary plans' design and changes—said he believes the outline appears in line with acceptable variation.
"I'm satisfied that you've got a justification for what you're doing because you're trying to put all those neighborhoods together as well as balancing the ethnic groups, and I think we're in good shape," Korbel said after commissioners' vote.
Over the next several weeks, the map could undergo further revision based on community feedback at a series of public forums set to be held throughout the city and virtually. After that round of input, commissioners will once again work through boundary amendments and vote on a second draft plan to once again be presented before the community. That process will be followed by the commission's final mapping approval in late October, and the panel is set to hand over its map to City Council by Nov. 1.
Anyone wishing to comment on the first draft map may do so by emailing
[email protected]
or writing to Housing and Planning Department, Attn: ICRC, P.O. Box 1088, Austin, Texas 78767. Public forums covering the plan will be held on the following dates:


Sept. 18, 11 a.m.-1 p.m. Gus Garcia Recreation Center, 1201 E. Runberg Lane, Austin


Sept. 21, 6-8 p.m. Mayfield Cottage, 3505 W. 35th St., Austin


Sept. 25, 1-3 p.m. George Morales Dove Springs Recreation Center, 5801 Ainez Drive, Austin


Sept. 28, 6-8 p.m. Virtual; videoconference accessible at https://zoom.us/webinar/register/WN_jroATJQiRF2nqm9bOkZ1gw


Oct. 2, 11 a.m.-1 p.m. Travis County Community Center at Oak Hill, 8656 Hwy. 71, Austin