A key public feedback process for the
upcoming realignment
of Austin's 10 City Council districts is now underway, and residents over the coming weeks will have several opportunities to share their perspectives on what form the city's political boundaries will take for the next decade.
After Austin shifted from an at-large to 10-1 council system, each City Council member
now represents
a geographic district instead of the city as a whole. This year, for the first time since that shift, a panel of citizens guided by new demographic data and community input will redraw each of the 10 districts through the creation of a map that will be in place through the 2020s. The new boundaries will first come into play for November 2022 City Council elections.
Eight members of that body, the Independent Citizens Redistricting Commission, were
selected
at random by Austin's city auditor out of more than 300 interested applicants earlier this year. Those selected then chose an additional six applicants themselves to fill the 14-person board that now presides over the ongoing redistricting effort.
The central, data-driven portion of work was expected to get underway in March. However, delays by the U.S. Census Bureau have kept relevant demographic information from being released until Aug. 16—less than three months before the Nov. 1 deadline for a new district plan as set in Austin's charter. Commissioners are now planning ahead of that "tight turnaround" to produce a final plan incorporating the relevant data while remaining independent of local political influence, Commission Chair Christina Puentes said.
"Our redistricting process matters because it's directly connected to fair representation. Many believe that is the antidote to gerrymandering practices we see at the state level and across the country where political districts are drawn for the purpose of politicians to get re-elected rather than to ensure fair representation and increased democratic participation," Puentes said. "Our process makes it possible for residents to have the opportunity to vote for a candidate of their choice, someone who they believe will fight for them when they get into office."
Drawing the lines
The citizens' redistricting commission held its first public forum on the redrawing of the boundary lines July 15 in a meeting specific to City Council District 9, now represented by Council Member Kathie Tovo. During the meeting, redistricting commissioners laid out the scope of their assignment and heard from several residents in attendance who spoke on their desires for potential changes downtown.
One central consideration of the commission will be balancing all 10 districts in population within a thin margin of difference. Other protocols the commission is tasked with are maintaining geographic continuity and local neighborhood integrity, and, as possible, following existing district lines or "geographically identifiable" boundaries.
City Council districts were first created under the 10-1 system with populations between 75,000 and 85,000, based on 2010 census estimates. Commissioners on July 15 noted Austin had grown an estimated 25.95% since then based on 2020 figures, and with a projected population of 995,484 as of 2020 the ideal district size now sits well above those levels at around 99,500 residents.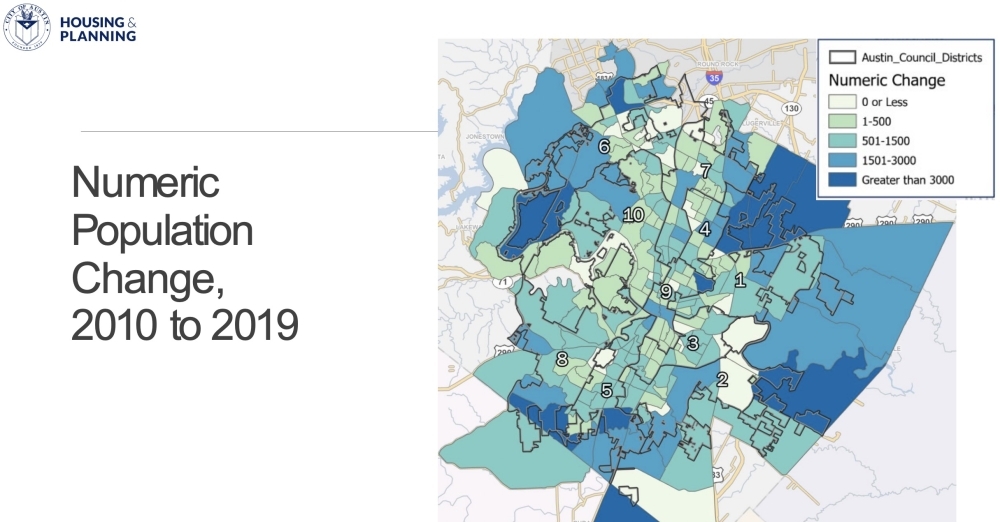 Commissioners also noted that Austin's growth has been uneven, with the largest pockets of population increase mainly located around the city's edges. Resident Brad Parsons said that fact could result in a more wholesale redo of the district map—if the commission elects to go down that road.
"Are you going to take the current map and try to work it around, move the dominos around and try to get it to balance again? ... There's a way you could do that, but you also are not limited to that," Parsons said. "There are people within the city who ... would like for you to just work from this map and slightly change it. But you can start from a whole new map."
Regardless of how commissioners tackle mapping, resident Peck Young also told commissioners he expects to see the process come down to local bargaining after moving through demographic-based realignments.
"This is not some gerrymandered operation. It is a district shaped by higher priorities, and then at the very end—because it had to be reduced to get it back to variance—by interpersonal negotiations," Young said.
Independent Citizens Redistricting Commission forums for the remaining nine City Council districts are set to take place over the coming weeks. A virtual citywide public meeting will also be scheduled for August.


District 10: July 22, 6-8 p.m. Dell Jewish Community Center, 7300 Hart Lane, Austin


District 7: July 24, 11 a.m.-1 p.m. Northwest Recreation Center, 2913 Northland Drive, Austin


District 8: July 27, 6-8 p.m. Lady Bird Johnson Wildflower Center, 4801 La Crosse Ave., Austin


District 4: July 31, 2-4 p.m. Gus Garcia Recreation Center, 1201 E. Rundberg Lane, Austin


District 6: Aug. 3, 6-8 p.m. Spicewood Springs Branch Library, 8637 Spicewood Springs Road, Austin


District 3: Aug. 7, 1-3 p.m. Ruiz Branch Library, 1600 Grove Blvd., Austin


District 2: Aug. 10, 6-8 p.m. Dittmar Recreation Center, 1009 W. Dittmar Road, Austin


District 1: Aug. 14, 1-3 p.m. George Washington Carver Museum and Cultural Center, 1165 Angelina St., Austin


District 5: Aug. 17, 6-8 p.m. Manchaca Road Library, 5500 Manchaca Road, Austin