A 13-acre site near Brown and Quinn roads owned by the Hohl family since the 1960s sprang to the forefront of Tomball City Council rezoning discussions in early 2021 as a proposed David Weekley Homes community was met with opposition from nearby residents. Council members approved rezoning the property from the single-family estate district to a planned development April 5 to accommodate the proposed 50-home community.
The property was formerly the residence of Roy Hohl Jr., who died in 1985, and Carolyn Hohl, who died in 2017, son Stephen Hohl said.
"Our family has deep roots here in Tomball, and like so many others in this community, we consider service an opportunity to give back to this community which has been so good to us," Stephen wrote in an email.
The Hohl family's legacy begins about 100 years ago in Tomball, Stephen said.
Roy Hohl Sr. and Nellie Reynolds Hohl—Stephen's grandparents—moved to Tomball with their daughter Dorothy and purchased the Ford dealership in Tomball from the Robinson family in the early 1920s, naming it the Hohl Motor Co., according to "A Tribute to Tomball: A Pictorial History of the Tomball Area," a publication created by the Tomball Area Diamond Jubilee in 1982. Tomball Ford, currently located at Spring Cypress Road and Hwy. 249, can trace its roots back to the Hohl Motor Co., first located on West Main Street, Stephen said.
Sons Roy Jr. and Howard Hohl continued the company for nearly 50 years until 1968, according to "Welcome to Tomball" by Lessie Upchurch.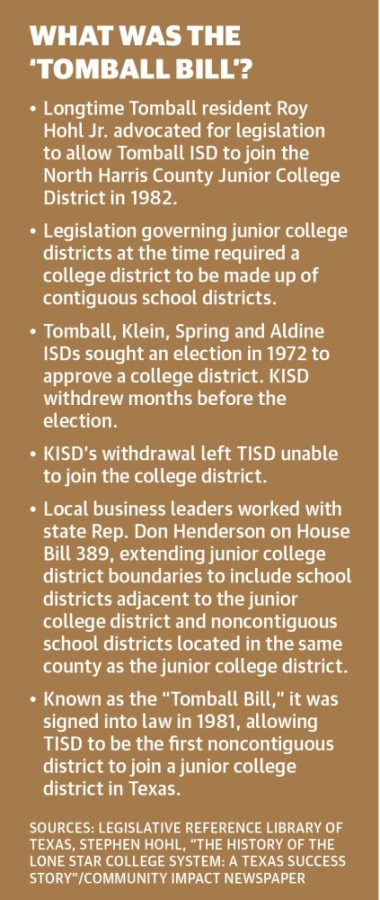 Roy Jr., Stephen's father, served with the U.S. Navy in World War II, Stephen said. Roy and Carolyn, both having grown up in
Houston, returned to Tomball following the war to raise their four children—Roy Hohl III, Ellen Hohl Stutts, Carl Hohl and Stephen—all of whom graduated from Tomball High School.
Bringing higher education to Tomball••During his lifetime, Roy Jr. served on the Tomball ISD board of trustees, the Tomball Rotary Club and the North Harris Community College district board—now known as the Lone Star College System, Stephen said. He died in 1985, the year prior to Tomball College's opening, the campus he championed.
In the late 1950s and 1960s, Roy Jr. served on the board of directors of the North Houston Association and headed the Tomball Good Roads Committee, both of which expressed support for the creation of a junior college serving the North Houston area, according to "The History of The Lone Star College System: A Texas Success Story" by Teresa Kurk McGinley.
"North of Buffalo Bayou to get to a ... college classroom, you had to go all the way to Huntsville," Stephen said.
Momentum grew for the North Harris County Junior College District among Aldine, Spring, Humble, Klein and Tomball ISDs; however, KISD withdrew months before the creation of a college district was put to voters in fall 1972, according to McGinley's history of LSCS. KISD's withdrawal also meant TISD could not become part of the district.
"The state law read at the time that community college districts had to be made up of contiguous local school districts," he said.
But Roy Jr. and others lobbied to eliminate the contiguous legislation, Stephen said.
Known as the "Tomball Bill," legislation adopted in 1981 allowed TISD to join the college district in 1982. TISD was the only school district in Texas at the time to become a noncontiguous member of a junior college, according to McGinley's history of LSCS.
"The business leaders out here felt like having a community college out here would be a great thing—and it really has been, probably more so than they ever would have even dreamed," Stephen said.