According to police records, League City police officers have responded to more than 60 calls related to stay-at-home order violations over the last two weeks. No fines have been issued or arrests have been made, according to the records.
On March 24,
League City City Council passed an ordinance that allows police to fine residents
up to $2,000 if they violate the county's stay-at-home order amid the coronavirus outbreak. The ordinance lasts until April 14, when the council will meet again and decide whether to extend the ordinance.
In the first week after the ordinance was enacted, police received
38 calls
related calls. Through April 1, officers responded to reports of large gatherings, groups playing sports in parks, nonessential businesses remaining open as well as other reports. Some calls were unfounded, others were exaggerated, and, in some instances, police asked parties to disperse and informed residents of the stay-at-home order.
From April 2 through April 7, police responded to 23 calls, and reports are similar, according to police records obtained by
Community Impact Newspaper
.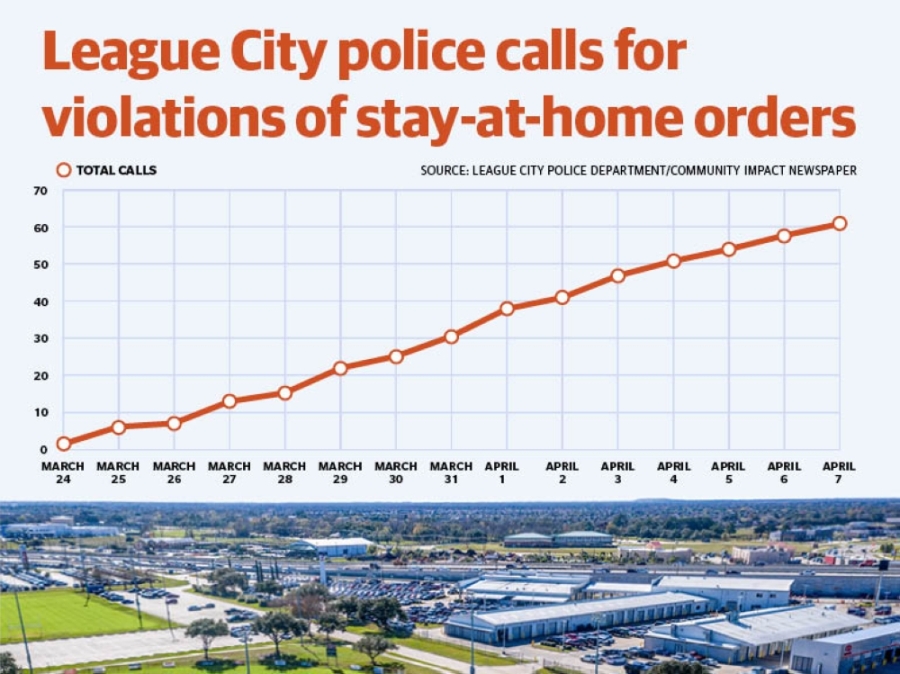 On April 2, police received a call to an apartment complex on FM 518 with eight to 10 children playing in a nearby park while not observing social distancing guidelines. A responding officer found no violations to the stay-at-home order, according to a report.
"Upon arrival to the park, I observed two teenager boys throwing a football at a distance that would have made Brett Favre happy," one officer's report reads. "There were also three
small children ... playing on the slide. I did not observe any signage stating the playground was closed."
Officers also were called April 2 by the daughter of a hair salon's client. The caller said her mother's hair stylist kept calling to ask the mother to come into the salon for a styling. The caller drove by the business and saw it was open, according to a report.
An officer responded and warned the salon's owner about the consequences of staying open. Under the county's order, a salon is not considered an essential business and must close.
<
Another report shows a resident called to say Hobby Lobby and Party City should be closed. However, these businesses can be considered essential because they provide products residents can use to work from home, allowing them to remain open, according to League City's website.
One report shows a resident was delivering groceries when he saw a house with five people outside and several vehicles parked in the driveway. The caller said it was obvious a large party was happening, according to the report.
However, the responding officer found no such evidence.
"There was no one outside and no indications that a party capable of spreading the red plague was occurring," the responding officer wrote in his report.
Another resident called to report employees at a dog grooming business were not standing six feet apart. The officer explained police do not control what businesses are deemed essential and that police cannot shut down every business that has employees standing less than 6-feet apart, according to a report.
On average, police received just over four calls a day for stay-at-home order violations between March 24-April 7.
Community Impact Newspaper
will continue to report on police records in the coming days.