Standing in Saint Anita Studio, owner Henry Jerome Mendoza said he is surrounded by elements that express who he is.
For his business' name, Mendoza meshed his mother's name, Anita, with his religious beliefs.
"I thought about my Catholic upbringing and a lot of characteristics of saints—charity, kindness and giving—all things my mom encompasses," he said. "I want those to be the core tenets of my business."
When deciding what phrase to use at the studio's threshold, he thought of his grandmother. Every time Mendoza left her house, he would say, "See ya, Grandma," and she would respond with, "Si Dios quiere," which in Spanish means, "Lord willing."
"She passed last year, and I wanted to pay tribute to her," Mendoza said.
Mendoza has 15 years of experience in the hair industry. He has managed salons, is licensed as a cosmetologist and is cross trained as a barber.
He opened Saint Anita Studio in September 2019 in the Richardson Lockwood District. Before that, Mendoza had a salon in Highland Park.
"My clientele has followed me all over the city. To my knowledge, I lost one customer out of several hundred," he said. "It has been absolutely incredible, and it's a testament to cultivating sustainable culture within the studio."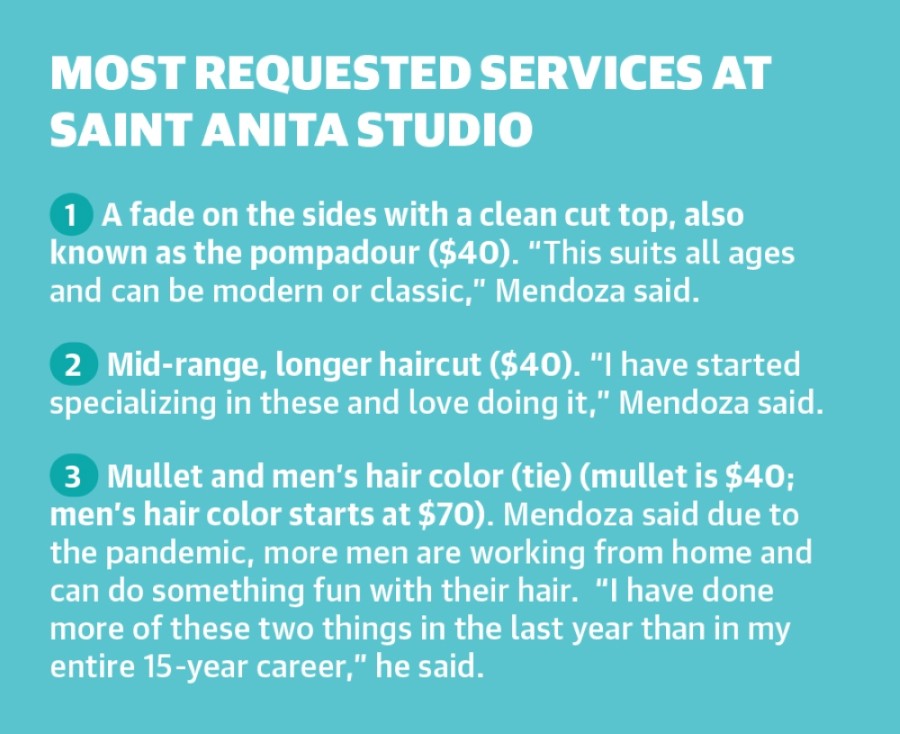 He had to close his doors for two and a half months due to COVID-19 regulations. But since re-opening in mid-May 2020, Mendoza said his business has evolved in incredible ways.
"The community support is something that I learned about—how strong Richardson's support is of local businesses," he said. "My [appointment] books have stayed completely full the entire time. I've never had to worry."
Mendoza said building relationships is his favorite part of owning a business. He enjoys cutting children's hair and watching them grow up. Cutting hair for milestones such as weddings and job interviews is also a favorite, he said.
"The fact that I get to have an impact on somebody's confidence and self-esteem is incredible," Mendoza said.
Saint Anita Studio
514 Lockwood Drive, Richardson (studio is located inside Communion Coffee)
www.saintanita.co
Hours: By appointment only