Despite a surging housing market, the overall value of taxable property in Richardson is set to see its smallest yearly increase in a decade, according to city officials.
Estimated values released by both Dallas and Collin central appraisal districts show Richardson's property values growing by just shy of 1% in 2020, revenue from which will be realized in the city's fiscal year 2021-22 budget. This is the lowest growth since 2012, when property values grew by 0.7%. All figures are estimates until certified by the appraisal districts this summer.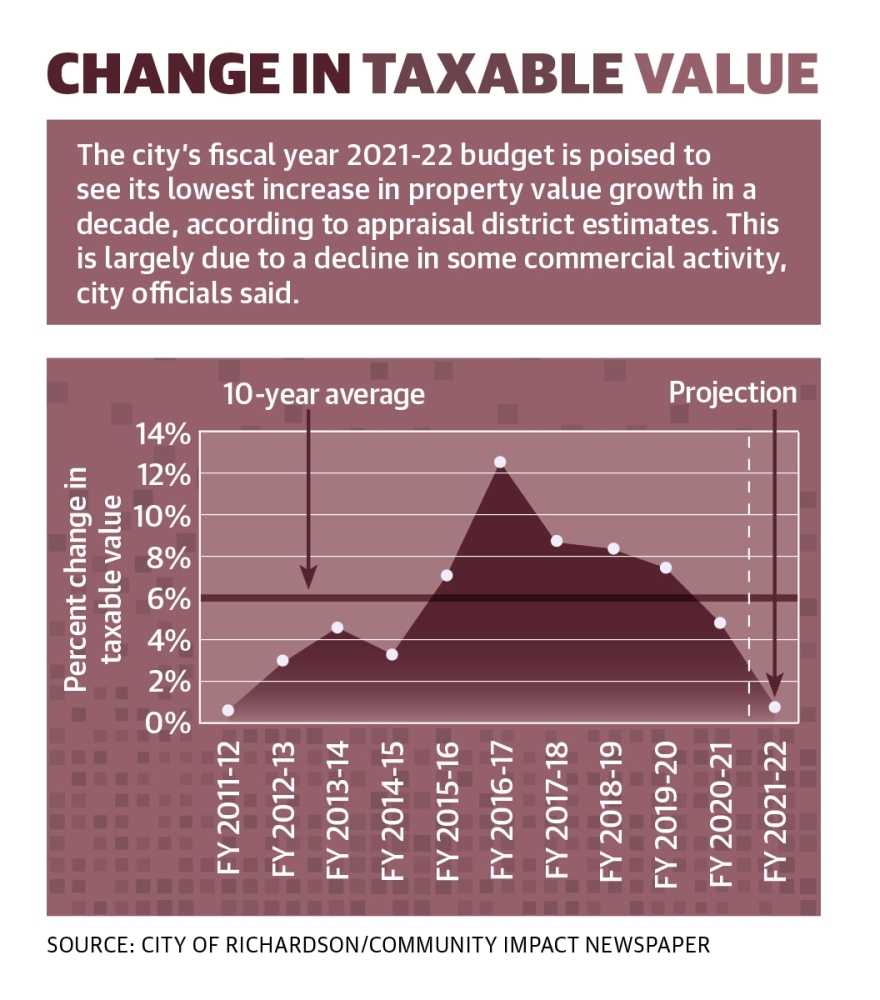 Deputy City Manager Don Magner said the lack of growth is likely due to a decline in Richardson's commercial market during the pandemic.
"What we're seeing, we believe, is still a strong residential market. But that is being negated to some extent by [the] commercial market," Magner said. "[The] negative commercial is having an effect on overall [market] growth."
Magner said much of the commercial market's dip in value can be attributed to a trend in the retail and restaurant sector that saw many tenants struggling to pay rent. A rise in remote work did not affect commercial values as long as office tenants continued to make lease payments, he said.
Despite a shaky office and retail market, Richardson's industrial and residential properties performed well during the pandemic, according to the Richardson Economic Development Partnership.
These wins went a long way in advancing the city's overall property valuation. Dallas Central Appraisal District estimates values in the Dallas County portion of the city are up about 16% year-over-year. Values in the Collin County portion of the city are estimated to increase by just under 1%. Collin CAD declined the opportunity to comment on its value estimates.
Parsing the numbers
Richardson has nearly 22 million square feet of office space, according to a May presentation by the Richardson EDP. In the fourth quarter of 2019, 14.7% of that space was considered vacant. By the second quarter in 2020, office vacancies rose to 15.5%.
The presentation also showed that of the more than 7 million square feet of total retail space in the city, 8.5% was available for lease in the fourth quarter of 2019 versus 9.6% at the same time in 2020.
So far in 2021, commercial vacancies remain largely unchanged from the end of 2020, the Richardson EDP report confirmed. Commercial real estate services firm CBRE Group estimates a 24% office property vacancy across the Dallas-Fort Worth market, the highest rate since 2004.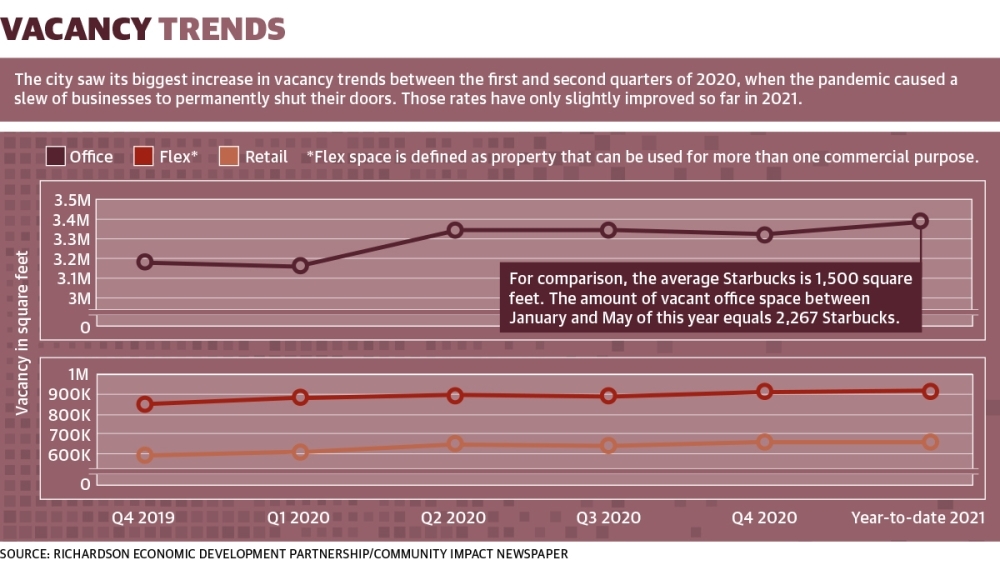 When estimating a commercial property's value, Dallas CAD looks at whether the property is income-producing, Director of Community Relations Cheryl Jordan said. Factors such as occupancy and unpaid rent play into value calculations.
"If a business has closed, and [the tenants] were renting space, now they are not paying rent," Jordan said. "So the owner of that commercial structure's expenses have gone up, and he's getting less income."
Many companies worked from home during the pandemic, but the value of office space would only be affected if business owners canceled their lease or chose not to renew, Jordan said.
"If there is a lease in place, it's being rented," she said. "Whether you are there or not does not have any impact ... on the property owner."
While remote work may not have affected property values, it was detrimental for companies that sold goods and services to the local workforce.
Eleven years ago, Amy Long and her husband, Kevin, started Orchard at the Office, a Richardson-based business that delivers fresh produce to office buildings. Long said the mass exodus from commercial properties seen during the pandemic was especially challenging.
"It's devastating, it's absolutely devastating. We're still down about 88% of where we were in March of [last year]," she said. "If everyone works from home, we don't have a business."
Prior to the pandemic, Orchard at the Office delivered fruit and healthy snacks to roughly 600 offices in Dallas-Fort Worth. As many employees began working remotely, Long said they switched to home delivery to try to accommodate their customer base.
She said as of last month, more of the companies they serve have returned to their offices, albeit in smaller numbers.
"They have staff coming in, maybe two or three days a week. It's a smaller staff," she said. "Things, I believe, are starting to turn around for us."
The dip in office and retail activity in Richardson was offset by the increase in residential and industrial values.
Industrial properties have performed well during the pandemic due to the increased need for space to store online orders, Jordan said.
"Industrial is actually thriving more because of COVID," she said. "Warehouse values have gone way up because there is a big demand."
In an annual review, the Richardson EDP said manufacturing and IT service companies were least affected. Retail businesses, such as restaurants, salons and fitness studios, struggled the most, according to the report.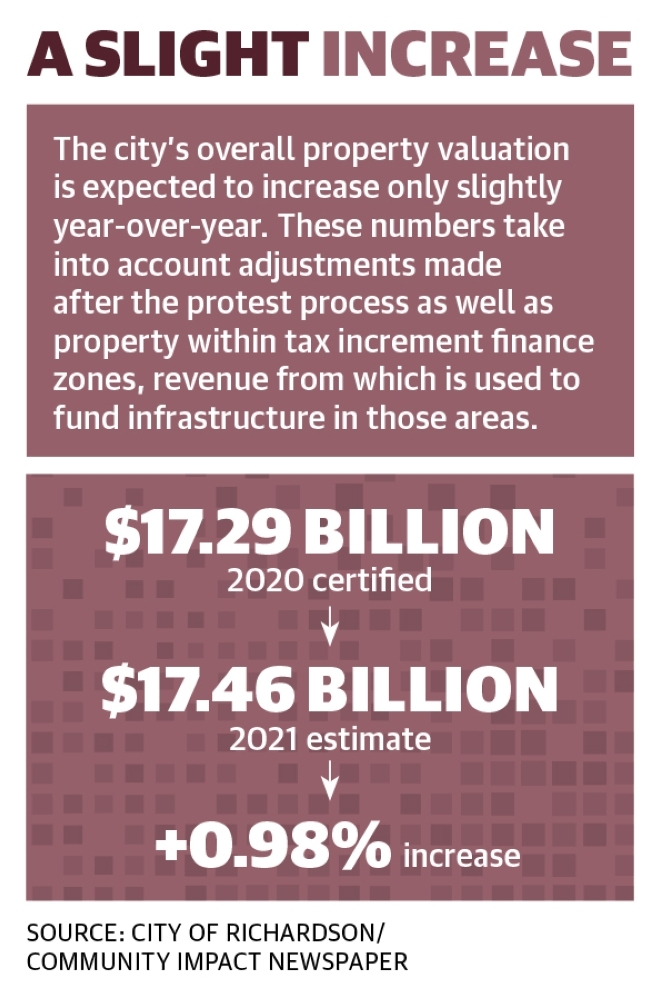 Looking ahead
John Jacobs, executive vice president for the Richardson EDP, said the city is unique because more than half of its taxable property is commercial rather than residential. That's beneficial for Richardson's residents because those companies pay more of the city's property taxes, Jacobs said.
"When you live in Richardson and you're driving past a tall office building, you look up and know they're paying [taxes] for all that space," he said.
He estimated that 80% of people who work in Richardson don't live in Richardson, while most residents who live in Richardson work elsewhere. Jacobs said he believes the decline in office and retail activity is a "small and temporary blip."
"[Richardson] has been much, much less affected by the pandemic than most other cities that didn't have the business base we had," Jacobs said.
Jacobs said he believes the commercial model has permanently changed but that in-person operations will still be vital to success.
"The more innovative a company is, the more important it is for them to collaborate in-person," he said.
Olivia Lueckemeyer contributed to this report