A first draft for Dallas Area Rapid Transit's bus network redesign includes changes to GoLink shuttle service in Plano and Richardson.
In the northeast quadrant of DART's coverage area—which includes Plano, Richardson, northeast Dallas, Rowlett and Garland—current plans show new and expanded GoLink zones, with current bus routes being replaced by shuttle service.
In Plano, there is the possibility of adding three GoLink zones and expanding at least one other into Richardson, DART staff shared in a presentation Feb. 23. One additional GoLink zone is also planned for Richardson. Parts of the Spring Valley bus route in Richardson will also become more frequent.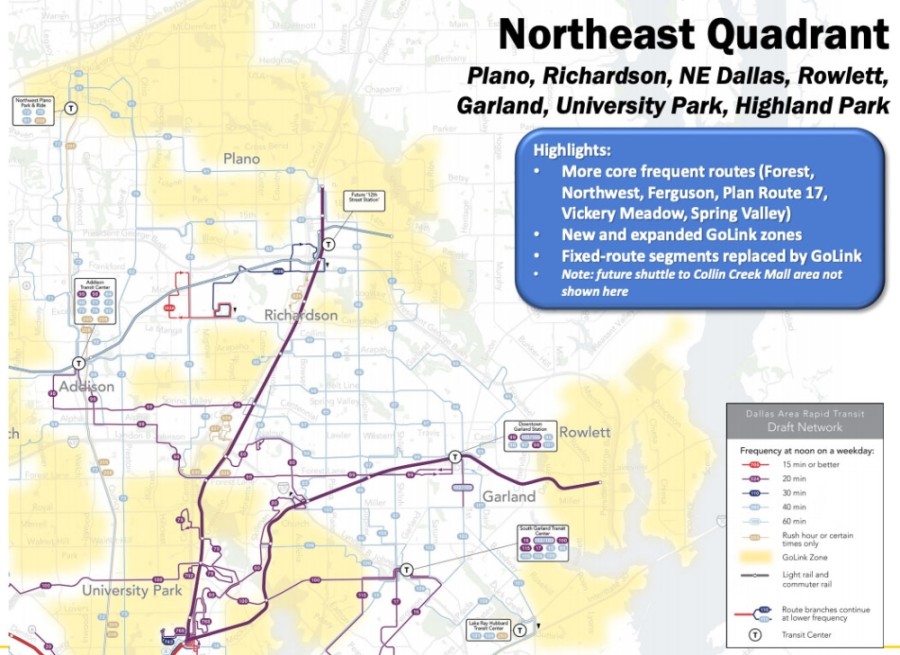 Thirty- and 40-minute service are more common in this quadrant, due to less density and lower ridership levels overall, Rob Smith, DART's interim vice president of service planning said.
"Generally here, the routes are running between some of these GoLink zones," Smith said.
The draft overlaid on the current service map showed no loss in overall physical GoLink coverage, although route frequency may differ. Across all of DART's network, the draft drops the number of bus routes from 121 to 77, while nearly doubling the number of GoLink shuttle zones.
Close to half of the zones would offer Saturday service under the proposed plan, which is significantly more than the one zone offering weekend rides currently.
With this redesign, roughly 74% of service-area residents would have access to bus or shuttle service within a half-mile at midday on a weekday, according to the presentation. This is an increase over the current 68%.
In the northeast quadrant, the number of areas reachable within 60 minutes would improve under this plan.
"Overall, for the vast majority of parts of the service area we see ... vast improvements," Smith said.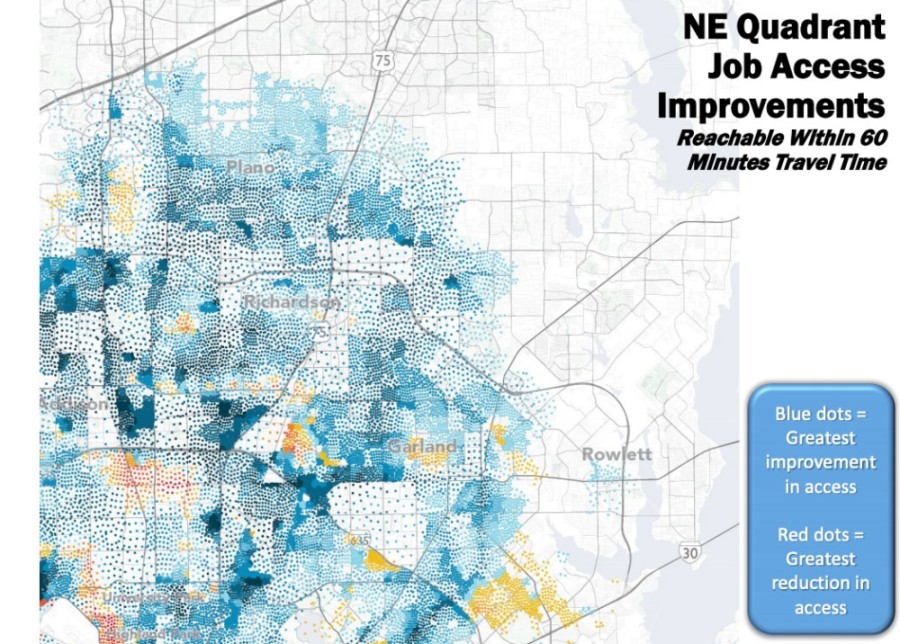 Maps of the new draft will be uploaded to the DART website, Smith said. Viewers will have the ability to zoom in on specific areas to see how changes might affect their commute, Smith said. What the redesign will mean for individual cities and areas will also be reviewed during meetings with DART board members and city representatives, said Todd Plesko, vice president of Service planning and scheduling.
Community outreach and other opportunities for public involvement, such as public hearings, will begin this spring. Implementation of a network redesign by January 2022 would require approval of the plan in August, Smith said.
Census data, employment information and other data is used to analyze effects of the proposed redesign by outside consultants, according to Smith.
Both the DART Committee-of-the-Whole and DART board
approved the use of a hybrid concept for the redesign
Nov. 10, which balances the need to maintain high-ridership routes with providing adequate coverage. Staff was directed to focus the design on 70% to 75% ridership and 25% to 30% coverage.
About 55% of DART's bus service currently focuses on high-ridership routes, while the rest is used to provide coverage, as
previously reported
by
Community Impact Newspaper
.