A new option for the Dallas Area Rapid Transit 13-bus DARTzoom network has been added to the four existing variations that committee members have deliberated in recent months.
This hybrid option was created after committee members expressed interest in a middle ground in ridership.
About 55% of DART's bus service currently focuses on high ridership routes, while the rest is used to provide coverage to a broader area, according to Mark Nelson,
director of transportation for the city of Richardson
. If the transit agency focused its redesign around ridership, that share would shift to 85% ridership, 15% coverage, as
previously reported
by
Community Impact Newspaper
.
This 85/15 variation would expand the GoLink on-demand curb-to-curb service in ridership coverage gaps, but in a way would not be cost-effective, according to a Sept. 22 presentation to the DART Board of Directors.
The hybrid option would fill some of the larger ridership network gaps where expanded GoLink service does not make sense and would have a 70%-75% focus on ridership and a 25%-30% focus on coverage, the presentation showed.
At $12 million per year, 11 routes would fill a portion of network gaps and about 25-30% of the routes would operate every 20 minutes on weekdays at midday. There would be small areas left uncovered in cities like Plano and Richardson, but a majority of those gaps generate few riders in the current system or are relatively undeveloped, according to the presentation.
The hybrid option would also place about 65-70% of residents within .5 miles of service and would expand the use of GoLink in areas where it is most useful. This lands the hybrid option near the center of the four previous options, as seen below.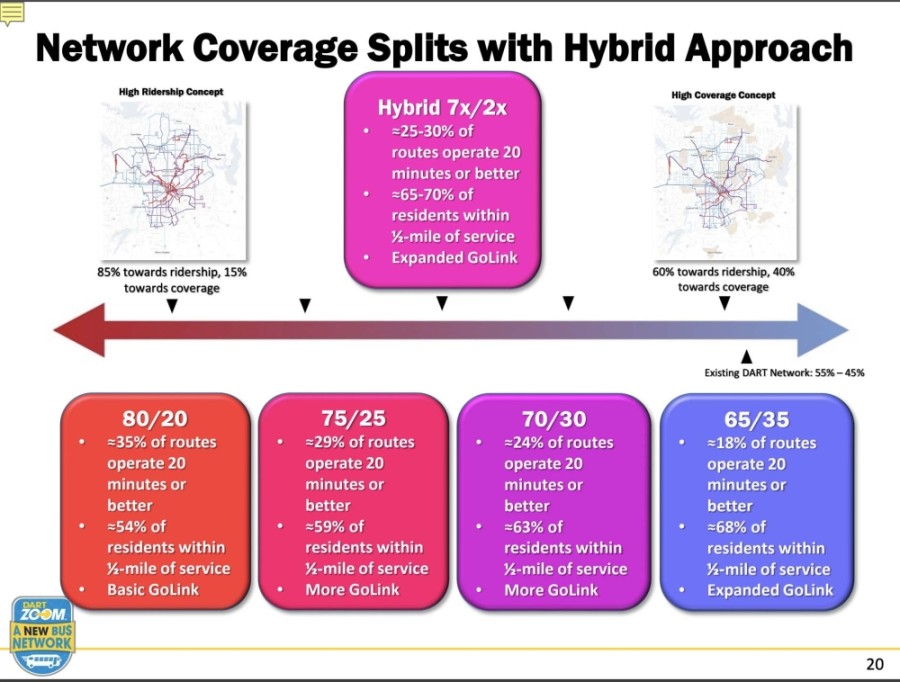 Board members requested more information on the effects of the hybrid option on residents and working riders before recommending any option. A recommendation will be necessary in early October for the drafting and review of a bus network plan at the beginning of 2021.