As part of its efforts toward increasing local sustainability, the city of Plano has designated Grow Zones that allow for the regrowth of natural grass and woodlands to increase the amount of native acreage in the city.
The Glenhollow North Estates homeowners association was able take advantage of another of those programs when it decided to implement more efficient irrigation and sprinkler systems in 2017.
The association's board members assumed the work would take three to five years to complete. Then, they learned about Plano's Neighborhood Vitality and Beautification Grant Program, through which they received a $10,000 matching grant to help complete the work in two years.
"Everybody likes saving money, and I think it's a great use of [taxpayer dollars]," said Elizabeth Gaylord, board secretary for the Glenhollow North Estates HOA, of the grant. "The whole point [of Plano's work] is just trying to make the neighborhoods more environmentally friendly."
For its efforts, the subdivision was recognized in the Neighborhood Group category for Plano's 2018-19 Environmental Community Awards. These honors are just one way the city puts an emphasis on environmental education and local sustainability, officials said.
The city has its own policies regarding environmental purchasing, pollution reduction and sustainable construction. But Plano's Environmental Health and Sustainability Department also works to educate the community and involve residents in city services that promote environmental sustainability and protect community health.
"Sustainability has always been important to the city of Plano—making sure that what we're leaving behind is sufficient for the future," said Rachel Patterson, the city's director of environmental health and sustainability. "There's a lot of outreach that we do to educate people on these things, and it does have an economic impact—not just for the city but [also] for our residents."
Protecting growth
To help educate its citizens, the city maintains a Facebook page, Live Green in Plano, and distributes an accompanying newsletter. Live Green in Plano regularly offers tips for recycling, composting and gardening as well as updates on volunteer opportunities.
"We have a very robust volunteer program," said Nicole Warhoftig, Plano's sustainability and environmental education manager. "And those volunteers are very active in our Plano Community Garden, which is one of the initiatives we were able to continue through COVID."
Each year, Plano community gardeners usually provide more than 5,000 pounds of fresh, organic produce to local food pantries.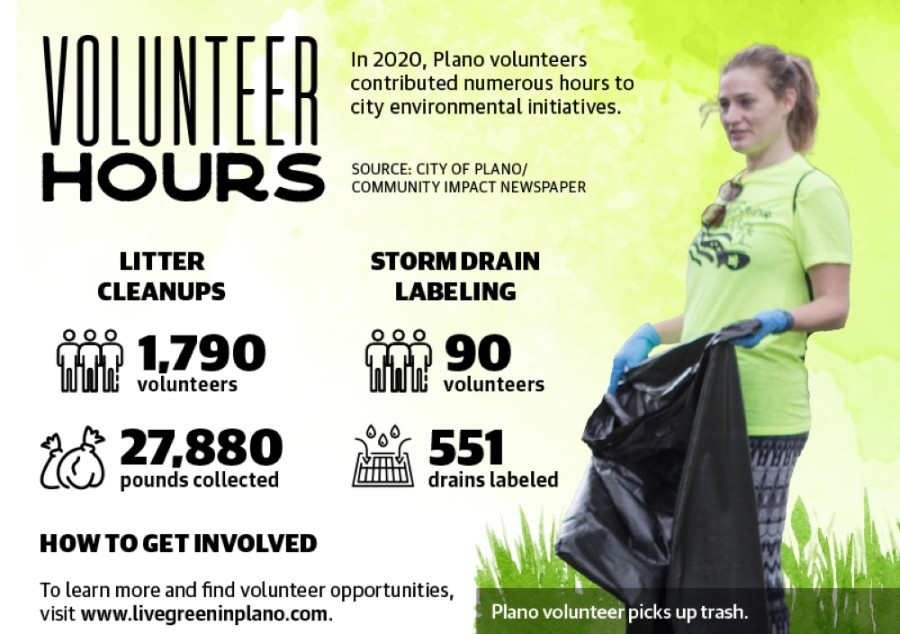 "We had a record amount of produce donated this last year," she said of the roughly 6,284 pounds of food donated. "The food banks were hit pretty hard during the pandemic last year, and they were extremely grateful for that extra produce."
While volunteers are instrumental to the community garden, the city also employs a full-time urban forester, Marc Beaudoing, who helps identify Plano's Grow Zones and ensures that trees are protected, Parks and Recreation Director Ron Smith said.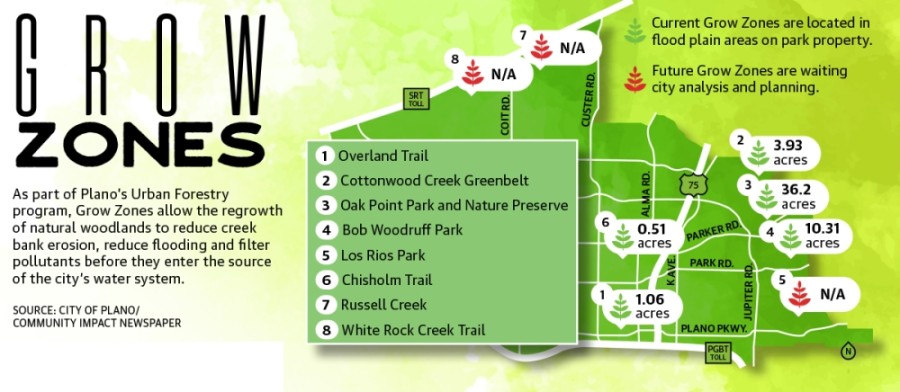 "We have in our park rules [that] it's a violation to perpetrate an environmental disturbance," Smith said. "That means you can't go in and take your hatchet and make a tree fort with your kids."
Plano also has a tree preservation ordinance under which trees removed by any new developments have to be replaced elsewhere in the city, Smith said.
"The best thing is to try to leave the existing tree," Smith said. "If you can't leave it, then replace it so that the next generation has great trees to enjoy."
Creeks and water conservation
The city's litter cleanup programs help to keep Plano's streets and parks looking pretty, but they also help protect its creeks and streams. Volunteers regularly pick up trash before it goes down stormwater drains and walk creeks to remove debris that has already made it into the waterways.
"Every time we've got a big rain event and those creeks rise up and flood our flood plain areas, there's always debris that's left behind," Smith said. "So from the parks and recreation perspective, those huge creek cleanup jobs ... are always very much appreciated on our end."
Warhoftig said one of the most common ways water is wasted is through faulty sprinkler systems.
"Our water educator has extensive classes and webinars on sprinkler repair," she said. "[A sprinkler fair] is going to be one of our first in-person events once we go back live in June."
Clean air and solar power
Plano is one of several cities in the Dallas-Fort Worth metroplex that are taking part in an air-quality partnership with The University of Texas at Dallas. The SharedAir DFW program, which launched last year, provides an interactive map that monitors air pollutants in the region and allows users to compare areas.
"If we take the time to look, each of us can see the negative impact that air pollution is having on our own health and that of our communities," said David Lary, a physics professor at UT Dallas who helped create the program.
Plano has a direct contract with UTD to produce and deploy air quality monitors throughout the city, Sustainability Projects Supervisor Yarcus Lewis said. Lary and his team are currently working to calibrate the sensors using machine learning, and they plan to deploy them soon.
Homeowners and business owners in Plano now have the option to join a free co-op that will allow them to purchase individual solar power systems at a competitive price. The Plano Solar Co-op recently selected RISE Power to install the solar panels for its members.
The co-op could save members 15%-20% on a solar system, according to Lewis, who added that he has seen a lot of interest in the co-op from Plano residents.
"We're up [past] 80 [members], and we hope to get to 100," Lewis said. "Normally, you might get 20% that convert into installation, but we've already got indications that ... we're going to have at least 30 people [that will get the solar conversion]."