Both Plano ISD and the Boys & Girls Clubs of Collin County are looking for bus drivers after a nationwide driver shortage was worsened by the COVID-19 pandemic, officials said.
Competition with private companies and a relatively long training and licensing process for commercial drivers is contributing to the shortage. Not having enough drivers can cause delays that result in students being late for class, district staff said. Or it could result in services stopping altogether, like with the Boys & Girls Clubs of Collin County, which had to cease student pick-ups from eight PISD schools.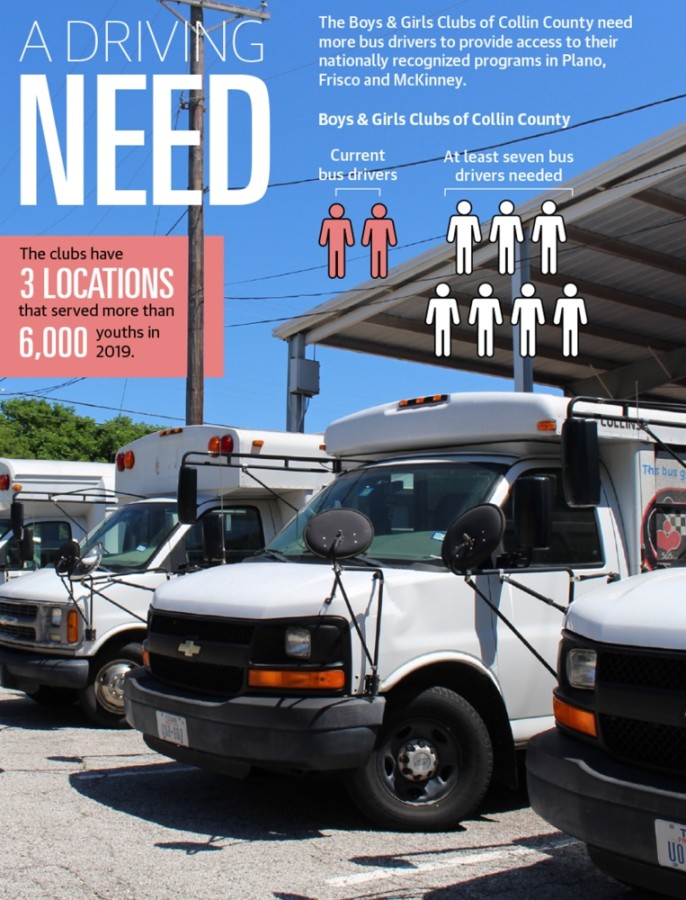 "Not having a pool of drivers available also has affected the growth of our organization, as we are unable to access more areas to bring more members into the clubs," Boys & Girls Clubs of Collin County CEO Marianne Radley said in an email.
Stopping services
The Boys & Girls Clubs run an after school program with character and leadership development, life skills and recreation opportunities for children ages 5-18. The Plano club is located on H Avenue not far from Stimpson and Drake Park.
Drivers pick registered children up from their schools and drop them off at the clubs. For many students, this is the only way they have access to the club's programs, Radley said. The clubs had to cut back student pickups for two reasons. The first was that many bus drivers left as other companies began recruiting more during the COVID-19 pandemic. The second was that since the pandemic, student membership declined by about 62%, particularly with its teens, Radley said. It is not feasible to send the clubs' few drivers out to pick up only one or two students at schools, she said.
The clubs currently have two bus drivers to divide between the three club locations in Collin County. About 22% of the clubs' overall membership decline is attributed to no longer being able to pick up students at several school districts across the county, Radley noted, not just PISD and Frisco ISD, which also covers part of Plano.
If the club gets more drivers and memberships pick back up, the club can resume services to those schools, she said.
"Our focus is to serve more kids more often and allow the youth of Collin County access to the after-school resources and services that the Boys & Girls Clubs of Collin County provides," Radley said in her email.
The clubs provide homework and college preparation help, which more students especially need after the pandemic affected education, Radley said.
One national study of 5 million students by the Northwest Evaluation Association projected the combination of a typical "summer slide" in learning and the disruption to schooling due to COVID-19 could cause regression for some students.
"These kids that we're talking about are already one to two years behind in education because of the pandemic," Radley said. "When I think about those kids that we can't pick up because we don't have drivers, it's quite tragic."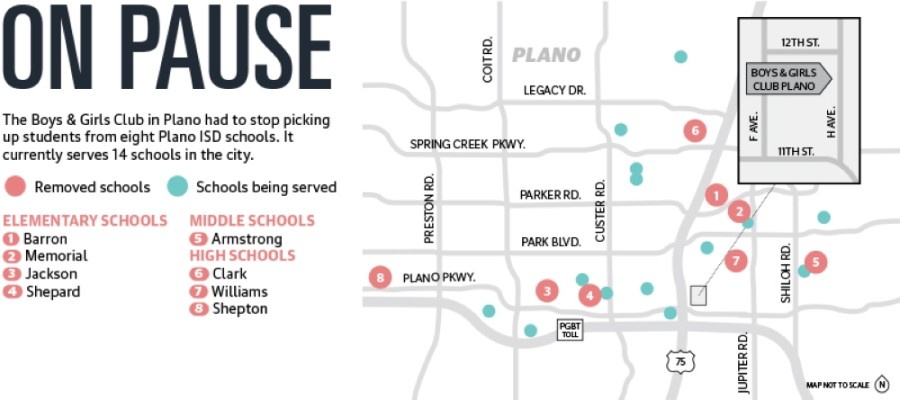 The school year is almost over, but the driver shortage could carry over to summer camp offerings too, Radley said. The Boys & Girls Clubs need drivers to take children to field trips. Without drivers, those activities would have to be curtailed, she said.
Retirees are often good fits for club drivers, Radley said, since they have the flexibility to work the part-time, afternoon schedule.
"We want them to have a happy and joyful disposition," she said. "Our club kids are really good kids."
Having just seven more drivers for the Boys & Girls Clubs would make a significant difference, Radley said.
"The fact that we don't have drivers is something that a year ago, none of us would ever have thought about impacting our business, and it's having an incredible impact," she said. "It would be so much easier if we had these drivers."
School district needs
The transportation needs don't stop with the local nonprofit. PISD is also looking to hire 30 to 40 more bus drivers and monitors for the next school year, said Rosemary Gladden, assistant director for communications.
The pandemic has meant there are fewer students in school in person and going on field trips in PISD, so the driver shortage was not as bad this year, she said. However, districts such as PISD and FISD are looking at hiring slightly more drivers for next year than they have in years past.
One of the major challenges for attracting school bus drivers is the part-time, split work schedule, FISD Managing Director of Transportation Doug Becker said. Drivers typically drive a morning route and an afternoon route with a break in the middle of the day.
As the economy improves and more people return to work in their respective fields of expertise, there is a lot of competition in the workforce, said Steve Neill, PISD assistant director for transportation.
"We meet the challenge by focusing on the rewards of the job," Neill said via email. "For example, the split shift appeals to drivers who need time during the day. Interacting with students and families is also rewarding as well as having time off on the weekends and summers."
PISD and FISD both have extra drivers on standby, according to staff from each district. Neill said PISD will combine routes when needed if there are not enough drivers available. Becker said when FISD is in need, office staff and mechanics have to make the drives.
While a shortage of drivers can cause buses to be late to stops, Neill said PISD tries to keep late buses from affecting the district's schools whenever possible.
"At the most, we have a few routes that might run a few minutes late due to a route combination or even a [substitute] driver situation," Neill said. "These have always been minimal and not a daily recurring action."
He said PISD drivers help the district provide a safe, supportive and caring environment for students as well as help provide safe, economical and timely student transportation services.
"We are looking for candidates who enjoy kids, serving others and [want to] help us achieve the goals we have set for our department," Neill said.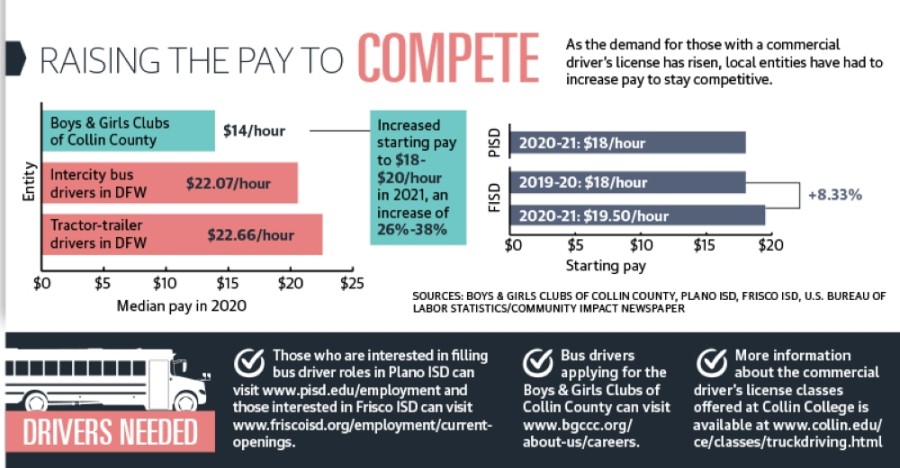 Training drivers
Training and licensing are also challenges when seeking drivers, Gladden said. The school district provides paid training so drivers can get their commercial driver's license and be ready in time for the start of the school year.
"Training and exams can take approximately eight weeks, so we are hiring now to have them prepared by our first day of school, which is Aug. 11," Gladden said via email.
Collin College offers commercial driver's license training through a third-party vendor, R&B Vocational Training, to help meet the local need for professional drivers. The courses run for about four weeks. Students need to complete 200 hours of training to earn a Class A commercial driver's license, which exceeds the Class B license needed to drive a school bus, a college spokesperson said.
Bryce Walker, one of the instructors for the commercial driver's license course, said students are able to take their state tests to receive their licenses though the college. Going to a Texas Department of Public Safety office can sometimes result in a three- to four-month wait for a testing spot, he said.
The test is not an easy one, Walker said. On the state level, about 30% of people pass the first time, he said, which results in rescheduling and testing being backed up even more.
He said students who finish the course and get their commercial driver's license can be placed in a job the week after class if they desire.
"We have about four or five different recruiters come in from different companies that are hiring straight out of our school," Walker said.
The companies that Walker works with outsource about half of their contracts because they do not have enough drivers, he said. However, he is seeing more students take classes than in years past.
"A lot of jobs are gone, but truck driving, it's still there, and there's still high demand for it," Walker said.