Eviction rates have steadily declined across Collin and Denton counties in the last year, beginning with a significant drop at the start of the coronavirus pandemic. That may change now that the Texas Supreme Court has declined to extend its moratorium pausing evictions in local courts.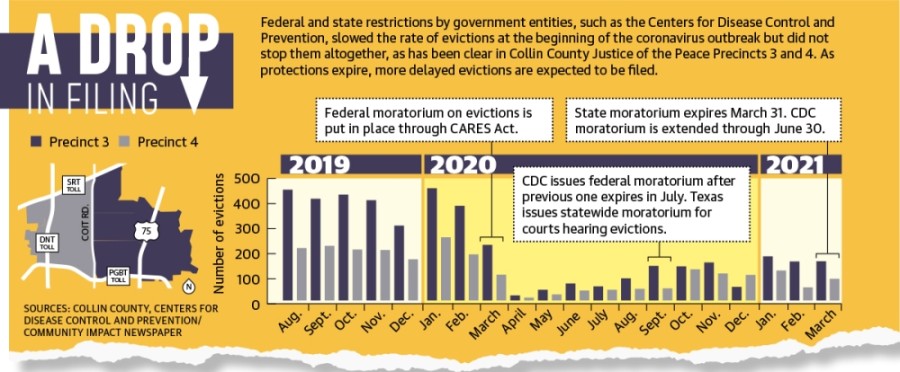 In late March, a federal eviction moratorium issued by the Centers for Disease Control and Prevention was extended to be effective through June 30. Under that moratorium, landlords can file lawsuits against their tenants but cannot evict them for unpaid rent. However, that moratorium applies to landlords, not to the courts, according to guidance from the Texas Justice Court Training Center.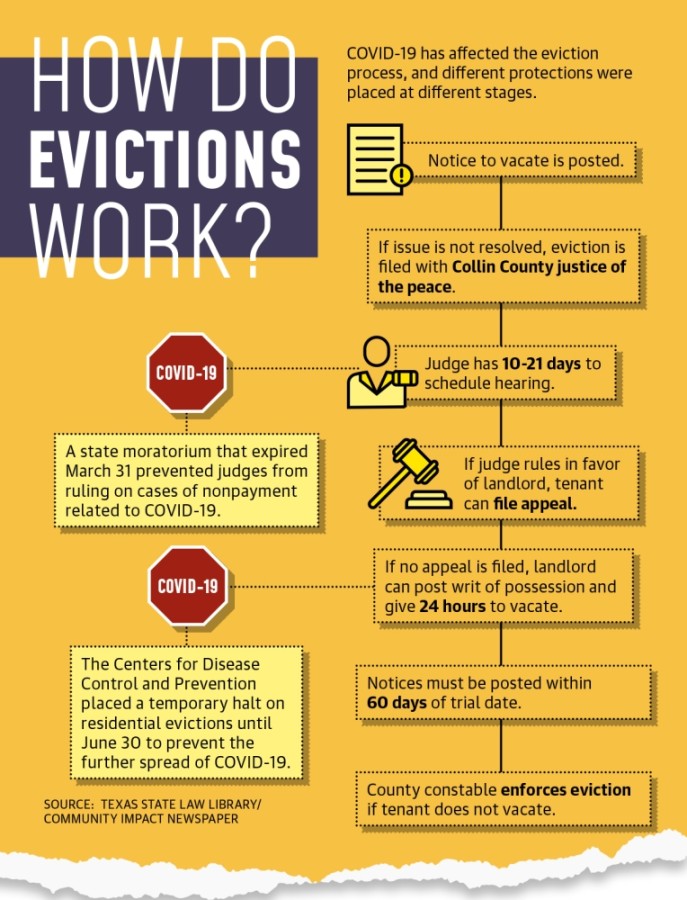 Legal Aid of NorthWest Texas, along with other advocacy groups in Texas, is challenging this interpretation of the CDC's moratorium.
"Our stance is that the CDC order should be adhered to because it's a federal law," said K'Lisha Rutledge, an attorney with the nonprofit.
Over the last seven months, roughly 10 of every 30 residential eviction cases in the courtroom of Justice of the Peace Mike Missildine, whose Precinct 3 covers much of Plano, have been delayed due to the eviction moratorium. Those cases are now beginning to move forward, and without the hurdle of a moratorium, a slew of new cases are anticipated, he said.
Area agencies are ramping up their efforts to ensure tenants and landlords are aware of relief options as evictions start up again. But that awareness takes time, Rutledge said.
Relief in different places
In mid-February, a new statewide rental assistance program was launched to help people avoid evictions. Through the Eviction Diversion Program, landlords of tenants who make less than 80% of their area median income and who have been affected financially by COVID-19 can receive up to 12 months of back rent and up to three months of future rent.
The program requires both the landlord and the tenant to apply and to come to an agreement, Rutledge said. Often, one or both parties are hesitant to take on the responsibility and time involved with the application, she said. Also, Rutledge said, many people who are seeking this sort of help during the pandemic are doing so for the first time, which can make it difficult to know which assistance may be best to pursue.
Those who come to court for matters of eviction are informed about the diversion program as well as other relief options before their eviction case is moved forward, Missildine said. If they agree to try the program, the eviction case is made confidential and will expire if no action is taken after 60 days, he said.
There are currently no restrictions preventing tenants and landlords from taking part in the diversion program while they seek assistance elsewhere, Missildine said.
In a separate move March 1, Collin County launched a $17.4 million Emergency Rental Assistance Program, one of six emergency rental assistance programs in the county. The county has prioritized active eviction cases within its program, according to Kerry Shulman, a business process engineer with Collin County.
"Each of our programs differs in some ways, but all are focused on rental and utility assistance," Shulman said via email.
In January, the city of Plano launched a rental assistance program for those affected by the pandemic. Roughly 18 families received assistance via nearly $313,000 in funds from the U.S. Department of Housing and Urban Development. An application for another $1.4 million in funding from HUD for the city's overarching Homelessness Prevention Program was approved by Plano City Council in late March.
The state of Texas is also offering assistance through the Texas Rent Relief Program, which launched in February. Of the roughly $117 million set aside for the program, about 10% will be used for the Eviction Diversion Program.
Compounding the problem
The effects of lost rent from tenants is reaching a critical point for some landlords, said Jason Simon, director of government affairs with the Apartment Association of Greater Dallas.
The association covers 11 counties and is primarily made up of members from Collin, Denton and Dallas counties. A study by Moody's Analytics found that roughly $57 billion in back rent was lost nationwide from March to December of last year.
Many of the associations' members have worked out payment plans or verbal agreements with their tenants to avoid evictions, Simon said. Even still, landlords across the country are still billions of dollars short of breaking even as a group on lost rent, that same study showed.
"We're housing providers. We don't want to evict," Simon said. "Eviction is a last resort for us. But at the same time, when the rent is not being paid, it's been particularly devastating for our smaller landlord members."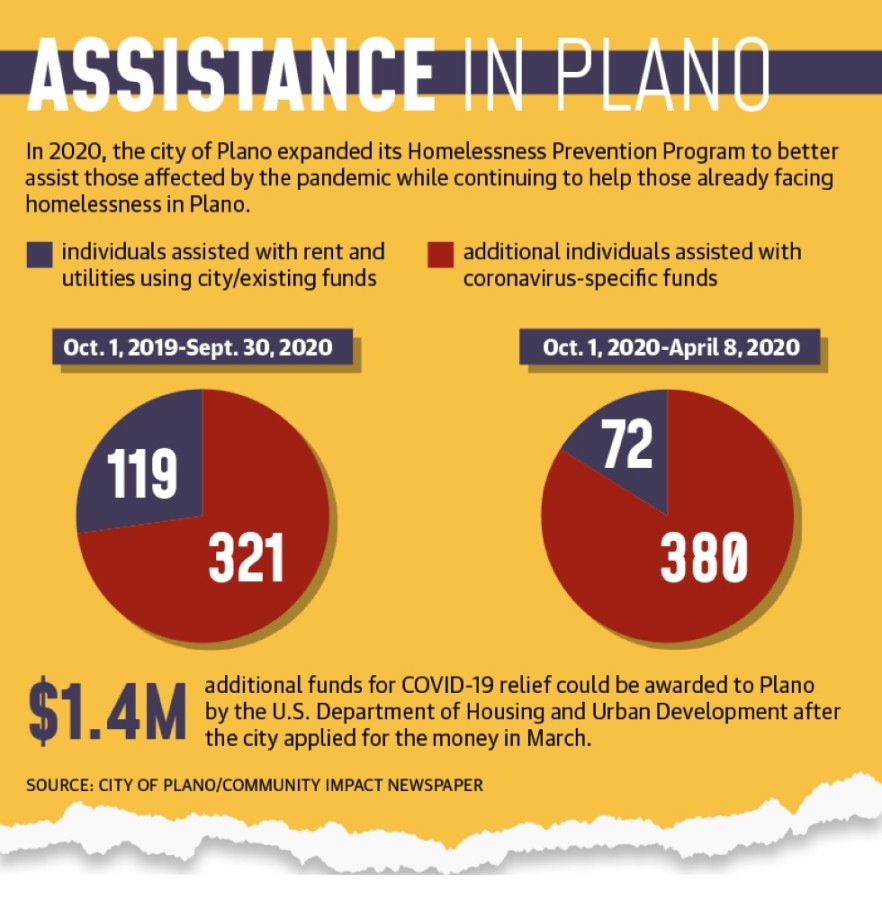 The cost of living has continued to steadily increase across Dallas-Fort Worth, according to the latest Consumer Price Index data. Housing insecurity had been recognized as an issue in Plano prior to the pandemic—yearly surveys showed the homeless population increasing each year, with the cost of living becoming a more consistent cause of the problem.
Cities in Dallas and Collin counties work together to survey their homeless populations each year in partnership with the alliance. However, this year's survey was scaled back in order to protect those facing homelessness from contracting COVID-19 and thus is unlikely to paint a complete picture of the state of homelessness in 2021, according to Nissy New, vice president of operations at the Metro Dallas Homeless Alliance.
The eviction moratorium has helped keep those in danger of losing housing in their homes, New said. It has also given groups, such as Legal Aid of NorthWest Texas, time to reach those in need. But the moratorium did not solve the root problem, Rutledge said.
"They still aren't able to pay their rent," she said. "The amount of rent that they owe is continuing to increase."
Since January 2020, there has been a decrease of more than 50% in the number of eviction filings in Missildine's court and at least a third have been delayed by federal or state protections. But now that the moratorium has been lifted, eviction cases that have been on hold will move back to the front of the line in court, according to Missildine.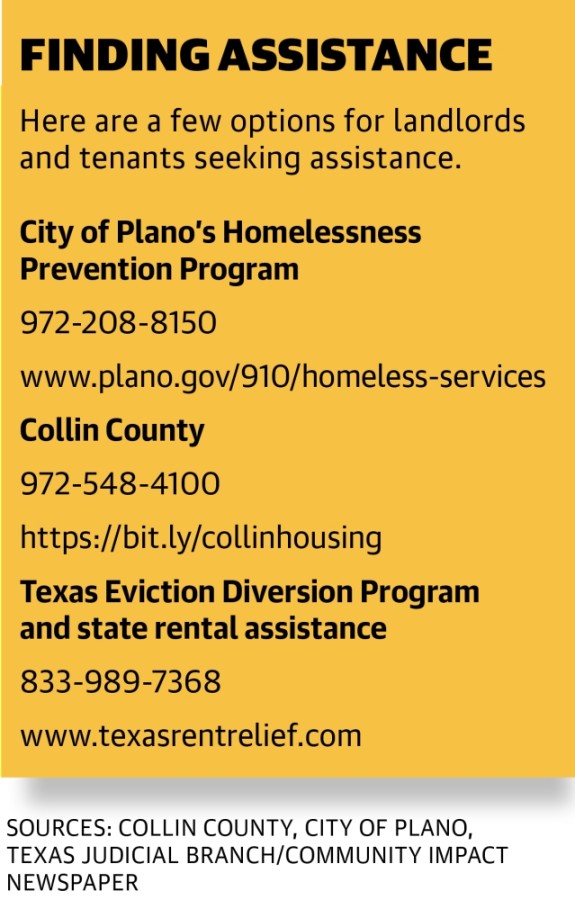 In an April 5 response to the Legal Aid of NorthWest Texas and other advocacy groups, Thea Whalen, executive director of the Texas Justice Court Training Center, wrote that justices of the peace, as elected members of the judiciary, are free to reach their own conclusions on how to apply the CDC order in the absence of a state law.
Landlords and tenants can always agree for an abatement if they wish, Missildine said via email. Absent that, his court will seek to press on with evictions and reset delayed hearings.
More guidance is expected from the training center in the coming weeks.