Kristin Cole became a licensed aesthetician 15 years ago. She opened a facial business in north Dallas in 2010. Six years ago, while searching for something new to offer her clients, she added airbrush tanning to her list of services and discovered a new passion.
"I absolutely loved it," Cole said. "That is pretty much all I do now."
In 2016, she opened Tan Artistry at Firewheel Mall in Garland, and in 2018, she moved the business to 15th Street in east Plano. Her next move was to her current Plano location, which opened March 22, 2020, less than two weeks after the World Health Organization characterized the novel coronavirus as a pandemic.
"Tanning is so event-based—weddings, spring break, prom, graduation—all of that was canceled. I had no business," Cole said.
One year later, she said, business is booming. She credited her online reviews, referrals and her highly visible location on 14th Street as reasons for the uptick in clients.
Cole said her client list is diverse. One client is an 80-year-old man who has had a standing appointment every Friday for several years.
"He was addicted to tanning beds his whole life. He had a lot of skin cancer removed, and the doctor told him not to get back in a tanning bed, so he comes here," Cole said.
Many of her clients are fair-skinned; for them, airbrush tanning is a ticket to a healthy and natural glow, she said.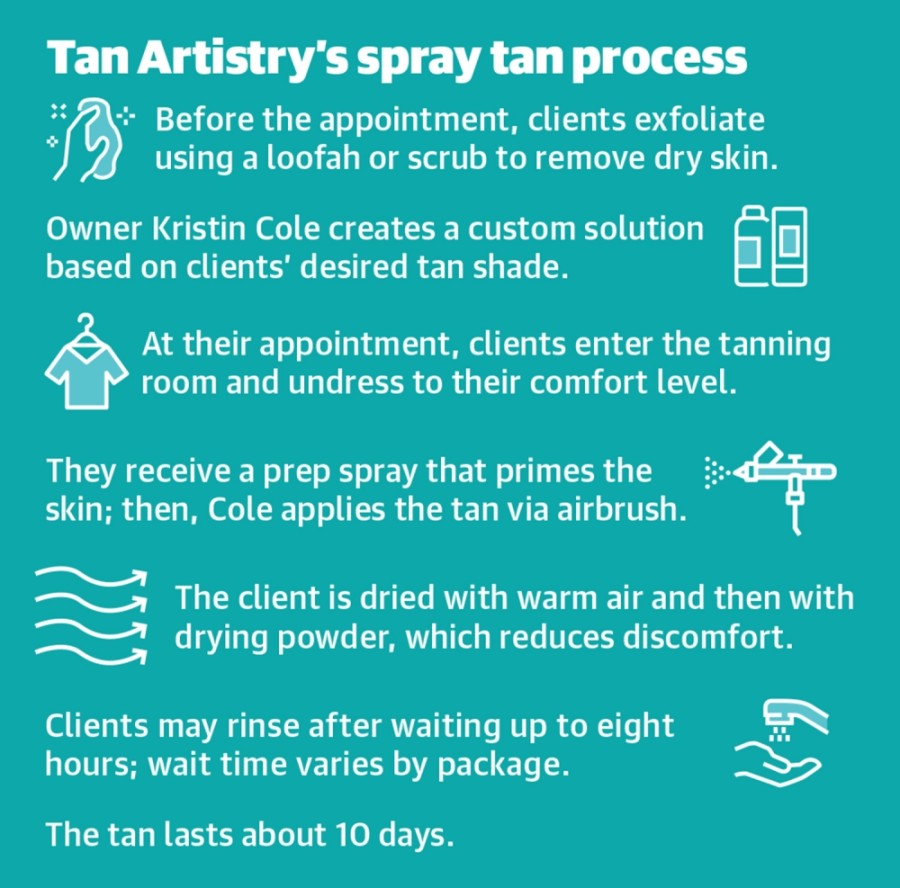 As an airbrush tan specialist, Cole has tackled pigment challenges.
One client who had vitiligo, which causes white patches, asked Cole for help in evening out her skin tone. The client told Cole she wanted to feel confident and beautiful for her wedding day.
"I worked for months doing different trials with her," Cole said. "Finally, I sent her home with a dark solution, which she painted on her white spots. Then, she came in, and I sprayed her body with a lighter solution, so it evened out, and she loved it."
Cole said her work provides instant gratification.
"I look at a body like a blank canvas," she said. "I get to create confidence in people and help them feel good about themselves."
Tan Artistry
1145 14th St., Ste. 2115, Plano
214-210-9777
https://tanartistry.com
Hours: Tue.-Sat. 10:30 a.m.-8 p.m. by appointment only