Local health professionals said more patients have started putting off preventive health care for fear of being exposed to the coronavirus—a trend some doctors believe is likely to cause more harm than good.
Some medical and dental offices that were deemed nonessential had to temporarily close or cancel appointments in March due to the COVID-19 outbreak. However, in accordance with guidance from officials, these offices were permitted to begin reopening May 1.
Dr. Bruce Linden said preventive health care appointments at Highland Village Family Medicine have declined by about 29% from March-April 2019 to the same period this year.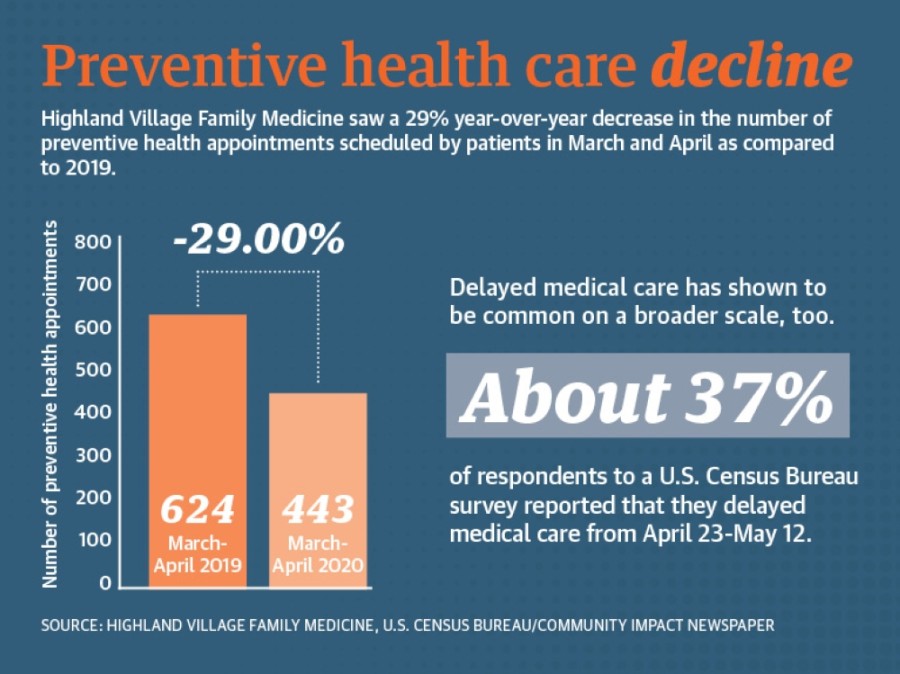 "When I talk to people, they tell me that everybody's terrified to come into the office," Linden said. "They're afraid that they're going to catch COVID just by coming to the office by running into somebody who's ill. But of course, we've taken a massive amount of precautions to mitigate any risk of that."
Research shows that this aversion is part of a broader trend. Patient visits to health care providers declined by nearly 60% due to COVID-19, per a national study by Harvard University and health care technology company Phreesia.
Risks of delaying care
Linden said patients could face long-term consequences if they continue to put off their preventive care.
"Other disease processes don't stop because we're locked down due to COVID," he said. "It's really important to go ahead and do all of your routine care as much as you can. We don't want patients to neglect their overall health out of fear. We are taking many precautions to make sure we can still care for them safely."
Dr. Melissa Kinney, the primary breast surgeon at Medical City Lewisville, said she has also seen a decline in patients coming in for routine preventive health care appointments, such as cancer screenings.
"We have seen less people coming in with the typical lumps-and-bumps concerns, and people are not going in for their routine mammograms," Kinney said. "It's important that people continue [cancer] screenings because if we can catch things at an earlier stage, there's better odds for survival."
Kinney said some screenings were put on hold in March and April, but they have since resumed. She also said staffers have been calling patients to remind them to reschedule their screenings.
Kinney said she has already seen three patients recently who said that they noticed signs that they should come in for a breast exam but did not come in because of the coronavirus outbreak. Now, some are undergoing chemotherapy, she said.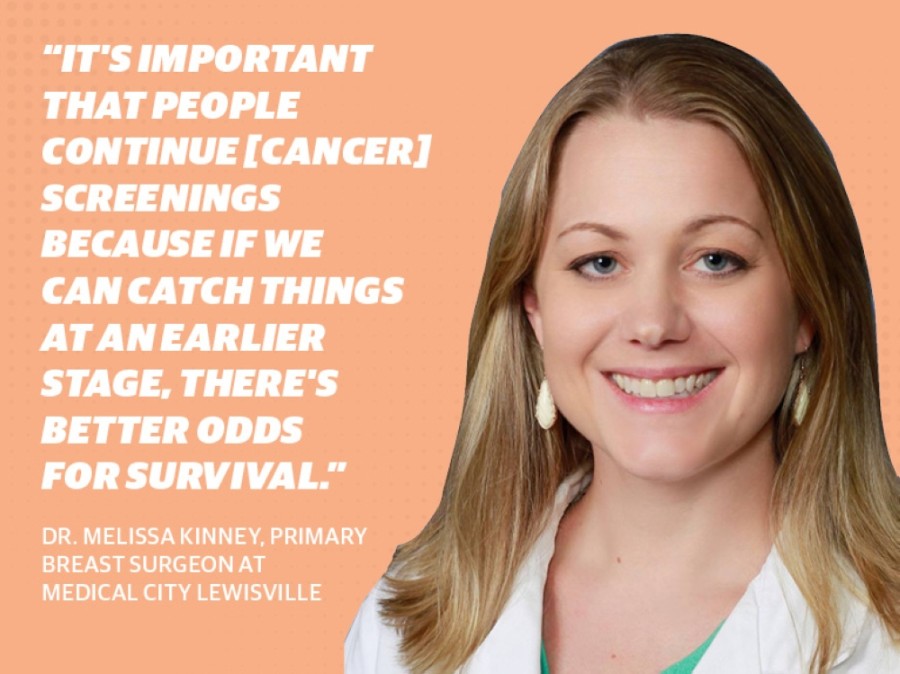 "That's a big concern in our community—that cancers are going to be caught when people can feel them as opposed to when they can be seen on the mammogram," Kinney said. "When it's caught because someone can feel it, then the cancer is at a higher stage, and it's more likely that they're going to need not only surgery but also chemotherapy and other treatments, like radiation."
Dr. Sireesha Vasireddy, an interventional and advanced heart failure transplant cardiologist at Medical City hospitals in Lewisville, Dallas and Las Colinas, said she has seen reduced patient calls and visits as people become increasingly fearful to leave their homes due to the coronavirus.
Vasireddy said though many have been following state and local guidance to stay home as much as possible to help stop the spread of the virus, patients still need to seek medical attention when they experience cardiac symptoms.
"This is just an unusual trend," Vasireddy said, "but not just here; [it's happening] across the country and even in Europe."
Vasireddy said she has seen a dramatic decrease in chest pain and heart failure admissions. Though it is not fully known why this trend has emerged, she said some contributing factors could be a reduction in daily stress as people stay home more, less exposure to pollution and less physical activity as people work from home. She said some have speculated that it could also be influenced by people smoking less as they try to avoid compromising their lungs in the wake of the coronavirus outbreak.
Despite the lower rate of cardiac hospital admissions recently, Vasireddy said she believes some patients might face lasting consequences due to putting off cardiac care.
"Just the mechanical complications of a heart attack, heart failure, or even arrhythmias and so forth—there's so many of those complications that you can deal with later on if you delay care," Vasireddy said.
Adapting for safety
From dentist and family medicine offices to hospital settings, local health care providers said they have gone to great lengths to adjust how they operate so they can continue to care for patients without putting them at greater risk of contracting the coronavirus by coming in for an appointment.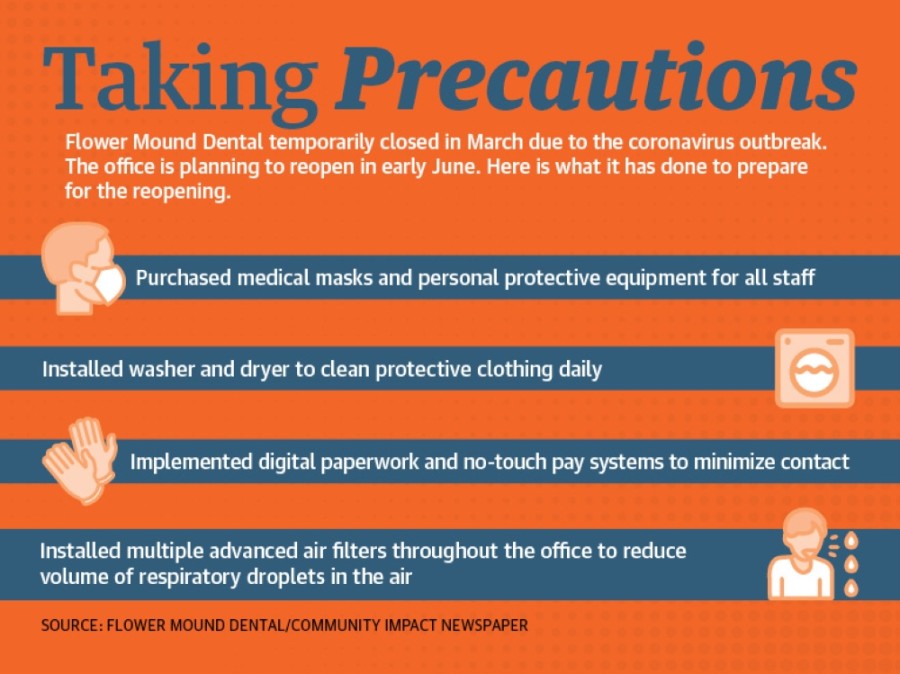 Dr. William Wyatt of Flower Mound Dental said he has invested about $20,000 into additional safety measures in his office to protect his patients and staffers from being exposed to COVID-19.
Since Flower Mound Dental closed temporarily in March, Wyatt has been preparing the office and adjusting operating procedures with the intention of reopening sometime in early June.
"We're taking so many precautions from the beginning to the end of each patient's appointment to get them taken care of while minimizing any contact," Wyatt said.
Wyatt said going forward, the office will handle nearly all paperwork digitally. In addition, patients will wait in their cars instead of the lobby before their appointments, and their temperature will be checked before they enter the building.
Office staff will wear medical masks and multiple layers of personal protective equipment at all times. Wyatt said he recently paid to have a washer and dryer installed in the practice so that all of the protective clothing can be cleaned daily without it leaving the facility.
In addition, Wyatt has had multiple air filter systems installed in patient rooms and throughout the office.
"The nature of dentistry is when you're working on a patient, aerosol water droplets are dispersed," Wyatt said. "They go up in the air, and they float around, and they eventually fall down onto a surface. So that's why we got the air filtration units—to try to minimize those."
Highland Village Family Medicine is taking similar precautions, Linden said. All patients get their temperature checked before they come in the office. They also get their blood oxygen level measured with a pulse oximeter.
"The pulse oximeter gives us a rough guide post as to somebody's lung function," Linden said. "Particularly in people with COVID, we'll see their pulse oximetry dropped."
Linden said he took an oath to "do no harm" as a doctor, which he said means that he will do everything he can to create a safe environment so he can continue to provide health care to patients.
"We just want to encourage people to come back in so we can make sure that one of these other disease processes doesn't kill them, let alone COVID."