Grapevine City Council called a public hearing June 15 to consider reclassifying a plot of land on Parr Lane from one residential zone to another.
If approved, the developer could build a few more homes than currently allowed on the land.
This type of hearing is not a unique occurrence. The land itself, though, perhaps tells a bigger story. It is a parcel that Ron Stombaugh, the assistant director of planning and zoning for the city of Grapevine, cites as reflective of the current realities within the local real estate market.
The red-hot housing market in the Dallas-Fort Worth metro is driving developers to look for any available land to build homes on, especially in markets as built-out as Grapevine, Colleyville and Southlake. In May, homes in the three cities were on the market for an average of 23 fewer days compared to the same month in 2020, according to data provided by the Collin County Association of Realtors. The median price increase for homes sold during the same period was 45.53% in Colleyville, 41.89% in Southlake and 15.32% in Grapevine.
And, given the demand, there is interest in any property zoned residential—even if it has challenges to development that add to the costs.
"The reason [the Parr Lane property has] never really had any interest before is there are some significant engineering hurdles to make it work," said Stombaugh, noting topography challenges such as the floodplain. "Ten years ago, it wouldn't have even been considered—now the numbers are starting to make sense."
It's something Kosse Maykus, owner of Maykus Homes, a custom homebuilder based in Grapevine, can attest to. Maykus is the builder for Shady Brook, a single-family development near Grapevine's city center with homes priced around $600,000, depending on floorplan. He said the land for Shady Brook has neighboring properties, including a mobile home park and a sewage operations facility, that had previously deterred development of that caliber.
Now, though, the neighborhood appears to be a success, with most of its lots either completed or under construction.
"[The property] had been stepped over for many years," Maykus said.
The demand for inventory in Northeast Tarrant County is just one trend among many creating unprecedented market dynamics.
Anecdotes tell of homes in the Dallas-Fort Worth area going for tens of thousands of dollars over asking price. Randy White, a longtime Realtor based in Southlake, recalled hearing recently of a home purchased for $500,000 over appraised value and Kim Taylor, a member of the Greater Fort Worth Association of Realtors, said it sometimes feels as though everyone is trying to move to North Texas at once.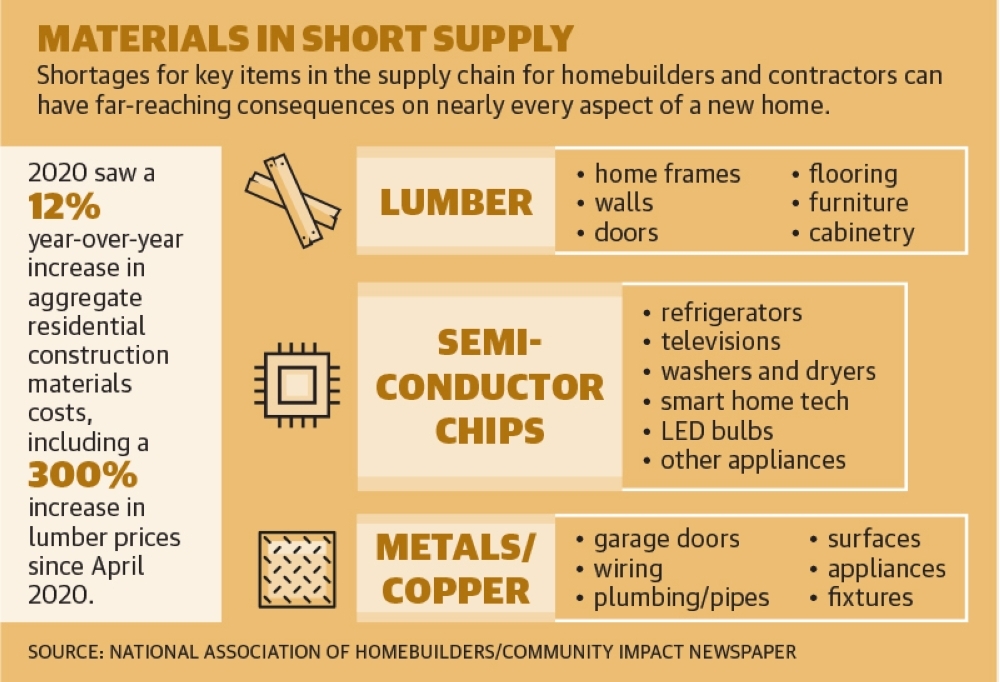 Supply chain strain
One of the more profound effects on the real estate market can be found in related supply chains. Complications have slowed construction of new housing, which could help alleviate pressure in the region.
"We've had problems in the past where maybe one thing ... might be in short supply," explained Dr. Jim Gaines, an economist with the Texas Real Estate Research Center. "Well, the problem is now that we're seeing that kind of disruption, but it's up and down the supply chain."
That means there are shortages for more than just lumber, which has been a popular focus of attention.
"Lumber, everybody hears about, but it's way more," said Maykus, citing metal hinges on garage doors as another pain point. "We've already received price increases of 30% this year on garage doors."
According to the National Association of Homebuilders, 2020 saw a 12% year-over-year increase in aggregate residential construction materials costs, including a 300% increase in lumber prices since April 2020.
Nearing buildout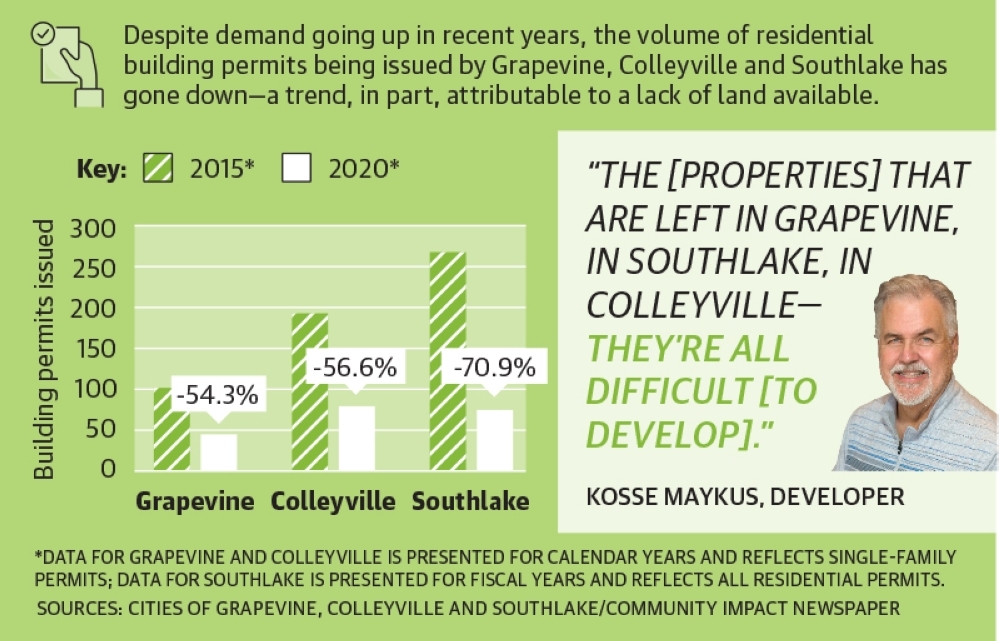 Even if homebuilders could keep up with the pace of demand, they would be hard-pressed to find much room to do so in Grapevine, Colleyville or Southlake.
Colleyville city staff estimate the city is 90% to 95% residentially built out. Southlake's fiscal year 2019-20 Annual Development Report stated 91.2% of land zoned for low- and medium-density residential usage has been developed.
Along with other challenges, such as topography, this complicates the math for profitability for builders.
"It's about a five- or six-to-one ratio of the final price to the price of a lot," Gaines said, explaining the equation for profitability. "If the builder has to buy a lot that is $80,000, he's going to wind up building a house that's ... around $480,000 to $500,000."
Bubble fears: Could history repeat?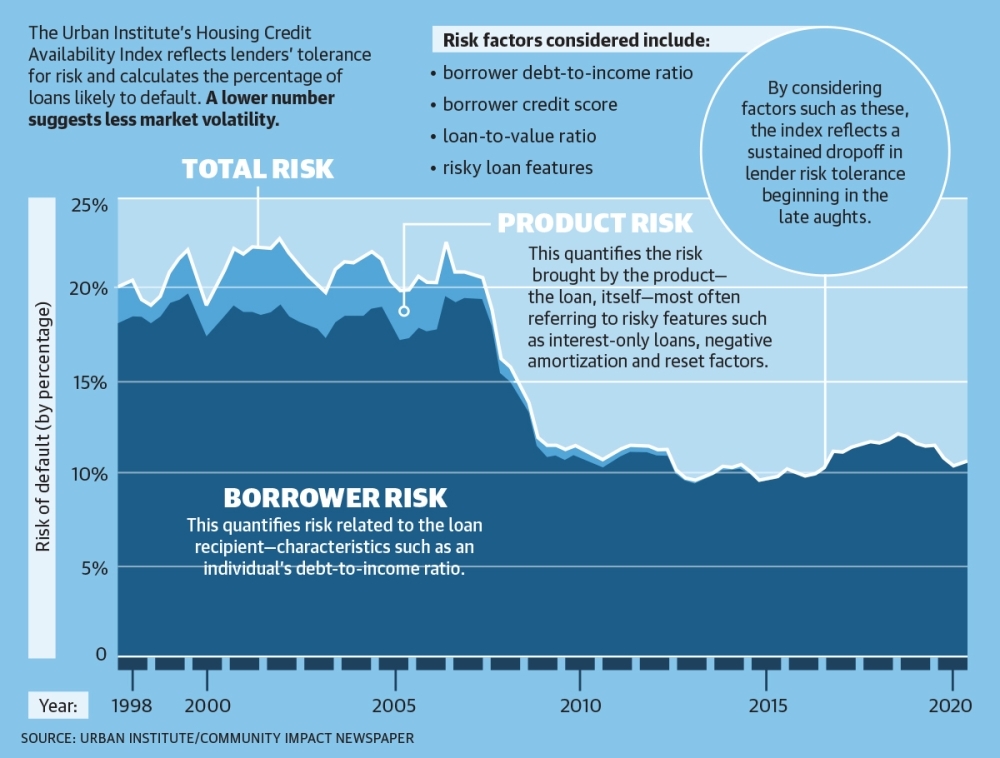 One question frequently asked is whether the real estate market is in the midst of a bubble or sudden downturn. Some fear a repeat of the Great Recession, which coincided with a housing bubble.
While there are similarities to that period, Gaines said there are also differences—specifically citing risky lending practices in the past.
"We don't think that's what's happening today," Gaines said. "As a matter of fact, the national statistics ... indicate that lenders are actually being even more restrictive."
Because of more sound lending principles, Gaines said, there is less chance of a wave of foreclosures.
Others suggest persistent migration to North Texas will help protect from deflation in the local market.
"Our taxes are lower. Schools are better. There's no crime," said Randy White, owner of Randy White Realty Services. "I've seen a lot, but the pace they're coming in now is far greater [than before]."
Gaines and other experts anticipate a leveling off in prices, but say when it will happen is unclear.
"No one expects the rate of increases that we've seen the past year to sustain for much longer," Gaines said. "Now, I don't know how long 'much longer' is. It's more than a couple of months and less than three years—how's that?"