As "Now hiring" signs fill windows and line roadways in New Braunfels, the effects of growing demand for services and a slim available workforce has made challenges faced by local businesses more pronounced.
The Texas Workforce Commission in July reported that statewide there were 1.2 unemployed people for every advertised job vacancy for a total of 165,241 more unemployed workers than advertised vacancies.
In New Braunfels, employers posted a total of 1,844 jobs in July compared to 2,017 jobs posted in July 2020 and 587 jobs posted in July 2019, according to TWC data. However, local businesses have struggled to fill the vacancies.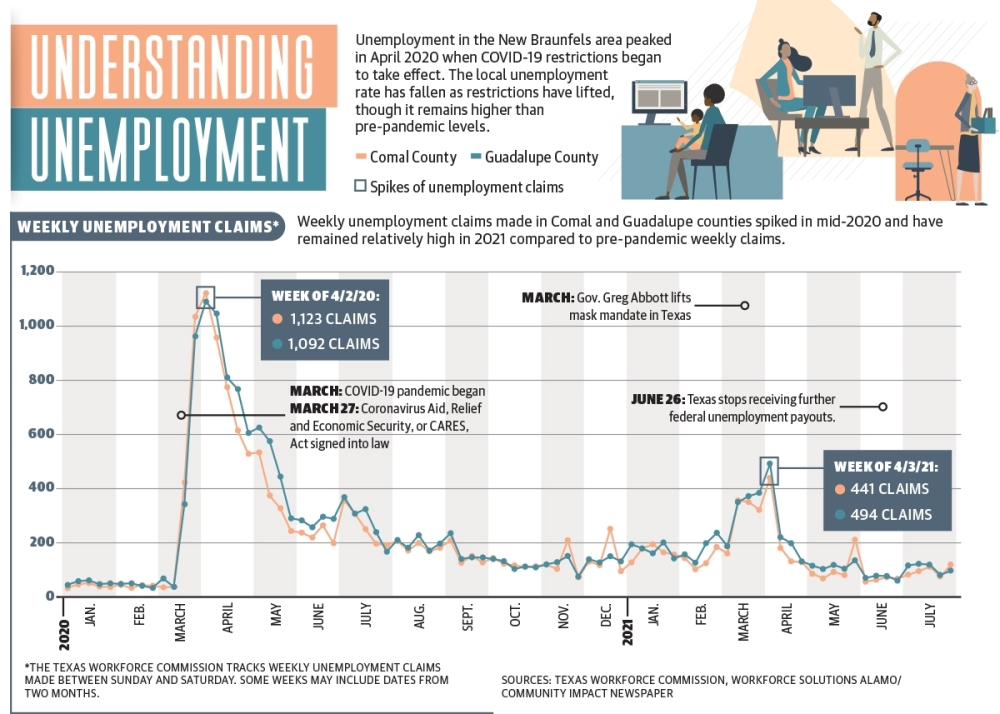 Over the past 18 months, Chad Niland, owner of The Downtowner in New Braunfels, has seen his restaurant face closures, a resulting loss of more than $50,000 and now inability to hire enough employees to return to normal operations.
"We've had lots of trouble finding back-of-house staff. ... We just have not been able to attract anybody that wants to work," Niland said. "It made us modify our hours heavily."
The issue is not isolated to service jobs, as large employers including Resolute Health Hospital in New Braunfels have seen similar staffing challenges, Resolute CEO Mark Bernard said.
"We've seen tremendous growth and tremendous demand in our medical services, and the surge or pandemic simply has complicated that," Bernard said. "We always expect that there is going to be some turnover within the organization and certainly some vacancies. We have every intention of growing as a facility."
Resolute regularly employs about 500 people each month, Bernard said, and typically has between 20 and 30 open positions in the same time period. However, that number has jumped to 70-80 open positions in recent months, Bernard said, and the openings span all careers and positions at the hospital.
At Uwe's Bakery & Deli, manager Emily Henk said the daily lunchtime rush has increased significantly this summer, putting additional strain on the staff.
"I have to help the server get drinks [and] takeout food because they're so slammed with customers, but the kitchen just can't keep up because there's only one cook in there," Henk said.
The eatery has struggled to fill open positions in the bakery and the kitchen, Henk said, and those they have hired have not stayed for more than several months.
Because the baked goods sold at Uwe's are made by hand, the restaurant requires those working in the bakery to have training and experience, which has made it difficult to find someone suitable for the role.
In response to the lack of baking staff, owner Uwe Theis has devoted nearly all of his time to preparing baked goods, leaving him with little time to make the sausage the restaurant is known for, Henk said.
"We don't have sausage to sell. We don't have any of our homemade meat," Henk said. "It's not nice telling customers, 'Hey, we're out of a lot of the things you probably wanted.'"
A slow return to work
During the spring and early summer, monthly unemployment claims across the state began to decline, though they have not yet reached pre-pandemic levels, Workforce Solutions Alamo CEO Adrian Lopez said.
The WSA is one of 28 workforce development boards in Texas that are connected to the TWC and provide workforce development.
In the 13-county region served by the WSA, including Comal and Guadalupe counties, Lopez said that more than 20,000 unemployment claims have been filed each month during the first half of 2021.
"To give context to that, pre-pandemic we probably would have seen on a monthly basis maybe 2,500 to 3,000 [claims]," Lopez said. "We're still seeing 10 times the amount."
Locally, more than 480 unemployment claims were made in Comal County in July of this year and more than 540 in Guadalupe County during the same period, according to TWC data.
Comal County had approximately 1,300 unemployment claims in July 2020 compared to 178 in July 2019. Guadalupe County had approximately 1,400 claims in July 2020 compared to 207 in July 2019.
In March 2020, the federal Coronavirus Aid, Relief and Economic Security Act established the Pandemic Unemployment Assistance program, which temporarily expanded unemployment benefit eligibility and provided an additional $300 a week to those who lost their jobs because of the pandemic.
To remain eligible, unemployment claimants must search for work per the Texas Workforce Commission's guidelines, including completing one to three work searches per week, such as uploading a resume to online job boards or researching jobs through WorkInTexas.com, and applying for work.
Following Gov. Greg Abbott's May 17 announcement that Texas would opt out of further federal unemployment payouts beginning June 26, Lopez said more people returned to work, though the return has been slow.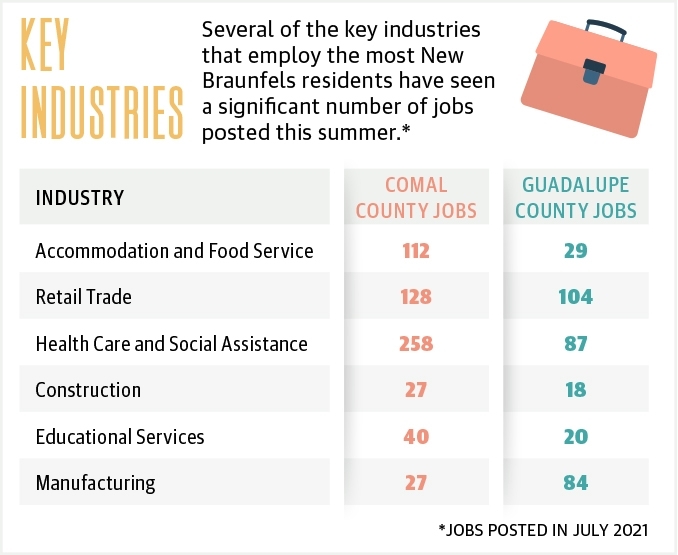 "For those folks that filed for unemployment in March and April of last year, over 50% of those folks have actually come back to work," Lopez said. "The real impact I think is going to be coming up to September, which is when the unemployment benefits for folks that filed as early as March in April of last year, are going to ... start to run out."
Increased unemployment benefits, concerns as COVID-19 cases rise locally, the need to stay home with children and other factors all contribute to the lack of available workers, Lopez said.
The employment options for those returning to the job market are broad, Lopez said, and employers are working to become more competitive and attractive to potential new hires.
CGT U.S. Limited, a manufacturer of coated fabrics and films for automotive and industrial applications, has struggled to fill positions in its New Braunfels production facility, said Leslie Johnson, director of human resources for the facility.
Johnson said before the pandemic she would receive between 50-70 applications for each position she posted. Now, she typically receives seven to 10 applications total each week.
"Probably in January or February everything just dropped; nobody's applying for jobs," Johnson said. "I don't see that on the administrative side; it is really for the skilled labor as well as for my entry-level operators."
About 40 employers from the region participated in a July job fair hosted by the New Braunfels Food Bank, Johnson said, but only about 10 job seekers attended.
Comal ISD and the city of New Braunfels have hosted similar job fairs to hire teachers, bus drivers, solid-waste operators and other positions as they struggle to find enough candidates to fill vacant positions.
Competing for the same applicants
Lopez expects the number of people applying for work to increase with the end of pandemic-related unemployment benefits, schools reopening for the year, and some employers offering increased wages and benefits.
As area workers slowly trickle back into the workforce and employers are eager to hire, Johnson said the manufacturing industry is suddenly competing with every other industry in the area for employees.
Like many companies, CGT recently announced an increase in starting pay, and will review benefits options this fall, Johnson said.
"There's a lot of choice for entry level, so I think that the restaurants didn't used to compete with the manufacturers as much, but I think we are now all competing for the same applicant pool," Johnson said.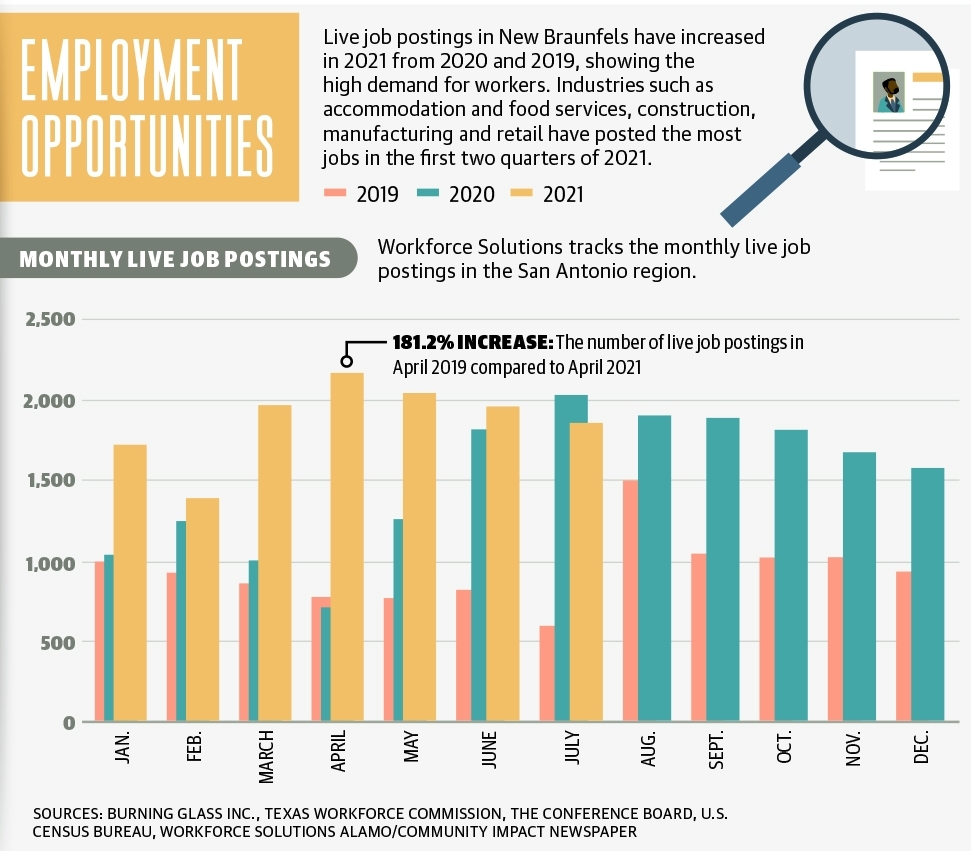 Lopez said employees now hold more power to negotiate pay, work hours and responsibilities.
"[The situation is] flipping the perspective of job seekers actually being to a certain extent in control of the negotiation side because employers are so thirsty for employees," he said. "Retailers and food and accommodation folks are upping their game as it relates to their pay, and even providing things like signing bonuses and retention bonuses and those types of things."
Texas' minimum hourly wage has remained at $7.25 since 2010, according to the Labor Law Center, despite the national average rising from $7.41 in 2010 to $9.21 in 2021.
As local businesses have begun offering more incentives, some national franchises have followed suit as was seen when Chipotle raised its hourly wages to an average of $15 per hour in June.
While Lopez said it is not yet clear if these wage bumps will be sustainable over the next several months, some businesses and nonprofit organizations simply cannot compete with rising wages.
For area organizations such as Comal County Habitat for Humanity, the need for full-time staff has grown as the demand for services increases while donations took a hit during the pandemic, said Tiffany Quiring, the organization's communications manager.
"With us relying on donations, all of the budget for hourly pay is planned out a year in advance," Quiring said. "And then when that plan goes awry, because of something like COVID[-19] where we're spending more money, ... there's just no wiggle room for us to compete."
Priorities have shifted
Though some of the difficulties faced by employers in filling open positions can be attributed to increased unemployment benefits offered by the CARES Act, Lopez said many workers took the time and extra income they received during the pandemic to seek new opportunities.
"A lot of kitchen workers have switched industry over COVID[-19]. They had to get a different job or they have chosen to get [into] a stable industry," Niland said. "Employees are not going to work 60 hours [or] 50 hours, they want 40 hours a week. They want to be paid a living wage."
Interest in training programs to enter the health care, logistics, warehousing, computer technology and accounting industries increased during the pandemic, Lopez said, as many people prioritized less demanding work schedules and steady income.
Though data is not yet available to clearly indicate what industries workers are moving to and from, Lopez said that some employees are seeking jobs that pay well and offer flexible schedules.
Many workers who sought assistance from WSA in spring 2021 were interested in becoming customer service representatives, Lopez said, but the number of jobs available was less than the number of interested applicants.
Lopez and his team are working to direct individuals to industries that are in high demand and offer future career growth, though he says it will take time.
In Comal County, demand remains high for health care workers as 799 jobs were posted in the county between April and June of this year, according to WSA data.
While employers are struggling to fill open positions and retain new hires, burnout among existing employees has been on the rise.
Employment website Indeed.com conducted a survey in March of 1,500 U.S. workers in different age groups, experience levels and industries by employment to measure burnout among respondents.
The results showed that employee burnout has worsened over the last year with 52% of respondents feeling burned out and 67% believing the feeling worsened over the course of the pandemic.
At Resolute, Bernard said he and his team are working to support staff through prayer, meals, snacks, team bonding and a staff chaplain who is available to speak with any member of the staff.
However, the emotional and physical toll of working in a health care setting during the pandemic has led some workers to leave.
"I believe part of our workforce is pretty exhausted after dealing with, not only the growth, but the heavy surge in activity with the pandemic," Bernard said. "And some of those folks very well may be taking some time off or are just not ready to enter back into the work environment." ••At The Downtowner, Niland and his staff are currently creating a plan to ensure the kitchen staff are given time off to rest.
"They need a weekend off, they've worked every single weekend since March," Niland said. "They're loyal, and they don't want to do anything to put us out, but I don't want to lose them."