After weeks of waiting, the Comal County Public Health Department was allotted 500 doses of the Moderna COVID-19
vaccine
during the sixth week of Texas' vaccine allocation plan.
Previously, the
health department
was allotted 200 doses during the second week of vaccine allocations, all of which were administered to front-line workers during the week of Dec. 28.
On Jan. 21, the health department partnered with the city of New Braunfels to create a vaccination center in the New Braunfels Civic/Convention Center and provided the first dose of the vaccine to 200 county residents over the age of 65 or with qualifying underlying health conditions.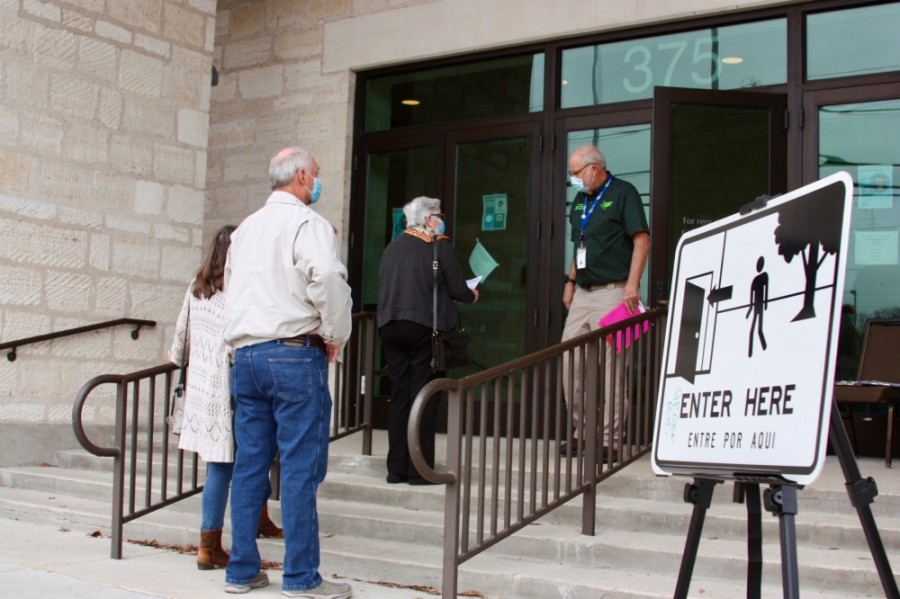 Gentrea Hendrickson, the public health emergency preparedness coordinator for the county health department, said around 700 residents who are eligible for vaccination at this time have been added to a waitlist.
"We sent out a notification to all of those people that it was their time to register," Hendrickson said. "They could either register online or they could call into our hotline for help with registration."
Patients were able to answer screening questions ahead of their appointment to streamline the vaccination process, Hendrickson said.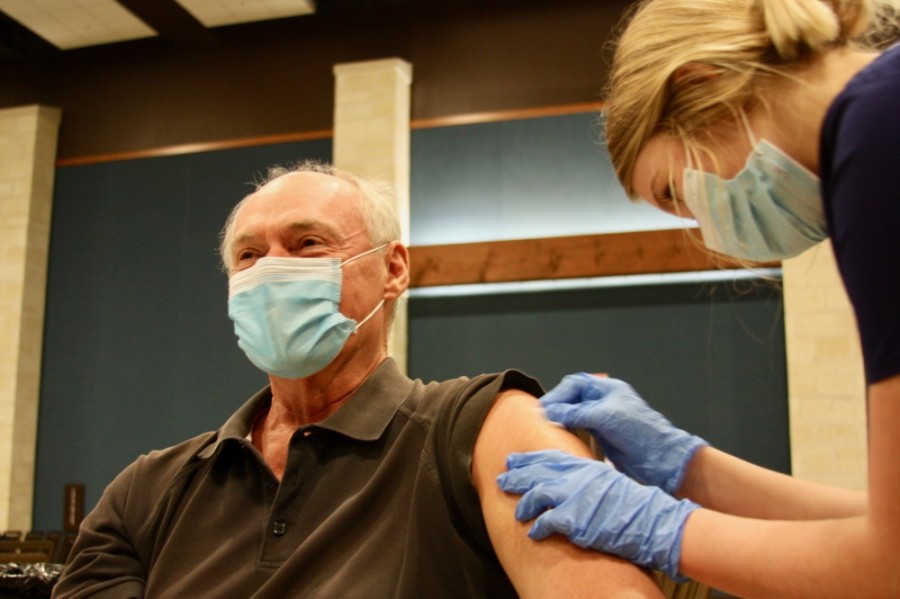 Upon arrival, individuals signed in and were asked additional screening questions before being directed to one of nine stations set up in the ballroom of the convention center. Each station was manned by two nurses or nursing students from the Galen College of Nursing in San Antonio who administer the vaccine to patients.
After being inoculated, residents were directed to a conference room where they waited for 15-30 minutes to be monitored by Community Emergency Response Team volunteers for reactions to the vaccine. Patients were then given immunization cards and instructions about when to receive their second dose before being discharged.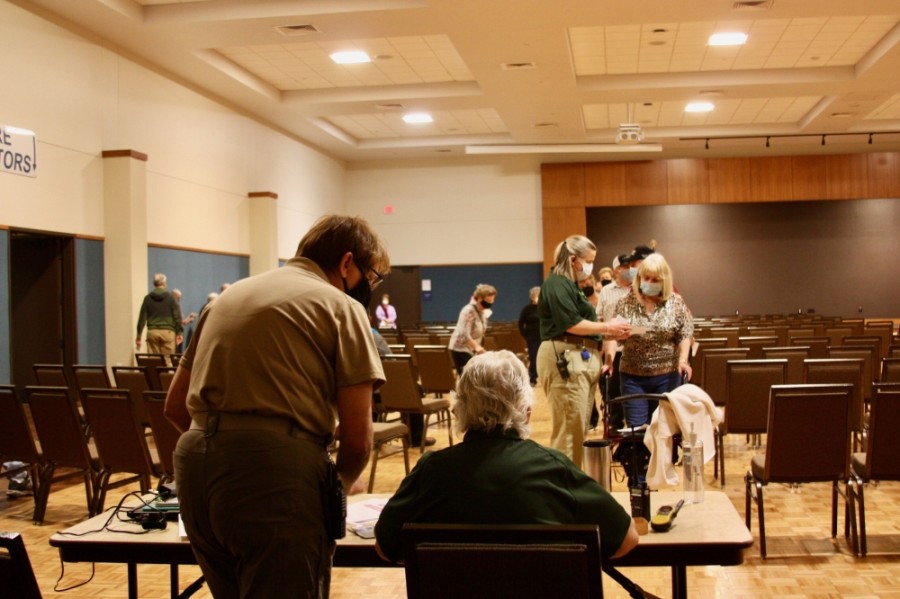 "This is sort of our small test run of only 200 people, but we're going to continue to ramp this operation up in the next few weeks as we receive more vaccine," Hendrickson said. "We do expect to receive another allocation next week and fingers crossed that we're going to continue to receive weekly allocations as we apply through that system."
In the coming weeks, the Texas Department of State Health Services will no longer issue large weekly allocations but will instead receive and evaluate applications from registered health care providers before determining the number of doses and frequency of allocations, Hendrickson said.
The county health department originally submitted an application for 5,000 doses but only received 500, most of which have been administered to residents who fall into the Phase 1B category of the state's vaccination plan, as well as residents of long-term care facilities and nursing homes.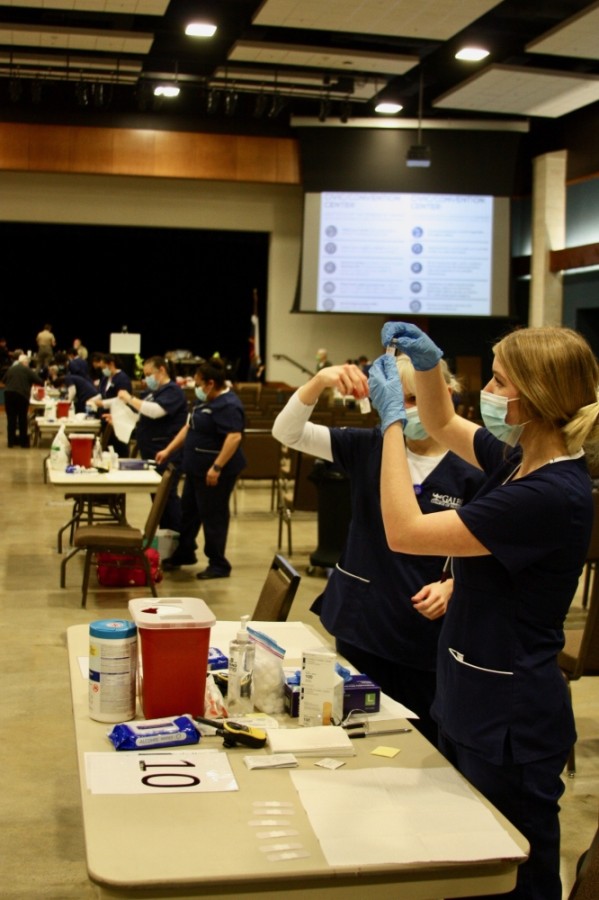 On Jan. 20, the Guadalupe County Emergency Management Department, the city of Seguin and Guadalupe Regional Medical Center released a joint plan to create three vaccine hubs in the county.
According to a press release, the proposal was submitted to the DSHS, along with an application for vaccine allocations that would enable the hubs to administer up to 1,000 doses per day should it be approved.
Since vaccines first became available in Texas in mid-December, Guadalupe County health care providers have received a total of 4,275 doses which were allocated to 10 registered providers. Comal County providers have received a total of 4,900 doses so far.
In a press conference Jan. 11, Gov. Greg Abbott announced plans to establish 28 large-scale
vaccine hubs
and 206 smaller hubs in counties across the state. So far, more than 50
locations
have been announced.
For Monette and Terry Littlepage of Spring Branch, receiving the vaccine Jan. 21 was a relief and the first step toward returning to normal.
"We have some friends who are in really bad shape," Terry Littlepage said. "It's really scary."
The couple, both in their 70s, is hopeful that access to vaccines will help slow the spread in the community and is looking forward to a day when they can go out to eat without fearing the coronavirus.
"We're very excited," Monette said. "Anything we can do to try to handle this ... we're ready."