Updated April 29 9:47 a.m.
The bidding processes for three projects referenced during the April 15 corridor program presentation are now projected to begin in 2022 or 2023, according to Kelly Buethe, senior public information specialist at the city's corridor office.
The project covering roadway improvements along William Cannon Drive between Running Water Drive and McKinney Falls Parkway is now expected to go to bid in early 2022, Buethe said, followed by a roadway segment project along Slaughter Lane between MoPac and Brodie Lane now expected to go to bid in the summer of 2022. The intersection improvement project at West Slaughter Lane and Escarpment Boulevard is now expected to go to bid between 2022 and 2023.
Posted April 16 9:28 a.m.
A majority of the corridor improvements throughout Austin funded through the city's $720 million 2016 Mobility Bond are moving toward completion within the eight-year window agreed upon with voters following the bond's passage, including several set to kick off this year.
Officials with Austin's Corridor Program Office shared
updates
on the range of projects, which in total represent a $482 million slice of the 2016 bond, with the Austin Urban Transportation Commission on April 15. Many planned corridor items, such as sidewalk, pathway, signal and intersection improvements, have been completed as of this spring, and officials said city residents can expect to see several more break ground and continue in their development through the end of 2021.
Larger projects expected to go to bid this year include improvements to the intersections of Burnet Road and Koenig Lane, and West Slaughter Lane and Escarpment Boulevard.
Kathleen Rubin, a capital improvement program manager at the city corridor program office, said roadway segment projects on Airport Boulevard between North Lamar Boulevard and 55th Street, William Cannon Drive between Running Water Drive and McKinney Falls Parkway, and Slaughter Lane between MoPac and Brodie Lane are each expected to go to bid within the next 12 months as well.
Other projects aimed at bike and pedestrian mobility as well as improving intersections that are already underway or set for construction in the coming months are spread throughout the city from Guadalupe Street to Slaughter Lane and Riverside Drive.
"They're primarily intersection improvements, signal upgrades and construction of pedestrian hybrid beacons. And these improvements will allow us to improve the safety, visibility and comfort for all modes on these roadway crossings," Rubin said.
In addition to corridor improvements on tap for 2021, Rubin also shared plans showing more than 20 of the bond-funded projects with construction start dates beginning in 2022 or later—with many expected to stretch through the eight-year program time frame established through City Council's contract with voters approved following the bond's passage.
Despite what could be seen as a tight ending window for the wide-ranging mobility initiative leading toward the late 2024 deadline, Rubin said the corridor office believes it is on track to meet that goal.
"That eight-year time frame for the bond program is a challenge," she said. "A program of this scale would typically take about twice as long as the amount of time we have available to us. So we've dedicated resources to those most critical items including real estate, utilities, permitting and technical reviews, and we've also developed a program controls team that's dedicated to analyzing all of that program information in real time so we can more effectively manage cost and risk and support decision-making with actual project information."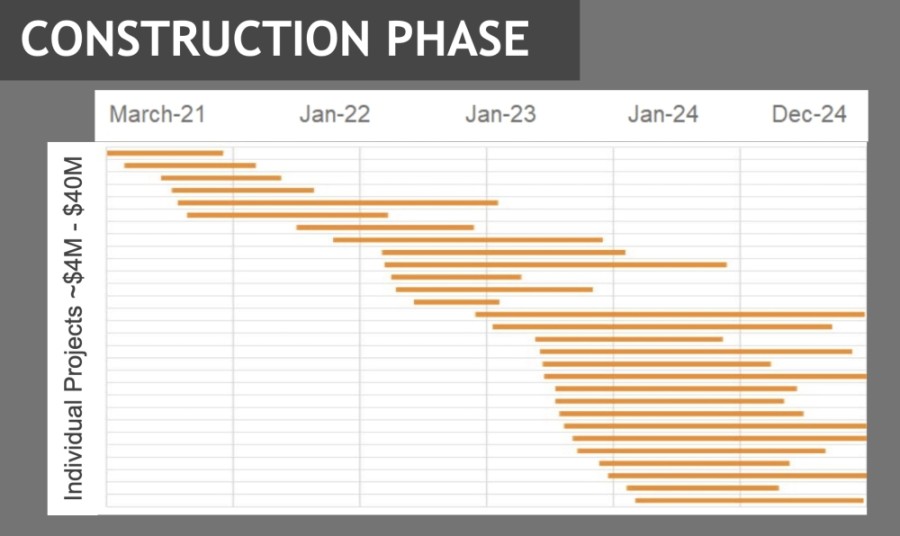 With a range of projects packed into less than three remaining years of planning and construction, Rubin also said the city hopes its spacing of development throughout Austin will not leave pedestrians, cyclists or drivers facing new challenges along roadways in the meantime.
"I think the experience that any one traveler has on a daily basis, they most likely won't be running into multiple projects. Another bit of good news is a lot of our work will be happening behind the curb ... so those don't have as extensive lane closures and traffic control setups that you might see with some major reconstruction projects," she said.
Overlapping items
Alongside the projects expected to be fully realized through the corridor initiative, two major segments of work initially funded in the mobility bond plan are now being adjusted following Austin voters' November approval of
public transit plan
Project Connect. Anna Martin, assistant director at the Austin Transportation Department, said planned improvements on Guadalupe Street and Riverside Drive will now be reduced due to overlap with the proposed development of Project Connect's Orange and Blue line tracks.
"We spent a lot of time in discussion and review with the Project Connect team over the last several months, and we determined that we're going to take a scaled-back approach to our work on both of those corridors just acknowledging the large investment that's going to come in right behind us," Martin said.
While some sidewalk rehabilitation and safety improvements in the West Campus area off the Drag will still move forward in coordination with future Orange Line planning, Martin said the scope of work along East Riverside Drive will be more heavily impacted. Funding that would have originally gone toward 2 miles of street reconstruction there will now be shifted for nearly 3 miles of reconstruction efforts split between two arteries to the north. The first will cover Airport Boulevard between US 183 and East Martin Luther King Jr. Boulevard, and the second—on North Lamar Boulevard from US 183 to Rundberg Lane—will also tie back to Project Connect rail access.
"The initial investment for the Orange Line has a terminus at the North Lamar transit center, which is just north of 183," Martin said. "Our corridor project will come in and improve the section of North Lamar from 183 to Rundberg, and so that's really going to provide a safe and efficient way for folks to get to the terminus of the Orange Line to take advantage of that great investment as well."
Martin also noted that long-awaited improvements on Riverside will not be completely removed from the city's corridor plans. New signalized intersections, sidewalk gap completions and ADA-compliant sidewalks will still be installed in the short term, with broader reconstruction work to begin through the Blue Line's development over the coming decade.
"This is really critical work that the community's been waiting on and will receive a lot of life and use from now when they're installed until the Blue Line team comes through with their construction project in many years," she said.